Articles & Columns
Have a great article of interest to gay outdoorzy guys? If so, it could be featured here.
Contact Us
Listing 76 - 90
Join Our Facebook Campaign To Reach 8,000 LIKES!
This is the most exciting, meaningful and impactful project we have taken on since we began. Keep up-to-date with our upcoming trips, trip reports and GO news...videos and articles we like...and gay issues such as marriage equality and the boy scouts; find out which of your friends like GayOutdoors; and don't miss out on entering great contests where you can win some great prizes. Help us reach our goal and LIKE our Facebook page now and tell your friends to do the same! >>Click Here To View/LIKE Our Facebook Page
Read More >>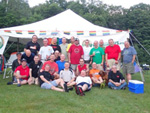 2013 GO Gatherings: What Fun Chemistry!
On the July 12-14 weekend, two GO Gatherings were held where over 60 GO members got together to do what they love best! In NH, we camped alongside the Pemigewasset River on a muggy summer weekend in the spectacular White Mountains and went tubing, hiking and biking. In PA/NJ, we spend a day along the Delaware River tubing and kayaking followed by a potluck. It was a weekend full of outdoor activities and social events that included a Wine & Cheese Blast, Beer Blast, Hungry Hiker BBQ Potluck Feast,campfires and fireworks!
Read More >>
PA/NJ GO Gathering ~ July 13-14
A Potluck BBQ/social event along the Delaware River with outdoor activities and overnight camping. The events that always seem to be our keynote are the GO Gatherings. The interest level from you has been fantastic and extraordinary!
Read More >>
GO Gatherings Are On!
One of the benefits derived from being a member has been the opportunity to meet and do outdoor adventures with great guys who share a common passion. For many of us, very strong friendships have developed over time. We believe that those touch points are the basis for the success of our club.
Read More >>

Vermont Gay Ski MLK Weekend
Alpine skiing/riding and cross-country skiing from Frog Meadow Bed & Breakfast in Newfane, VT over Martin Luther King's weekend. You can arrive late afternoon/early evening Friday and stay through Monday afternoon.
Read More >>

Guest Members Can Now Email/Contact Our 6,266 Members!
You'll be pleased to read that EVERY member can now email/contact other members that will bring greater interaction within the GayOutdoors community! We hope that this will end up having more trips posted since EVERY member can now contact other members to put one together, greater participation because EVERY member can now contact the trip leader before/during the trip and the other participants, and greater chance of members returning for another trip because he can now keep in contact with members he met.
Read More >>