learn
America's Best Gay "Adventure" Campgrounds
By Mike Boisvert.
We set out to explore America's best gay "adventure" campgrounds and found places that are affordable and unforgettable. You won't find disco dancing or pool parties at these campgrounds. Most don't allow nudity.
Northeast Adventure: Bike, Head for the Hills, or Whitewater Rafting
Coastal Acres Camping Court - Provincetown, Massachusetts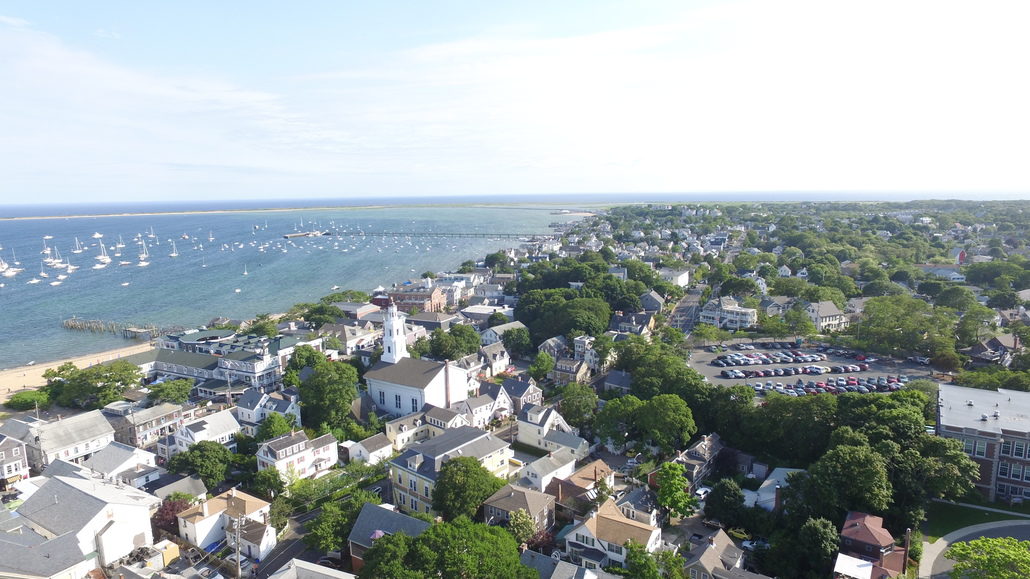 This is a gay-friendly campground near the gay beaches of Provincetown, MA. They are walking distance to Provincetown.

The campground is a couple hours from Boston, MA. on Cape Cod. Coastal Acres is located off West Vine Street Extension and Bradford Street here in Provincetown, MA. Drive on Rte 6 throughout its entirety. Turn left at Herring Cove Swimming Beach (Rte 6A). Continue on Rte 6A which leads into Bradford Street. A helpful hint: Watch for their sign on the left of Bradford Street just before the Licata's Restaurant.
Men, women and children are welcome which means of course, clothing must be worn. The campground has hot showers and flush toilets.
Rates: Tent camping is at $32 per day for up to 2 persons. Electric and hot water hook-up is an additional $14 per day. They have many other options.
By Day: Swimming and sunbathing at the gay beach of Herring Cove. The Cape Cod's National Seashore's bicycle trails cover some amazing terrain: towering dunes, eerie scrub pine, and the white-capped ocean. Or you can also walk along the breakwater, constructed of massive flat granite boulders stacked one atop the other, stretching across the bay created by the curvature of the of the Cape's tip. You'll find it by walking to the western end of the Commercial Street. Allow 45 minutes to cross and return. Bring a camera.

Nudity: Not allowed in campground. But you can sunbathe/swim at the Herring Cove gay beach.
Link: http://www.coastalacres.com/
Jones Pond Campground & RV Park - Angelica, NY
Jones Pond, an all-male campground, is New York's premier gay campground and located on in the beautiful rolling hills of the Genesee valley in western New York State.
At Jones Pond there is something for everyone. It is a great place to enjoy and make new friends. The campground offers you a chance to relax and unwind in a gay-friendly environment.
They offer a wide array of accommodations including full service tent sites, cabins, bunk houses, a fully equipped rental RV and a 3 bedroom guest house for those who truly want to "rough it"! Jones Pond has a 65 foot in ground swimming pool for sunning and sunbathing. On weekends, there is a full service restaurant fried food, burgers and sandwiches.
Rates: Yearly membership fee of $10 will be added to your first booking of the season. Tent camping is at $40 for two nights on the weekend per person. RV camping is $90 for two nights for two people. More options are available.
By Day:Spending the day at the pool, taking a walk on one of their hiking tails, joining in a quick game of volleyball or enjoying their weekend dances. Pets are always welcome at the campground, but must be on a leash at all times and you must have proof of current vacinations.
Nudity: Men only, clothing optional areas, membership required.
Link: https://www.jonespond.com/index.asp
Sandy Valley Campground - White Haven, Pennsylvania
This is a gay-friendly campground located south of Wilkes Barre, just sixn and a half miles off I-80, nestled quietly in the Poconos mountains. This is also a clothing-only campground. A beautiful place that is totally wooded and on a lake.

The campground is for tents with restrooms, showers, laundry, seasonal lots and rental cabins. Gay
friendly, primarily a family campground that is frequented by gay guests, 30x60 swimming pool, recreation hall with game room, camp store, children's playground, volleyball court, catch and release fishing in the lake that does not require a license, and pets are permitted on a leash.
Rates: Tent camping is at $28 night. They are not an RV park!
By Day: Whitewater rafting on the Lehigh River. Now you can experience the thrill and the adrenaline rush of a ZipLine ride right here at the Whitewater Challengers Rafting Center in Pennsylvania. Or there's rail-trail mountain biking at its very best! It's one of the most popular mountain biking trails in the East, covering up to 25 miles of the Poconos' most spectacular wilderness scenery. Enjoy the beauty, serenity and convenience of the incomparable Lehigh Gorge mountain bike trail, as it winds its way through the Poconos' Lehigh Gorge State Park.

Nudity: Not allowed in campground.
Link: http://sandy_valley.webs.com/
The Sizzlin' Southeast: Lush Landscapes; Fishing, Tubing and Hiking
Etowah River Campground - Dahlonega, Georgia
This is a gay-friendly, wooded, 28 care campground on the Etowah River for RV's and tents, 62 full hook-up, pull through RV sites plus tents sites along the 1500 feet of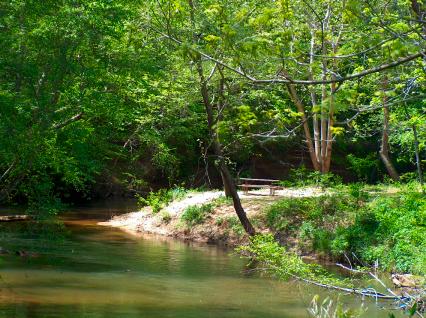 riverfront. Tubing/playground, bath house with hot showers. Table and fire ring on each site. Year-round tent & RV camping; sunny or shady sites. Located only 10 minutes from downtown Dahlonega and just one hour north of Atlanta - close to National Forest and Appalachian Trail. This is also a clothing-only campground. Gay and Lesbian friendly.

Rates: Tent camping is at $15 per night. RV's per night for two persons is $25.
By Day: Great trout fishing is available or try your hand at panning for gold.
Majors Lake is a fine lake near Etowah River Campground; Etowah River Campground is close to Vogel State Park which is a pretty place. Going for a hike on the DeSoto Falls Trail is always a delightful adventure, and Majors Lake Dam is an interesting thing to check out. There is a delightful hiking trail in close proximity to Etowah River Campground called the Benton Mackaye Trail; a delightful location for whitewater paddling is Etowah River. You without doubt ought to check out Amicalola Falls the start of the Appalachian Trail and Lodge State Park if you're here.

Nudity: Not allowed in campground.
Link: http://www.etowahrivercampground.com/index.html
OutCamping - Front Royal, VA

This is the site we've been having the GO Gathering in 2009 and again in 2010! This club reserves certain tent sites along the Shenandoah River on certain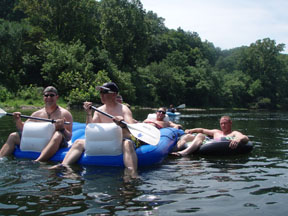 weekend during the summer for gay guys to camp.
We always camp riverside, on a private farm, located 10 miles South of Front Royal, VA. The farm has the ultimate campsite with its own mini-waterfall (The Ledge). The Shenandoah river water is warm (75 – 85 degrees) and clean. It is a great place to meet other gay guys and make lifetime friends.
Camping on the farm in Bentonville, VA is primitive camping. The farm owner provides outhouses only. There are no showers. If you really want to clean up, you should grab some soap and head for the river. This is also a clothing-only campground.

Rates: Their website is currently down but we think tent camping for the weekend is $15 per night. RV's are not permitted.
By Day: Soak and sunbathe along the river. If you like fishing, do not forget to bring your pole. If you like a casual float down the river, remember to bring a tube or other floating device. Shenandoah National Park is nearby with lots of hiking opportunities.
Nudity: Not allowed in campground.
Link: http://www.outcamping.org/members/Home.aspx
Cool Midwest Digs: Ozarks, Caverns, Fishing

Camp America Campground - Salem, South Dakota
This is a gay-friendly, park designed for today's RVer, and embraces diversity. They cater t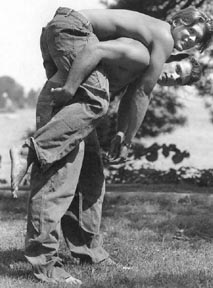 o gay guys who are travelling to and from the state's many great attractions. With no railroads or airports for miles, you will enjoy your stay in their rural setting. They boast clean facilities, quiet and shady sites, and reasonable rates. Their location is central to the Corn Palace in Mitchell, Falls Park in Sioux Falls, and Laura Ingalls Wilder's home in DeSmet. Gay owned and operated.
Rates: RV's pull thru 50/30 amp with full hook-up is $30.45 per night. They have many other options. Sorry, no tent sites or tents allowed on any sites.
By Day: Check out the nearby Red Willow State Recreation Area. Some of the finest fishing in the state is found at Red Willow, and the area has excellent facilities for water-oriented recreation.
Nudity: Not allowed in campground.
Link: http://www.campsalemsd.com/

The Wild Northwest: Giant Redwoods, Eagle Watching, Shellfish Gathering
Guerneville Lodge - Guerneville, California
Located just 70 miles north of San Francisco and 15 miles from the Pacific Ocean The Willows offers you a country home vacation on five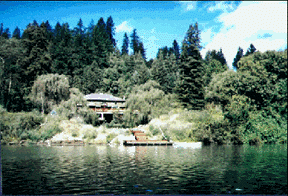 spectacular acres along the banks of the Russian River. The Guerneville Lodge, "where tourists are treated like home folk."
Built in the early 1940's the redwood lodge now offers 13 cozy guestrooms,with private baths. The spacious
living room has a hugh stone fireplace, grand piano and library and is furnished with comfort in mind to help you feel
right at home. You can either stay in the lodge or for the purpose of this article, tent.

Campsites on forested grasslands, most overlooking the Russian River. Full access to camp showers and restroom facilities. Private dock and river access. Maximum Occupancy: 4. Units available: 12 Guests at Guerneville Lodge are served a Campsites are on forested grasslands and most overlook the Russian River. Full access to camp showers and restroom facilities. There are 12 campsites and they allow no more that 4 guys per site. They are walking distance to town with may excellent restaurants.
Rates: Tent camping is at $40 per night. If the lodge sounds good to you, with four guys you can reserve a suite at $149 per night. They have other lodge options.
By Day:Guerneville Lodge is situated among majestic willows and towering redwoods. Here you will find quiet wooded seclusion and sunny landscaped lawns that slope down to their private dock on the river. At the lodge you will find a relaxed, intimate and friendly atmosphere where you can get away from it all, yet still be in the heart of the many activities on the Russian River. Hike the nature trails at Armstrong Redwoods State Park that is walking distance from the lodge, ride horses through giant redwoods and coastal mountain wilderness, or rent canoes with shuttle service through scenic vineyards and woodlands.
Nudity: Not Allowed.
Link: http://www.guernevillelodge.com
Rancho Cicada Retreat - Plymouth, California
Discover nature's magic at this 44 acre riverside retreat in the Sierra foothills on the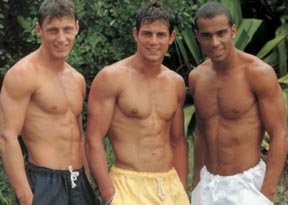 Consumes River. The retreat has two person tent cabins on 8x10 wood platforms in the camping area near the river's edge, cabins and restrooms with showers.
Mostly men, swimming hole, tubing in the gorge, hot tub, sunbathing, volleyball, fishing, meals served with campsite, and gated by reservation only. Gay owned and operated by family.
They are located on 44 acres along the Cosumnes River, 50 miles east of Sacramento in the historic Gold Country of California, and nestled in the Sierra Nevada foothills. They are bordered by Federal lands and Nature Conservancy properties. Their beautiful river valley radiates healing energies. The native Mi-Wok Indians had a large Fall season encampment on the site which is evident from all the riverside grinding rocks.
Rates: Tent Cabin for two guests is $106 per night. They have many other options.
By Day: In addition to fishing and swimming in Cosumnes River that flows along the property, guests may innertube down the gorge or play on super-sized rafts. A guided nature and historical walk led by a seasoned naturalist is offered to groups to the upper swimming hole, where you may play on a rope swing. There are many nature trails with private look-out areas to explore. Near major wineries, many gold mines, centrally located to historical sites.
Nudity: Not Allowed.
Link: http://ranchocicadaretreat.com/
Rest-A-While RV Park - Hoodsport, Washington
The campground is located on Highway 101 on the west shore of Hood Canal and has waterfront and wooded campsites, a private oyster/clam beach, a dive shop, fresh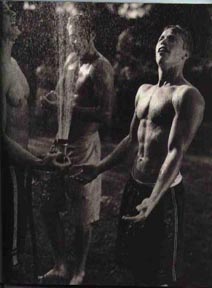 seafood market and marina. Registered guests can schuck their limit of oysters and dig clams in the park.
The camping area has RV sites with electric, water, sewer, cable TV, tent sites and restrooms with showers. Gay friendly, three clubhouses, kayak and scuba rentals. Open year round. Gay owned and operated by family.
Rates: Tent sites are $28 per night. Waterfront RV sites are $35 per night. They have many other options.
By Day: Here at the park, you can do some eagle watching, rent a kayak, take a scuba lesson, watch the salmon spawn, treat yourself to the unique seafood delights in the seafood market, and walk their nature trail. The area offers shellfish gathering, wine tasting, hiking, boating, scuba diving, fishing, whale watching, scenic and wildlife photography opportunities. Visitors to Hoodsport often travel further west on State Route 119 to Staircase, the southeast entrance to fabled Olympic National Park. Backpacking trails from Staircase fan out into the deepest recesses of the Olympic Mountain Range, offering hikers days or weeks of wilderness seclusion.
Nudity: Not Allowed.
Link: http://www.restawhile.com/
The Southwest: Epic Canyons, Hiking, Joshua Tree
Catherdral Palms RV Resort -Cathedral City, CA

This is a gay-friendly campground and the closest camping resort town to Palm Springs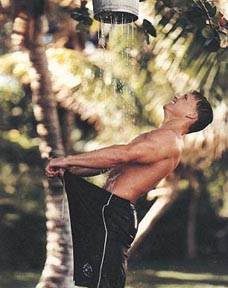 with facilities for RV's/tents and full hook-ups. Swimming pool, hot tub, clubhouse and bike trail.

Rates: Contact them via their website for rates.
By Day: Go for a hike on the Ramona Trail, and while you're here why not explore Cathedral Canyon. Near Cathedral Palms you find the Pacific Crest Trail - section 4 which is a fine hiking trail. Cathedral City and surrounding communities provide an endless supply of entertainment, shopping, history, wellness and even relaxing locations. In addition to the fun you will have while camping with your family, the area offers a multitude of entertainment possibilities for all ages. The nearby town of Desert Hot Springs boasts some of the best mineral water pools in the world. Our location is just 7 miles outside of Palm Springs and just over an hour or so from Disneyland, Knotts Berry Farm or Universal Studios. Enjoy the Living Desert in Palm Desert, a wildlife adventure with a collection of animals from deserts around the world.
Nudity: Not allowed in campground.
Link: http://resortmanagementinc.com/index.php/cathedral-palms/
Rainbow Ranch -Groesbeck, TX
This is a gay ranch on Lake Limestone that is a gated campground for gay and lesbian campers with a lakefront play area and three fishing piers, just outside the historic town of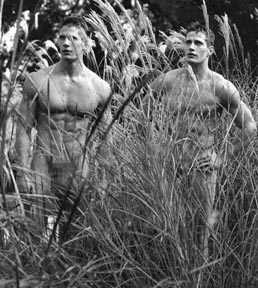 Groesbeck in central Texas. Children are welcome but there are special events that are adult orientated. The camping area has RV sites with 30/50 electric and water, permanent sites, tent sites with electric, RV and tent rentals and air conditioned restrooms with showers. Gay/Lesbian, day passes, swimming pool, a new air conditioned pavilion with darts, pool tables, air hockey, big screen TV and a full kitchen, fishing piers, boats and canoes, fishing, basketball court, lawn dice, horseshoes, sand volleyball court and nature trails. Special events. Gate is locked at dark and opens at 8 am. Reservations required. Gay owned and operated.

Rates: Tent camping is $25 per night for two people. RV camping is $30 per night for two people with water and electric. There are other options.
By Day: Fishing, boating, hiking trails and exploring Old Fort Parker are favorite local attractions located minutes away. Lake mexia offers a variety of water activities to entice any visitor. Mexia also hosts a variety of events throughout the year including motocross racing, horse shows and rodeos. A short day trip away in waco, guests will enjoy visiting other attractions such as the suspension bridge, the cameron park zoo and the carleen bright arboretum.
Nudity: Not allowed in campground.
Link: http://www.rainbowranch.net/new/
Starland Desert Retreat -Yucca Valley, CA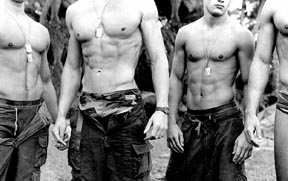 This is a delighful, adults only, rustic campsite and retreat nestled amongst desert mountains in the Yucca Valley, high in the Mohave desert only an hour from Palm Springs. An alternative lifestyle and retreat and campsite that is intimate and private, overlooks a desert wilderness and offers clothing-optional camping, cabins, a Main hall with a capacity of thirty and shower house. Gay men/lesbians welcome, hot tub, camfire amphitheatre, monthly events, hiking trails and ten acres of unlimited stargazing at night!
Rates: Tent camping or indoor accomodations are $35 per night and includes a $10 membership fee.
By Day: Hiking, biking, horseback riding, and camping in Joshua Tree National Park...6 miles to west entrance. -ATV rentals nearby. Rock climbing at nearby ranges. Horseback riding nearby
Nudity: Clothing-optional.
© 2017 GayOutdoors.com; All Rights Reserved.