learn
America's Best Gay Beaches
By Mike Boisvert.
If you think the best gay American beaches is where everyone hangs out and parties until dawn, think again. Whether you're looking to surf in southern California, to sunbathe nude off-the-beaten-path in Hawaii, or enjoy the quiet side of Florida's Gulf Coast, these 10 great gay American Beaches will get you there.


West and Hawaii

San Clemente, California
San Onofre State Park

It has become one of the five most-visited state parks in California, hosting swimmers, campers, kayakers, birders, fishermen, off-duty Marines, and surfers. Surfers began surfing at San Onofre before the 1950s using balsa/redwood surfboards, including notables Lorrin "Whitey" Harrison, Don Okey, and Bob Simmons. The beach exemplifies the surfing lifestyle in California because of its culture and pace. Summer days and many weekend surfers and non-surfers riddle the beach playing volleyball, telling stories, bar-b-qing, drinking beer, bathing in the sun, resting under the iconistic grass huts, squirrel fishing, or simply surfing their long boards, short boards, or body boards in patient wait of the next slow lazy roller to arrive for the masses. Rent a longboard at Stewart's Surfboards ($20 per day; 949-492-1085). The gay section is on the stretch of beach between lifeguard tower six and the edge of Camp Pendleton Marine Corp Base--this is essentially the nude beach area.
Maui, Hawaii
Little Beach
Maui's gayest beach is Little Beach, located south of Wailea, one mile past the Maui Prince Hotel. Just past the large hill on the right is a paved road turnoff leading to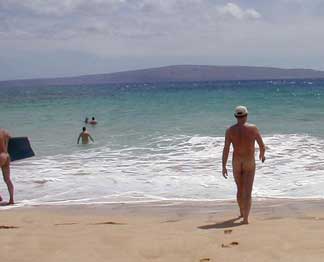 Makena beach. Hike over the lava promontory at the right end of the beach to reach "Little Beach" where you'll find the only "gay scene" on Maui--hippies, gay men and other free thinkers enjoy this clothing-optional area. After a long day on the water, satiate your hunger with fresh seafood at Pa'ia Fish Market Restaurant (100 Hana Hwy.; 808-579-8030; $7-20). Even though Maui ranks as one of the most gay-popular islands, its gay nightlife leaves much to be desired. Maui has a broad and interesting range of accomodations. Huelo Point Flower Farms (P.O. Box 791808, Pa'ai; 808-572-1850; http://www.mauiflowerfarm.com; starts at $225/night or $1375/week) offers spectacular cliff views.
Southeast

Sarasota, Florida
Lido Key
Sarasota and this stretch of the Gulf of Mexico has long been known as the "quieter" side of Florida, but don't let this fool you: There is more than enough excitement to be found or area beaches and at local bars and clubs. Sarasota's gay beach area at Lido Key is known throughout the Gulf Coast. With beautiful sand dunes lining North Lido County park, no one looking for a typical Florida beach experience will be disappointed. The gay and lesbian area in on the north end. From the lifeguard station, turn right (north) and walk 1/4 mile to the dunes nearest Longboat Key and New Pass. While this section of Sarasota County beaches was once clothing optional, it is no longer so. Nudists should beware of beach patrols serving stiff penalties to clothing-edict scofflaws. Also beautiful, but not a gay hangout, are the beaches on Siesta Key. Park near the main pavillion and stay near the volleyball nets for the best people watching. No visit to Sarasota is complete without having a beer and oysters at one of the local seafood favorite, Phillippi Creek Oyster Bar (http://www.creekseafood.com/). Start your night off at Ovo Cafe (35 S. Lemon Ave; (941)-954-6029), try their Chicken Piccatta with two juicy breast of chicken topped with sauteed mushrooms in a garlic lemon sauce. Then move on to Club-Tri Angles (http://www.clubtriangles.com/), the dance bar in town. On Friday and Saturday nights, this is the hangout of the hip, young crowd, where you'll find everything from drag shows and male dancers. When planning a trip to Sarasota, your best bet is to choose a beach hotel, as the water is the main attraction here. For beach stays, look no further than Lido Key, such as the Holiday Inn Lido Key (www.lidobeach.net) with prices ranging from $145-345). Downtown choices are less expensive such as the Wellesley Inn (1803 N. Tamiami Trail) with rates ranging from $69-129).

Outer Banks, North Carolina
Pea Island National Wildlife Refuge
There's an outlaw history about the waters off the 70 miles of barrier islands fringing the North Carolina coast. The
coastal waters here are so shallow that daring pirates sailed close to shore to escape the law -- but sometimes ran aground. Probably gay men were doing the same thing when the gay lifestyle was more secretive -- but hopefully they did not run aground! Make your HQ Pea Island National Wildlife Refuge, located 10 miles north of Nags Head, and you'll be well poised to plunder all the natural bounty around. There are no accomodations available in the refuge itself so the best advice is to simply drive towards it and look for a place that fits your needs. The islands of the Outer Banks extend over a vast area, and there is not a single place that can be established as an established gay beach; especially for nude bathing. However we can put you in the right direction. Continue south on SR-12 past the Visitor Center and look for signs for the New Inlet boat ramp, where there is a parking lot. Park at the New Inlet lot and walk across the dunes to the beach on the Atlantic side of the island, the head south (to the right when facing the water) about a mile.
Northwest

Lincoln County, Oregon
Cascade Head
About 80 miles west of Portland the Cascade Head Trail snakes up from the coast through primordial forest and an extensive biosphere jointly overseen by the Nature Conversancy, UNESCO, and the U.S. Forest Service. This wilderness hike takes you 3.4 miles out and back from cool glens of Sitka spruce and Western hemlock, past waterfalls and ferns, and up to a massive, prairie-like bluff overlooking the Pacific Ocean and estuary of the Salmon River, more than 1,000 feet below. Hike from the lower section to spike your appetite for blufftop picnic, where you'll gape at native plants, bald eagles, and the odd peregrine falcon. Or save it up for a heaping plate of of sweet onion and white cheddar cheese, German potatoes and a slice of homemade marionberry pie at the Otis Cafe (541-994-2813), well worth the wait out front. Sleep it all off in your beachside campsite (from $3), yurt (from $27 per night), or five-person cabin (from $66 per night) at Cape Lookout, about 12 miles from Cascade Head (http://www.oregon.gov/OPRD/PARKS/index.shtml).
Seattle, Washington
Madison Park Beach
Madison Beach remains one of the most popular and attractive swimming beaches in Seattle, thanks to a lush
grassy area where sunbathers can stretch out and enjoy a stunning view of Lake Washington. Gay men end up at Madison Park beach, to the left of the lifeguard chair, a cozy little spot covered in grass, surrounded by foliage, and divided from the straight beach by men's and women's rest rooms. I suppose Madison only officially becomes a gay beach during those few days of summer when it's actually hot enough to swim, but if you're a man seeking lots of other oiled-up men in swimming trunks and Speedos, this is the spot for you. Pyramid Brewery Ale House (http://www.pyramidbrew.com/alehouses/seattle.php) has the best local brew and burgers, while Queen City Grill (http://www.queencitygrill.com) offers one of the best filet mignon in town, hands down. After dinner, retreat 15 minutes back downtown to the minimalist-chic Ace Hotel, which provides a bedside copy of the Kama Sutra in every room ($85; www.acehotel.com).
Puget Sound, Washington
Orcas Island
The 57-square mile Orcas Island is not only the world's best site for ogling killer whales, it's also an ideal place to test your limits on dry land. Set up camp at Moran State Park ($16 for a permit; www.parks.wa.gov), then hop on a dual suspension rig to launch thigh-burning epics along 11 miles of bike trails (rentals from $40; www.wildlifecycles.com). Swap pedals for paddles back in Eastsound to bob with the orcas migrating offshore -- if you're lucky you'll see a 30-footer bust from the surf right off your prow (from $55; www.shearwaterkayaks.com)
Northeast

Long Island, New York
Jones Beach

The trip to Jones Beach -- is an easy one by weekend getaway standards by using the Long Island Railroad from
Penn Station. South of Wantagh, on Long Island's South Shore, the world-famous 2,400-acre Jones Beach in Nassau County, enjoys one of the finest parks and recreation systems in the nation boasting hundreds of acres of nature preserves and miles of white sand beaches. To catch a view of their hot lifeguards is worth the trip by itself (we have one of the pics posted here). Head for the eastern end of Beach 6 for some "complete" sunbathing on a "no radio" beach with great waves. Back in Nassau, check out local gay bars such as Auntie M's (3547 Merrick Rd, Seaford, NY; 516-679-8820); Blanche (47-2 Boundary Ave, South Farmingdale, NY; 516-694-6906) and Pal Joey's (2457 Jerusalem Ave, North Bellmore, NY; 516-785-9301).
Ogunquit, Maine
Ogunquit Beach

Three miles of beautiful, wide, white-sand beach are the lure for visitors, a majority of whom come from New England and the province of Québec. The gay beach is 200 yards to the left of the main beach entrance. For an ocean view, stay at the Cliff House Resort & Spa (Shore Rd; 207/361-1000, fax 207/361-2122; www.cliffhousemaine.com, info@cliffhousemaine.com; $160-330), a beautiful, 162-room inn perched on the edge of 100-foot Bald Head Cliff. Ogunquit's other attractions include the Marginal Way, a one-mile-long walking path with breathtaking views of the beach and sea, and Perkins Cove, a touristed but charming area filled with quaint old buildings, unique boutiques of the soap-and-candle variety and several excellent restaurants. The gay scene migrates to Front Porch for après-sun drinks in the late afternoon and then converges on one of Ogunquit's three nightspots, including Maine Street (131 S. Main St; 207/646-5401; www.mainestreetogunquit.com), a large, open dance club-video bar with early-evening shows and entertainment.
Provincetown, Massachusetts
Herring Cove Beach
Herring Cove is the gay beach, all the way at the west end of town. If you're driving there in season, go early -- you'll have trouble parking after 11:00 a.m. It's not too far to walk, but a bike is probably the best tranportation option.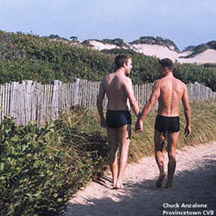 Whichever way you go, you'll still walk 10 minutes -- either from the parking lot to the gay end of the beach, or from the street-side bike rack down the path. Many beachgoers lock their bikes against the trees along the road leading to the beach and walk to the beach by cutting through the woods. Just follow the path, and be sure to avoid trampling the delicate dune vegetation. Entrance fee in season, which is collected at the ranger's booth, is $7 for cars, $1 for bicyclists and walk-ins, although the latter isn't always collected. From the booth, turn left, proceed about 100 yards and park anywhere in the lot although you will want to park as close to the far left side of the lot as possible. The path at that end will deliver you onto the women's section of the gay beach. Men typically proceed farther left along the beach stopping either in the "bisexual section," where groups of men and women intermingle, or farther along in the predominantely male section. If you continue to walk west along Herring Cove for a long while, you'll eventually come to the very tip of Cape Cod and one of the most beautiful and isolated beaches anywhere. Stay in town at the Revere Guest House (www.reverehouse.com
; $85-$165), a great value. At night hit the A-House (www.ahouse.com), undisputedly the grand dame of the gay scene in P'town.
© 2006 Gay Outdoors ; All Rights Reserved.