about us
We began our simple Internet Bulletin Board in 1999 with a simple goal: to bring gay men, lesbians and their straight friends together to experience the incredible fun of outdoor adventure and to create an atmosphere that leads to life-long friendships. It all began in Boston, but before long, we started growing and attracting members from across the USA. Today, we're the world's largest gay outdoors club, with more almost 9500 active members in every state and eight foreign countries. We're growing every year, and you're invited to come join the adventure! In general, we are open to adult "gay men, lesbians and straight friends". Most of our members are gay men. However, we also have many loyal lesbian, bi, trans-gender and questioning members, and occasionally our gay and lesbian members bring straight friends or relatives. We ask that anyone who joins a trip participate with a positive spirit.
Additionally, we have a comprehensive list of links to gay outdoors community resources, a member list so you can search for outdoorzy buddies who live near you with the same outdoorzy interests, outdoorzy articles of interest to you, a budget to make further enhancements to our website, a bi-weekly newsletter Trail Mail, an outreach program to attract new members, and a trail maintenance program.
Members post social events and group outdoor activities [that means you] to the country's best destinations for gay men, lesbians and their straight friends of all skill levels. Email invites are sent to members who live near you when you post an outdoor activity. As a trip leader, our website provides tools for you to easily contact members who sign-up and well as edit the details before the event begins.
Make new outdoorzy buddies in a laid-back, down-to-earth atmosphere. People join GayOutdoors for one overwhelming reason: to make new outdoorzy buddies. Maybe in the past that wasn't such a difficult thing, but in the age of internet dating and mobile-powered meetups, it can be surprisingly difficult to meet the kinda people who you simply want to hang out with.
GayOutdoors members are extroverted, down-to-earth and supremely friendly. We're devoted to the pursuit of ADVENTURE, and that attitude spills over into everything we do.
And when you think about it, it's blissfully simple, really. Outdoor Adventure is a fantastic way to make new outdoorzy buddies.
Whether you've just moved to a new area, are feeling lonely, recently come out, don't know any other gay people, looking to meet or just want to widen your circle of friends, GayOutdoors can help. The members who come on trips are typically down to earth, friendly and welcoming. Many of us have made new and lasting friendships and gained a strong network of buddies in our area. Spending a trip with a group of other members who care for each other's safety and ready to assist should anyone stumble or fall, provides a powerful sense of inclusion and trust with the other members of the group. Many members say GayOutdoors is like a family. And it's true, it is. You'll never be left wanting for buddies again. You've just come across a group of gay men and lesbians who'll be your friends for life.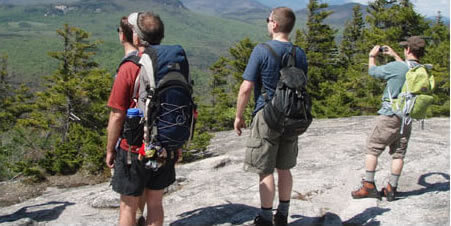 The Board of Directors is here to answer any questions you may have. Get in touch! Or look for one of us running a trip, and head on by to chat with us. We'll introduce you around.

Daytrips, weekends, and extended vacations
Join a variety of getaways ~ from fun local daytrips to weekend adventures.

These trips can take place locally or take us to other locales throughout the United States. All trips are organized and led by our members who volunteer to run them, which means they are free.
All skill levels are welcome in GayOutdoors! All of our trips are rated so you can find the trips that best suit you. We use the 'buddy system' so you are never alone. Join the fun! No more fear that you won't keep up.


20% of our members are beginners
50% of our members are intermediates
30% of our members are advanced
We've all been there. You're on a trip with friends who are more advanced than you are.
You feel pressured to do trips that you know is beyond your level and you can't help but think, "this probably isn't a good idea..." No more. All of our trips are rated so you can find the trips that best suit you. It changes a trip that could have been daunting into one that's amazing. GayOutdoors is about challenging yourself. You're scared of heights, but you've just climbed a windswept knife-edge along a ridge. You thought you were claustrophobic, but you've just squeezed through a small cave. You've never walked further than the shopping mall, but you've just gone ten miles! Ok, you might ache a little, but the elation you'll get from doing something you never thought possible, you'll never forget. Whether you're a seasoned hiker or wanting to improve your general fitness or wanting to lose weight, GayOutdoors is for you. Members post a a range of activity options for all abilities. On a GayOutdoors trip, there's nothing that isn't achievable. This is the magic of GayOutdoors.
If you are new to doing stuff outdoors in general, ask questions! Although we're not experts, we'll share our experiences with you and tell you what's worked for us. Our articles on the website has a lot of advice. New people show up all the time and we always do our best to make them feel at home and welcome. Well, you are welcome, after all! GO relies on your input and participation. Getting involved in some way is why we're here.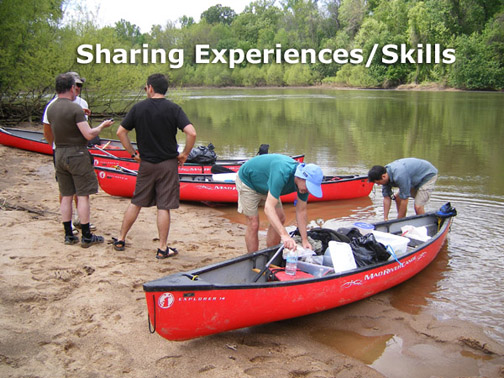 For the uninitiated, get out and get more active with GayOudoors! Get out and make a few new friends, get some oxygen in your lungs, and do something different. Why not run something? Start with something simple. You'll get a few members going along and pretty soon you'll be a seasoned veteran! Email invites are sent to members who live near you when you post an outdoor activity. As a trip leader, our website provides tools for you to easily contact members who sign-up and well as edit the details before the event begins.

Our trips are like blind dates. First choose low-risk trips to get to know members. We offer regular social gatherings and short hikes. We also suggest contacting other members or the trip leader when you sign-up for your first trip. Ask if someone can look out for you.
The best way to "get your feet wet" is select an easy to easy/moderate rated trip at first like a light hike or nature walk so you can ease yourself into the more difficult trips that lie ahead and get an idea of how our trip ratings methodology works. Review the trip details before you go to make sure you can complete the trip safely. If you aren't sure of something, ask the trip leader. We periodically offer social events at a bar. These social get-togethers are also fabulous ways to meet fellow GOers. However to receive email notifications about these, you will have to be a member. The other option is to check in to the website frequently.
Make sure you have the right equipment [footwear, clothing, gear, etc.] and that you can safely complete the trip before leaving your house. If you discover the trip is too much for you, turn around. Do not push yourself, as you will endanger your safety as well as the safety of others. Bring your own water and lunch/snacks as needed. You carry your own, and bring more than you need. You must supply your own gear [exceptions will be noted in the trip description]. Places like Backcountry.com, Eastern Mountain Sports [EMS], and REI can rent you gear if you need something. Oh, right: Bring your sense of humor. J We do tend to have a great deal of fun! This is all just common sense, really, but all very important. By pausing for a moment and thinking about the trip and how you can complete it safely and what you'll need, you'll be helping to keep you and everyone else safe.
What's best, we all socialize at the end of the trip before heading back home at a nearby restaurant or in someone's home. We kick back with everyone to talk about the day's adventures and plan for more in the future.
Become a GayOutdoors member today. Membership is free. Now is a great time to register for a GayOutdoors Membership.
Are you looking at all these pictures and wondering if you'll fit in?Are there other GOers like you?
It's an easy answer: YES. Have a look at some of our member statistics.
GO is an outdoors club for gay men, lesbians and their straight freinds with a wealth of wisdom gained from experience, trial-and-error, and good clean fun. It's a club that let's you find outdoorzy LGBTQ folks to explore with; and to explore with the knowledge and help of other members.

We're all over the place for demographics. The average age is probably 46-55 but there are sooooo many people younger and sooooo many people older that it's really hard to draw a line anywhere. We all just have fun regardless. It's a mix of gay men, lesbians and their straight friends. Our members are from all over the United States, Canada, Germany, France, Australia, Italy, Spain, Netherlands and more. Over half of our members are from the Northeast, with concentrations in the Southeast, West and Southwest. We have loads of members in their 30's regularly attending trips and many people in their 60's.
Activities most members enjoy in order of most to least interest are as follows:
- Hiking

- Social Meet Up [gay bar meet up, holiday parties, potlucks, cookouts]

- Nude Swimming Holes/Beach Excurions

- Camping Weekends

- Canoeing/Kayaking

- Swimming Hole/Beach Excursions

- City Walks/Strolls

- Vacation Trips

- Backpacking

- Outdoor Skills Clinics

- Trail Maintenance

- Road Cycling

- Hostel Weekends

- Whitewater Rafting

- Snowshoeing/Winter Hiking

- Downhill Skiing/Snowboarding

- Nordic/Cross Country Skiing

- Mountain Biking
Our club is ideal for single gay men and lesbians to meet new friends, and also for couples to enjoy the comaraderie of exploring the greater outdoors. We're not a dating club. We're health-minded and love outdoor adventures.
There are members in good to excellent physical shape, but most members are just in average shape. Beginners and those trying to get into shape are more than welcome, too. For hikes, our policy is "Nobody hikes alone." The person running the event will run sweep or will make sure someone else is.
We've got some heavy-duty folks out there who run activities such as backpacking, hiking up mountains with lots of elevation gain/mileage, multi-day treks, off trail bushwhacking, and so on. We've got some lighter-duty folks who run less intense events. And we've got very light-duty folks who just seem to like to socialize. "All interests, all levels." Boy, we ain't kidding!
The biggest reason for people starting out with GO? "I can never get any of my friends to do outdoor activities with me."
Gay Outdoors is here as a simple Internet Bulletin Board that allows members to post outdoor activities and post trip reports/photos for gay men, lesbians and their straight friends so they can enjoy the beauty of the greater outdoors together.
You can post an activity or sign up for one. You can post photos and trip reports after the trip. We provide a robust member search system to find guys local to you so you can contact them. We send members a bi-weekly e-newsletter, Trail Mail, to keep everyone informed as to what's going on.

You can connect our LGBTQ family in your community, developing friendships that extend far beyond the greater outdoors.

Our structure is such that our website is the central clearinghouse for all things gay outdoors: membership profiles, trips, trip ideas, trip reports/photos, links/articles and overall communication. Local chapters are not needed because we only send new trip notifications and reminders to members who live near the location of where the trip will be held. Loosely-knit and informal groups have developed in certain areas of the country through the efforts of a few members who regularly run trips and social events. As a result, they have developed a core group of members who have become good friends and plan future GO trips together.
Top Five Reasons To GO!
1. Connect with gay men, lesbians and their straight friends who enjoy outdoor trips and activities. GayOutdoors provides a great way to connect with our LGBTQ family who enjoy outdoor trips and communing with nature (or who are interested in getting involved with outdoor adventures for the first time). By posting a profile and joining, you can search for outdoorzy buddies who live near you with the same outdoorzy interests.

2. Do outdoor trips and activities you've never done before. Members post trips [that means you] in a variety of natural locations that you might not always find on your own.

3. It's safer. Granted there's a breed of experienced outdoorzy members who are independent- minded and adventurous, who enjoys discovering and exploring natural areas alone or with a friend. But GayOutdoors meet the needs of many of us who have limited free time and may not be inclined to venture out by ourselves (because of safety considerations, and/or a preference for sharing with others the pleasures and fun of a nature-based activity).

4. Our club is inclusive with a diverse group of members. Although nearly all our members are gay men and lesbians, you don't have to identify as LGBTQ to become a member. Our members often bring straight friends or family members to join the fun. Everyone is welcome at our trips and social events! Our programs are designed to meet the emotional, psychological, and physical needs of our LGBTQ community. We provide a safe environment that promotes openness and honesty. During our trips and activities we have open discussions and encourage healthy expressions of emotion. We share our hopes, fears, and frustrations with our LGBTQ family who are experiencing the same issues. In the greater outdoors, we have a unique opportunity to express our emotions and challenge themselves physically and mentally. At GayOutdoors we build self-confidence through our trips/activities and self-exploration, thus creating a strong foundation to everyday living.

5. Volunteers run us.Volunteers run us, and volunteers run our outdoor trips and activities. Our members who organize trips are into what they're doing, do it for the sheer enjoyment of it, and enjoy sharing their experience with others. Our members organize trips because they want to. It's an opportunity for members who have participated in previous trips to give back a little and organize one of their own. Our outdoor trips and activities are extremely casual and loosely run, and we offer an extensive trips schedule. We do have to pass along a ton of thanks to ALL the members who post and run events (without you where would we be?).
If you interested in GayOutdoors, chances are you're someone who loves outdoor trips and activities, or who would like learn. You're probably looking for other gay men and lesbians to share it with. In our busy world it isn't always easy to find friends or companions to enjoy outdoor adventures with. With GayOutdoors you'll be part of a community that is one of the best and most interesting outdoorzy men clubs in the world, with an endless array of trips and activities to choose from on weekends year-round, and hundreds of fellow-members to meet and share memorable times with while exploring the most scenic natural areas of our country.
A free guest membership in GayOutdoors brings a host of perks and privileges:
Membership Profile: You can upload pictures of yourself and share with other members a little about yourself. Members can find out who is on your buddies list, see what trips you have signed-up for and view photos youve posted in your photo gallery. [You can restrict your profile to appear just for members or not at all].
Search Member Profiles: You can search for other members who live near you by zip code [within a certain range of miles], state, activity, age, fitness level, etc. and contact them to plan a trip together; either alone or as a group trip with other gay outdoor members. You can ask them to be your buddy.
Mailing List:
We'll instantly send you email notifications of any trips and social events that get posted near you. You can determine the range of miles from your zip code for us to send you email notifications and reminders. If you are a sustaining member, you'll also receive our bi-weekly newsletter, Trail Mail, that gives you the latest GayOutdoors news.
Trip Sign-Ups: You'll be able to sign-up for trips. Once you do, you'll see you're profile listed and be able to see who else has signed up. You can contact the trip leader if you have a question about the trip or another member who lives near you to carpool. After the trip, you can write a trip report and upload the photos you took for all members to see.
Posting Trips/Trip Ideas: Post trips and social events of your own and invite other members to join you. Our unique technology makes it easy for trip leaders to post trips, edit, contact all participants at once and manage waiting lists. If you are unsure about interest in a particular activity, you can post a trip idea and have members give you feedback before you make it an 'official' trip.
We do offer additional perks and privileges to our full members at only $25 a year.
>>Tell Me More About Full Memberships
Members post Social Parties to meet other GOers.
Come meet the GOers! Get a feel for our laid-back, friendly vibe. Chat us up about your favorite outdoor destinations. Get advice on gear, find someone to carpool with on an upcoming trip or plan a group trip. Members [that means you!] regularly post gay bar meet ups, holiday parties, potlucks and cook outs to meet the outdoorzy guys who you'll be enjoying adventures with. Reconnect with existing friends and the new friends you've made recently through GayOutdoors. It's a come-as-you-are, relaxed event, and it's the perfect way to check out GayOutdoors and get a good sense of what we're all about.
Become a GayOutdoors member today. Membership is free. Now is a great time to register for a GayOutdoors Membership.
How GayOutdoors Trips Work
GO is a neat and fun club of free outdoor trips/events, and it relies on everyone's participation. Please attend those trips/events that interest you and try those you think may interest you. And consider posting trips for others to join in on.
To post a trip/event, just cook up an idea [hiking, city walk/stroll, social meet up, swimming hole/beach excursion, camping weekend, canoeing/kayaking, vacation trip, backpacking, snowshoeing, cross-country skiing, or something else you like to do], and click on Post A Trip. Read up on what's required, then fill in the form. Board members will be alerted that you posted a trip and if it meets our guidelines will be approved. Once it's approved members who live near where the trip will be held are notified by email. The trip will also be posted on the website.
To attend a trip, just click on trips. Read the details on what you'd like to do. All you need to sign up for something is select your mode of transportation using the drop-down box, make any comments if you wish, click on the "Click Here To Sign Up" button and then show up.
Attendees only pay the costs associated with the trip/event [accommodations, food, gear, entrance fees, and pitch in for gas/tolls/parking]. Most of the time there's no cost at all. As with any online website and club, there are costs and fees associated with hosting and running it. Full Membership dues go to keep this incredible website/club operating and available for our LGBTQ community. This includes providing trips and website upgrades. For many, this alone is worth a small price of membership.
We are here so we can all GO Outdoors and Make New Outdoorzy Buddies! Did we mention that it'd be great if you consider posting a trip for others to enjoy? Oh, right, we did.