about us
Hiking, backpacking, camping or vacation adventures, GayOutdoors [GO] has been the LGBTQ outdoorzy community leader for the last 22 years. We are an informal group of diverse hiking enthusiasts in the United States with a shared love of the mountains who prefer hiking with friends. We invite you to join us on our hikes, to post hikes for other members to join you and to share your hiking photos, stories and advice. We promote camaraderie, communication and support for hiking enthusiasts in the United States!
Hiking is what brings us together. We hike and hike and hike! We invite people 18 and older of all abilities to hike with us. Have fun, get plenty of exercise, make friends, and experience nature all in one activity!
Make new outdoorzy buddies in a laid-back, down-to-earth atmosphere. GayOutdoors strives to get the LGBTQ+ community hiking in fun, safe and creative ways. We are a network of hikers who hike together in a safe and comfortable atmosphere, get involved with trail maintenance activities, advocate for land conservation and support local Search & Rescue Teams. But most importantly, have fun while doing it! [Jon Normand left with his partner Mike Boisvert.]
Our founder, Mike Boisvert, began trip leading for Boston's Chiltern Mountain Club in the 1990's, leading over 200 hikes/adventures in that period. It was a period where most of us were still closeted, even when encountering straight people during our hiking adventures. With the explosion of the internet in the late 1990's, Mike decided to create a visible LGBTQ internet hiking community that has become one of the world's largest gay outdoors group. Mike is often referred to as the "Father of the GayOutdoors movement."
Mike Boisvert began our simple Internet Bulletin Board in 1999 with a simple goal: to bring gay men, lesbians and friends together to experience the incredible fun of outdoor adventure and to create an atmosphere that leads to life-long friendships. Two years later Mike met Jon Normand thru GayOutdoors and together they took our community to the next level! Since our beginning, Mike and Jon have easily run 400 outdoor adventures on top of what all other GO members run.
Originally, GO was specific to gay men and bisexuals, but evolved to the entire LGBTQ+ spectrum. Over the years, thanks to the financial support of Sustaining Members, improvements to the website were made and our social media presence has expanded to strengthen the GO community.
PROGRAM BENEFITS
* Create a free profile at our website where we can match you with other members living near you with the same outdoor interests
* Post a trip or sign up for one
* Email notifications of new trips posted near you
* Receive our bi-weekly e-newsletter, Trail Mail
* Browse and search for other outdoor partners specific by state, zip code, country, activity, fitness level, age, etc.
* Ask members to become your buddy
Upgrading to a Sustaining Membership provides additional benefits including:
* Contacting/email other members; send emails to all your buddies at once.
* Sustaining Member badge appearing with your profile; GO tag for your pack.
* Profile rotated on home page, priority ranking on member search results.
* Sustaining Member Appreciation Events.
* Find out which members viewed your profile, view member home pages, enlarge all the photos in a member profile
GayOutdoors has a robust system to post hikes, edit details, and communicate with participants. Afterwards, participants can upload photos and write a report. We also have a comprehensive directory of gay outdoors community resources, a member list to search for outdoorzy hiking partners, a budget to make further enhancements to the website, a bi-weekly newsletter Trail Mail, an outreach program to attract new members, a trail adoption program to preserve and protect trails for future generations, a land conservation program and a program to volunteer at local "search and rescue" teams.
JOIN US
If you find it invigorating to hike along a mountain trail with friends not knowing what's just around the corner, to get some fresh air, to stop and soak in the views on a summit, and to soak your feet in a mountain brook after a hike, give us a try! Our vision is to create a nationwide network of LGBTQ hiking enthusiasts to share adventures with, to learn from, to have fun with, and to create lifelong friends. We hope you share in our vision and that you will decide to join us. We have been making new outdoorzy buddies in a safe, comfortable atmosphere since 1999! Membership is free.
Granted there's a breed of experienced outdoorzy members who are independent- minded and adventurous, who enjoys discovering and exploring natural areas alone or with a friend. But GayOutdoors meet the needs of many of us who have limited free time and may not be inclined to venture out by ourselves (because of safety considerations, and/or a preference for sharing with others the pleasures and fun of a nature-based activity).
Our activities include:
* Hiking
* Peak-Bagging
* Backpacking
* Camping
* Adventure Vacations
* Snowshoeing
* Nordic Skiing
* Trail Maintenance
* Socials/BBQ/Swimming Hole Excursions
* Biking
* Paddling
* Climbing
* Fishing
* Trail Running
* Yoga
Are you looking at all these pictures and wondering if you'll fit in? Are there other GOers like you?
GO really is nothing more or less than the sum of the energy and enthusiasm that ALL our individual members contribute - the greater and broader that energy, the greater and broader will be the enjoyment that we derive from GO. In addition to seconding your personal goal of participating in a GO trip sometime soon, another thing to consider doing is to actually organize and post a GO trip yourself, in your area. Whether it's hiking, camping, backpacking, or something else, there are many GO members in your area who might be interested in meeting and joining you. As you likely would surmise on your own, the key to a rich calendar in your area lies with those first few people who are able to step out in front and get the ball rolling in their area.
Members like you post them on our website and email invites are automatically sent to any member who lives within 150 miles or 300 miles from where you live. Thus, if you don't see any hiking trips posted in your area, it's upon you to step up and fill in the gap! The active nature of our trips makes it easy to get to know others in the group — and to make new friends.

Volunteers run us, and volunteers run our outdoor trips and activities. You don't have to be an expert to run a hike and everyone who participates pitches in. Our members have found trip leading to be a fun, positive experience where they can share their favorites hikes/places, and meet up-beat, friendly people to hike with! It's an opportunity for members who have participated in previous trips to give back a little and organize one of their own. Our outdoor trips and activities are extremely casual and loosely run, and we offer an extensive trips schedule. We do have to pass along a ton of thanks to ALL the members who post and run events (without you where would we be?).
WHY BECOME A MEMBER?
* "GO has definitely had a positive effect on my life. Not only have I enjoyed the social interaction with many other gay men, but I have also established a few very solid friendships with other GO members with whom I get together on a regular basis."
* "I've made some great friends through GO, and I've explored places I otherwise would not have seen. I'm glad GO is available and I'm happy to support it with my presence and membership."
* "It's been nice to meet other gay men who are kind, respectful, polite and friendly."
People join GayOutdoors for one overwhelming reason: to make new outdoorzy buddies. Maybe in the past that wasn't such a difficult thing, but in the age of internet dating and mobile-powered meetups, it can be surprisingly difficult to meet the kinda people who you simply want to hang out with.

Spending a trip with a group of other GO members who care for each other's safety and ready to assist should anyone stumble or fall, provides a powerful sense of inclusion and trust with the other members of the group. Many members say GayOutdoors is like a family. And it's true, it is. You'll never be left wanting for buddies again. You've just come across a group who'll be your friends for life!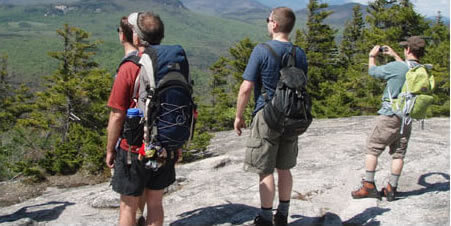 The Board of Directors are volunteers who devote a great deal of their time and energy to the organization. This includes communications, website development, social media, finance, membership growth, organizing activities/social events, strategic planning and setting policies.