Articles & Columns
Have a great article of interest to gay outdoorzy guys? If so, it could be featured here.
Contact Us
Listing 1 - 15
GO Gathering ~ August 19-21 IMAGINE!!!
The largest camping gathering for GayOutdoors, GO Gathering welcomes gay outdoorzy men of all ages and abilities to New Hampshire's White Mountain National Forest at Branch Brook Campground near Waterville Valley at a riverside group campsite along the Pemigewasset River where we can swim/tube right from our site!
Read More >>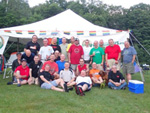 2013 GO Gatherings: What Fun Chemistry!
On the July 12-14 weekend, two GO Gatherings were held where over 60 GO members got together to do what they love best! In NH, we camped alongside the Pemigewasset River on a muggy summer weekend in the spectacular White Mountains and went tubing, hiking and biking. In PA/NJ, we spend a day along the Delaware River tubing and kayaking followed by a potluck. It was a weekend full of outdoor activities and social events that included a Wine & Cheese Blast, Beer Blast, Hungry Hiker BBQ Potluck Feast,campfires and fireworks!
Read More >>
GO Gathering in California, August 10-12, 2012
Join us for our biggest event of the year...it cannot be missed! Sign up has just begun. There is no better weekend camping event than the one hosted by California Great Outdoors and GayOutdoors, two of the world's largest gay outdoorzy organizations. This is a great opportunity to meet outdoorzy men from all over the country.
Read More >>
Trails of Albuquerque, New Mexico
Potential visitors may not know that the city and its surrounding area are full of outstanding outdoor opportunities such as camping, hiking, bicycling, equestrian trails, fishing, wildlife viewing and bird-watching.
Read More >>
The Legend of Toronto Urban Camping
With Toronto traffic known for being the most congested in the country, here are a couple of options that will leave you with that feeling of escape, without even having to leave Toronto. Best of all, owing or renting a vehicle is not required.
Read More >>
Gay Hostels In Europe
Traveling on a budget? Then don't let a poor exchange rate and a strong euro ruin your holiday – there are hundreds of Gay Hostels in the most active holiday destinations in Europe.
Read More >>
Guys Just Want To Have Fun
Gay camping! Is this an oxymoron, or a play on words? My first thoughts are do gay men camp, in a tent? With three LGBT designated campgrounds in Ontario (Canada), I made it my mission to try to put some definition to the term camp.
Read More >>
How To Choose The Best Tent For You
Camping is one of the best ways to spend quality time with your friends in the great outdoors. There are many types of tents on the market today, ranging from ultra-light backpacking tents to large multi-room cabin style tents.
Read More >>