learn
Gay Ski Weeks 2018
By Mike Boisvert.
Who needs pansy-ass beaches? When the weather gets cold, real men head to the mountains. Yep, it's time again for some good ol' fashioned red-blooded, white-powdered gay winter fun.
ELEVATION: Utah Gay Ski Week
February 22-25
Park City, Utah
Tom Whitman Presents
310.403.0087
Utah Gay Ski Week Website
Email: tom@tomwhitmanpresents.com
This is a wonderful event not only because Park City is a cool little town to shop and play in, but also because Utah's Wasatch Mountains offer some of the best skiing conditions in the world: spectacular powder, sunny weather, and beautifully kept facilities. Each day features skiing or snowboarding at one of Park City's or Salt Lake City's famed mountains: Alta (this one is ski-only, as it doesn't allow snowboarding), The Canyons, Brighton, Solitude, and Snowbird). A number of different social events are held throughout the five-day event. The event kicks off on Thursday with an Apres Ski Party with a dance party every night. This is a weekend about serious fun, new and old friends. So in the spirit of Elevation, a tip for the weekend that I always give every year: Be friendly, introduce yourself. The guy you meet on night will be the friend you ski with the next day!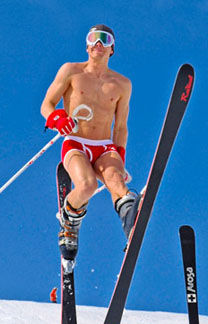 Arosa Gay Ski Week
January 2o-27
Switzerland
+41 81 378 70 20
Website: http://www.arosa-gayskiweek.com/
You will discover an international week of fun enjoyed by hundreds of participants from all around the world. Arosa sits at the top of a typical Swiss valley (6000 feet) and that means there's sure to be snow! Whether you like skiing back to your hotel at the end of the day on your new carving skis, walking along the winter paths that lead you right through the ski slopes or listening to the snow crunching under your feet as you stroll through the village - you are right in the center of the happenings... Alongside skiers and snowboarders, you will meet many non-skiers, après-skiers, party animals and others who simply want to relax in a wonderful atmosphere and sunbathe in the complementary sun-loungers at the Tschuggenhütte, facing the Weisshorn [8000 feet] and a breathtaking alpine panorama.
Aspen Gay Ski Week
January 14-21
Aspen, Colorado
Roaring Fork Gay & Lesbian Community Fund
(970) 925.4123 for travel & info, (866) 564.8398
Aspen Gay Ski Week Website
Email: info@gayskiweek.com
Today's Gay Ski Week is a massive affair, with a weeklong calendar of events and social gatherings leading up to its signature spectacle, the Costume Downhill. It draws thousands, packing the town during the otherwise slow week following MLK weekend. The town's four mountains offer arguably the most ass whooping ski variety - more than 5,200 combined acres of it - of any other American resort. Explore the wide-open bowls at Aspen Highlands, the X Games superpipe at Buttermilk, the Elk Camp gondola at Snowmass, or Ajax's knee-socking steeps. As the first official gay ski week, Aspen Gay Ski Week has gained the reputation of hosting the most exclusive and explosive winter entertainment. World renowned DJ's, indoor & outdoor pool parties, debauchery that will take you into the morning hours just in time to hit the slopes. It's organizers are intensely proud of the fact that it's a nonprofit event; the primary fundraiser for Aspen Out.

Stowe Vermont Gay Ski Week ~ Winter Rendezvous
January 17-January 21
Stowe, Vermont
Winter Rendezvous Website
Although the majority of North America's gay ski weeks take place in the West, the charming and picturesque town of Stowe, Vermont has been hosting its own increasingly popular gay ski gathering for decades. At this north-central Vermont resort, there is the infamous Front Four (Starr, Goat, National and Lift Line), arguably the most exciting runs in the East. For the novice skiers and riders, there's an entire mountain (Spruce Peak) criss-crossed with easygoing runs. And with the longest average trail length in New England, be prepared to spend some time on the mountain. In addition to downhill skiing and snowboarding, the festival features plenty of other outdoorsy activities, including snowshoeing and dog-sledding. Plus there are the social goings-on - parties (opening party, apres-ski party,3D glow party, pool party, a farewell blow-out party the next), Bonfire Reception and entertainment - including downhill drag racing. Beginners and non-skiers are encouraged to join the fun.
Whistler Pride and Ski Festival
January 21-28
Whistler, British Columbia, Canada
(604)288-7218
Gay Whistler Ski Week Website

"Size matters" jokes aside, it's hard to argue with Whistler Blackcomb's ample goods: Think 8,171 skiable acres, a mile of vertical relief - the most on the continent - and a lift service the could whisk Albuquerque's population of 400,000 to the summit in a day. Though the mountain's sheer size will make you gulp and unfold the ski map, the town below is surprinsingly manageable to navigate. The week will be chock full of exciting events including world class dance parties, social gatherings, great skiing, food and fun!
Whiteout Weekend [WOW]
February 9-11
Sunday River, Maine
Whiteout Weekend Website

Thrill, entertain, amuse, seduce: All synonyms for "wow."Sunday River is so devoted to wowing you that they took an entire weekend and called it WOW! Sunday River brings eight peaks of great skiing and riding with the most dependable snow in New England, but at its core, WOW is all about good times with friends. As the name suggests, this weekend is full of special events and parties.Last year's White Out Weekend included apres ski socials, fireworks, and the weekend's super hot theme party. There are WOW ski and stay packages including on mountain lodging and the weekend's super hot theme party.
Telluride Gay Ski Week
February 24-March 3
Telluride, Colorado
Telluride Gay Ski Week Website

This week is going to be just a little bit different than other gay ski weeks the experiences you will have here will be flavored by the ambience of the charming yet upscale Telluride, and the hip more urbane and European-style town of Mountain Village. They have a full week of events and parties planned and once again offering a VIP Pass that includes entry into all of their official events, exclusive discounts and a VIP gift bag. Telluride offers a vacation experience that stands apart from other gay ski functions. Set in the beautiful backdrop of Telluride, Colorado, their spirited but unpretentious week offers a unique blend of top-rate skiing and entertaining events. Telluride offers events and activities that provide a chance to meet, mix and party with other ski week guests.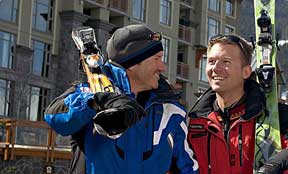 SWING Swiss Gay Ski Week
March 3-10
Lenzerheide, Switzerland
SWING Swiss Gay Ski Week Website
An eventfull week of group activities with interesting and upbeat men from many countries awaits you!
They have selected a wide ranging leisure and sport program to fit your taste. Sharing winter sports, fun and camaraderie. The program has been selected and put together with much passion. Abundant snow in the sunny high Alpine village of Valbella - Lenzerheide in the Swiss Alps. In this vast ski area you are bound to find plent of sport options whether you are a beginner, free-styler or powder hound. Easy to reach but far from everyday. After relaxing in the spacious wellness area each day, you'll be ready to enjoy the varied evening programs. A stylish and charming 4**** hotel in a winter wonderland. Take it easy. Enjoy. Make new friends. Don't miss this fun filled week in the Swiss Alps!
Elevation ~ Mammoth Gay Ski Week

March 14-18
Mammoth Lakes, California
Mammoth Gay Ski Week Website
Elevation is held in one of most beautiful settings in the country. When you come to elevation you experience some of the best spring skiing in the world, at a resort where the unbelievably long season lasts well into spring and even summer, with one of the highest average snowfalls in the country. They have been one of the fastest growing gay ski events in the country. At a time when many of large gay ski weeks have declined drastically in numbers, attendance at Elevation has increased between 60-100% each year. Probably because Elevation offers an alternative to the gay party scene. Yes, they have huge dance parties with the biggest DJ's on the circuit, but this weekend is really about skiing and snowboarding. Yes, people travel from all over the world to attend Elevation. But you get a friendly, casual core group of West coast guys that create a welcoming, non-pretentious atmosphere that Aspen and Vail would not know what to do with.
European Gay Ski Week
March 17-24
Les Menuires, France
Website: https://www.europeangayskiweek.com/
After vigourously checking many resorts to see if they would reach their exact standards and provide you with a perfect gay snow experience they are excited to announce they will be at the splendid resort of Les Menuires and Les Trois Vallees. Size is everything and this is the biggest linked ski area in the world with 600km of pistes and 337 downhill ski trails! It is located at an altitude of 1850m on the west facing slope of the Vallee de Bellevilles which is beautifully bathed in sunshine right up until the evening. Les Menuires is now four decades old and mixes classical third generation ski resort architecture with forests of timber and buildings in a classical alpine style. All of their accommodations are 'ski in-ski out' or within moments of the downhill run. From which you can be whisked to the summit of The Pointe du Bouchet at 3420m, the highest point of the ski area with a spectacular panorama that takes in Mont Blanc, Cervin, the Meige, and an area equal to one fifth of France. They will be creating some unique and most memorable events in great selection of clubs, bars and restaurants throughout the village and on the mountain.
Gay Snowhappening
March 17-March 24
Solden, Austria
Hundreds of queers from across Europe have become regulars at this fun-packed skiing and party week in one of Austria's top notch winter sports resorts. Sölden's rainbow week has become one of the undisputed highlights in the event calendar. Entertaining après-ski afternoons, jovial hut evenings or never-ending party nights are scheduled during the entire week. Last but not least: Sölden boasts incredible 150 km of immaculate slopes where snow is always guaranteed! Already in the morning passionate skiers and snowboarders can conquer the ski area's highest peaks and explore the great variety of immaculate slopes. But there are also plenty of adventurous routes for beginners and slightly advanced. And what's best - the entertaining sports program is not a must, everyone can spend the day among friends or hit the slopes in small groups.
© 2018 Gay Outdoors ; All Rights Reserved.