learn
GO Gathering ~ August 19-21 IMAGINE!!!
Image the dog days of summer.
Maybe it's one of those sweltering days where everyone's talking about their weekend plans just to get out of the city...and while everyone seems stuck in their common routine, it's your turn to offer up what you're doing...
"I'm going camping in the White Mountains with over 100 gay men."
Yeah. When it comes to bragging rights, it's hard to top a summertime camping weekend with a bunch of gay outdoorzy men. Sharing your photos of this event afterwards will inspire envy of everyone who did not attend. It's all about GOing Outdoors and Making New Outdoorzy Buddies in a safe, comfortable atmosphere.
The largest camping gathering for GayOutdoors, GO Gathering welcomes gay outdoorzy men of all ages and abilities to New Hampshire's White Mountain National Forest at Branch Brook Campground near Waterville Valley at a riverside group campsite along the Pemigewasset River where we can swim/tube right from our site!
We'll have a huge dining tent setup on our group campsite with tables/chairs underneath for meals, etc. Participants are asked to pay $45 to attend if they are a full member or $55 if they are a guest member. If you are staying somewhere else and want to participate in our activities the fee is $10 AND YOU ARE RESPONSIBLE TO PAY AN ADDITIONAL $8 AT THE GATE FOR EACH DAY YOU ENTER THE CAMPGROUND.
>> Learn all about the trip and sign up
Members will be running trips all weekend. We'll have campfires, a Friday night Beer Blast kick-off party, tubing/swimming along the Pemigewasset River, outdoorzy activities; and a huge Saturday night potluck with great food [you'll be amazed at the culinary talents of members using grills and camp stoves], and fireworks.
So if you are new to the Group and looking to engage in our activities, either camp with us during the weekend or find some local lodging. Stop by Friday night, introduce yourself, bring a six-pack of beer from your local craft brewery to share in our Beer Blast, munch on snacks and hang out by the campfire. Then, on Saturday, join our activities and most definitely ~ come to our Potluck Dinner.
Check out GayOutdoors' summertime camping trip in New Hampshire!
Why limit this to all your imagination? Join us this summer at the GO Gathering in Waterville Valley August 19-21.
_______________________________________________________________________
Overview
We'll spend the weekend camping at Branch Brook Campground at the River Bend Reunion private group field riverside on the Pemigewasset River. The camp is in a fantastic spot in the heart of the White Mountain National Forest between Waterville Valley and Loon Mountain [Lincoln]. Home to fresh air, incredible mountain views and a variety of outdoor activities. Offering easy access from Interstate I-93, local restaurants and convenience stores, you are within easy reach of anything you might need. We have exclusive use of the site. Our site won't be able to accommodate RV's however you can make arrangements with the campground to reserve a separate site...you are more than welcome to join us. Drinking water, flushing toilets and hot showers are onsite.
Since our site is riverside, we'll be able to swim right from our campsite. Kayaking on the Pemigewasset River can be accommodated with a nearby outfitter who rents kayaks with shuttle service. Also the campground has lots of mountain bike trails to explore.
This is an action packed weekend suitable for all, designed to have a bit of everything to give you a chance to try something new or to just enjoy your favorite outdoor pursuits. Activities in the area include hikes at all levels [Welsh/Dickey, Mt. Osceola, Mts. Lafayette/Lincoln]; tubing, swimming and recreational kayaking in the Pemigewasset River; swimming/water slide at Franconia Falls, zip lining with Alpine Adventures, biking on the Franconia Notch bike path, taking the Cannon Mt. Aerial Tramway to the summit, etc.
Boasting world-class mountain sports, legendary above tree line trekking, and stunning views, Waterville Valley is the gateway to the White Mountain National Forest hiking/camping scene. Fancy doing something different on a summer weekend? Don't waste it shopping ~ escape from the city and get up to the national forest with GayOutdoors' GO Gathering.
WE NEED TRIP LEADERS TO MAKE THIS EVENT SUCCESSFUL! POST YOUR TRIP ON THE WEBSITE AND MENTION IT'S PART OF THE GO GATHERING. We'll have a message board setup at the campsite if anyone wants to run a last minute trip. [Jon and I will be running a KAYAKING RAINBOW FLOTILLA on the Pemigewasset River with a local outfitter who provides a kayak and shuttle service. We'll post this trip on the website.] Everyone appreciates it when a member steps up and runs a trip for the club! If you need help planning/posting a trip, contact us.
As long as you're gay-friendly, straight men are welcome to sign-up for the GO Gathering and join our group.
If you don't live nearby make this a mini-vacation and take the extra time to hike in the White Mountain National Forest, drive up the coast of Maine and explore Acadia National Park, ride the rapids with a whitewater rafting outfitter in Maine, and end at Baxter State Park with hike up Mt. Katahdin. Also Boston and Montreal is great for sightseeing, dining and entertainment.
This is our 14th year, our biggest annual event and members say it is THE event to attend. The GO Gathering is where we gather to make new outdoorzy buddies and catching up with friends. Every year we enjoy good food, friends, and outdoor activities...every year our group gets a little bigger.
We have made a lifetime of friendships over the past few years, so let's say "HELL YEAH!" and celebrate! We will GO Gay Camping at the beautiful White Mountain National Forest like there's no tomorrow!
If you have heard of GayOutdoors and wondered what sort of stuff we are up to, then this is your ideal first event as there's such a wide range of daytime and evening activities available to try.
You must pre-register to attend the GO Gathering. The GO Gathering is an annual event and pre-registering is mandatory.
We'll have a big dining tent set up with tables and chairs to accomodate everyone. This will be our central headquarters for the weekend. Setup your tent riverside or in the woods. You most likely have to park your vehicle away from your tent so be prepared to lug your gear to your site. The campground has quiet hours after 10:30pm but many of us still party; we just tone it down.
You must pre-register to attend the NH GO Gathering. Pre-registration is mandantory and we won't accept on-site registrations. This is to help us get a correct head count to properly plan for the weekend and ensure that we have the money needed to pay for the necessary deposits. The registration fee is $45 if you are a full member or $55 if you are a guest member. If you are staying somewhere else and want to participate in our activities the fee is $10 AND YOU ARE RESPONSIBLE TO PAY AN ADDITIONAL $8 AT THE GATE FOR EACH DAY YOU ENTER THE CAMPGROUND. This will cover the campsite fee, equipment rental, supplies, firewood, snacks, ice for beer blast, fireworks and allows you to participate in the GO Gathering from August 19th to the 21st.
This is a fundraiser for GO to help with running the club so any extra money will be given to GO.
>> Learn all about the trip and sign up
_________________________________________________________________________
Schedule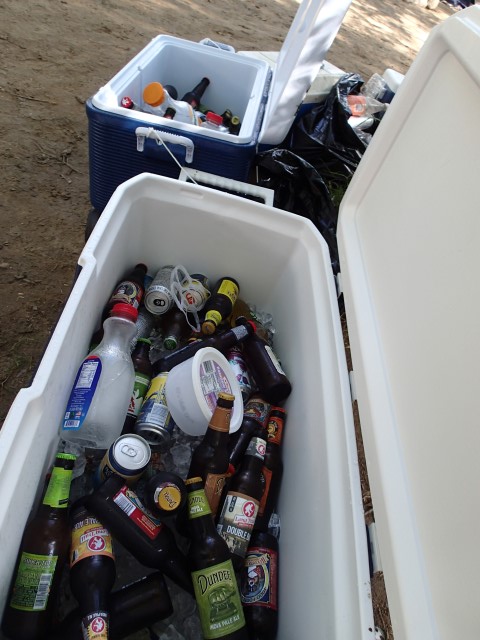 Friday: Friday dinner is on your own. Some members cook dinner at the site while others go out to a nearby restaurant [Sunset Grill, Mad River Tavern]. Around 7pm we'll start the Beer Blast and have some munchies under the big party tent to kick things off. We'll have coolers filled with ice late in the afternoon for you to contribute a six-pack of beer from your local craft brewery. Place a six-pack in the cooler and then sample the other beers people brought. This is always a fun thing to do where we get to sample some unique beer from far away lands! Sign up for any impromptu trips, meet the trip leaders, make new friends, and enjoy a nice time around the campfire.
Saturday: Get your gear and lunches packed, meet your trip leader and head out for a fun day. Return in the afternoon, relax and get ready for the potluck.
Saturday Potluck at 6:30PM: We provide the paper plates, plastic utensils and napkins; however it's up to you to provide the serving dish with utensil. The Saturday night potluck begins at 6:30PM at the big party tent so think about the time it will take you to prepare your meal so you'll be ready by 6:30PM. Main entrees/grilled food is where we typically fall short so please make this your first choice to contribute to the potluck. Vegetarian dishes and a description of the ingredients are appreciated. Salad/Appetizer is a good second choice for the potluck. We usually have way too much dessert so please make this your last choice for the potluck. Please refrain from contributing packaged food like a bag of chips, packaged bakery items, bread, etc. Homemade food always gets eaten and we usually end up throwing away the packaged food. Everyone sits together under the big dining tent to enjoy dinner. [If you wish not to participate, you can always eat at one of the local restaurants.]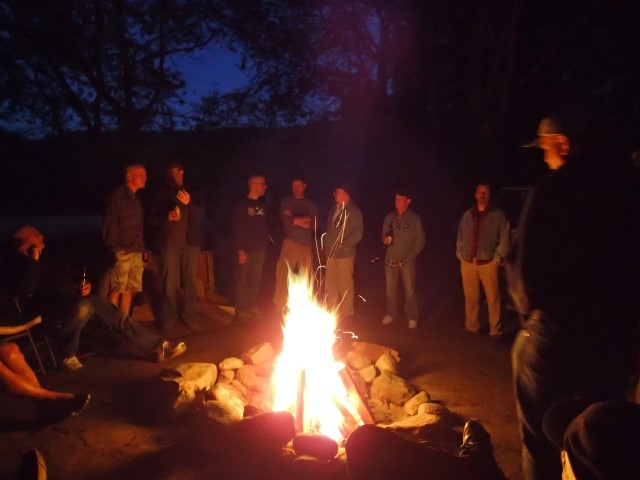 Afterwards we'll be playing Werewolves, a fun group party game under the big dining tent and having a group campfire. We will also be bringing GO t-shirts and GO hats to sell.
Later in the evening we'll have our grand finale with fireworks!
Sunday: Hugs, kisses, and pack up. We have to leave in the afternoon by 2PM.
__________________________________________________________________________
Summary
We've got all the details you need on our GO Gathering Trip Page, including finding out who is going, camping, directions, and specific recommendations on what to bring.
If this is your very first GO Gathering, or you've got questions, email us your questions. We'll send you a personalized reply.
We can't wait for this year's event!
>> Check out trip report and photos from last year's GO Gathering
YOUR HOSTS,
Jon Normand and Mike Boisvert
© 2016 Gay Outdoors ; All Rights Reserved.