learn
Top 9 Gay Nude Beaches in North America
By Mike Boisvert.
It wasn't until the mid-20th century that nude beaches began to appear along the Mediterranean and Atlantic coasts of France. Eventually they appeared in North America. Due to popular demand, I bring you a list of the nine best gay nude beaches in North America as selected by regular tourists and naturists; and from my research on the internet.
1. Haulover Beach, Florida
JUST NORTH OF world-renowned Bal Harbour in Miami Beach is a model clothing-optional urban beach. Attracting visitors worldwide, Haulover County Park offers over a half-mile of pure white sand and seashore, with parking, trash cans, concessions, restrooms, lifeguards, and signage for the clothing-optional section. This may be the most beautiful clothing-optional beach in the U.S., and the most heavily used.
Directions: From I-95, exit at Golden Glades Interchange on to State Rd., 826 east or go east on 125th St. Find Haulover County Park at about 150th St. on Collins Ave. (Route A1A) and park in the northernmost lot. Walk to the beach through the tunnel underpass. "Parking: Parking lot with fee; recommended arrival by 11:00 a.m.
For more information visit, http://www.haulover.org/
2. Hippie Hollow, Texas
A gay nude beach smack in the middle of right-wing territory you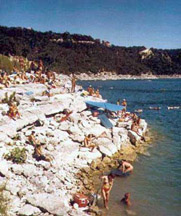 ask? Yes siree - Hippie Hollow. This is a legally clothing-optional area just west of Austin on the rocky slopes of man-made Lake Travis. Memorial Day and Labor Day Weekends the madly popular Splash Day with tons of nude homos on the shores and boats, flashing their goodies.
Hippie Hollow, is the only legal all-nude sunning area in the state on Lake Travis, and is a 30-minute drive (FM 2222 to Ranch Road 620) from Austin. Drive out Comanche Trail to the parking lot, continue all the way past the paved walkway, over the rocks and around some sturdy trees (about 1 mile walk). Before setting out, you may wish to go over the route with a knowledgeable local and a map, if possible.
By Day: Fish, paddle, windsurf, scuba dive.
After Dark: In the warehouse district you'll find the popular Oilcan Harry's 211 West 4th; 512/320-8823), catering to a professional crowd. It's the "A-list, polo-shirt-wearing" bar. On weekends it doesn't pick up until 11pm. On Friday and Saturday nights the club stays open till 4 am.

3. Wreck Beach, Vancouver, BC, Canada

Wreck Beach is one of the best-known nude beaches on the globe; probably because you can legally swim and sunbathe here. It's a huge beach, that stretches over 6 kilometers. Large amounts of people gather here.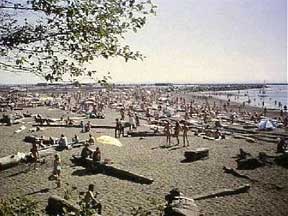 Directions: Wreck beach in near the University of British Columbia. From downtown, follow 16th Avenue west through Pacific Park and the University of British Columbia campus until the end of the road at SW Marine Drive. Turn right onto Marine Drive and after 1.5 kilometers, look left where you'll see Gate 6. This is the beginning of Trail 6 which will take you to Wreck Beach. Now that you know where it is, your next challenge is to find parking. You may be able to park in the campus lots. During the week, you can pay for parking in the campus garage. Once you've parked and returned to Trail 6, it goes directly to the beach on a long staircase. You'll know the clothing-optional area once you see the sign.
For more information visit this website: http://www.wreckbeach.org/wb_frames.html
4. Black's Beach, California
There's a lot of skin being bared at one of the most famous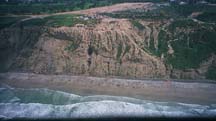 nude beaches in the world. This long stretch of beach in San Diego had been a major straight and gay nudist attraction since the 70's, and nowadays can draw up to 5,000 people on the weekends.
A drive farther south on the I-5 yields Black's Beach, perhaps named because of the black pebbles and sand often found on the beach. Black's Beach is opposite UC San Diego on North Torrey Pines Road. Exit the 5 freeway at Genesee Avenue and veer right, make a left at the second set of traffic lights, and then a right onto Torrey Pines Scenic Drive. Black's Beach is located below Glider's Point, a haven for hang-glider enthusiasts, where parking is free. A trek down to the beach is necessary. The shortest way to descend the 300 feet needed to reach the beach is to take the "Burro Trail." Though a bit slippery and treacherous, this trail is the quickest way down to the sand; tennis shoes are highly recommended. "Indian Trail," about half a mile south of "Burro Trail," will take you to the "gay stretch" of Black's Beach.
By Day: Walk a typical organic Southern California beachfront - gravel, tidal flats, seabirds - or hike up the cliffs for glorious Pacific vistas.
Where To Eat: Drive to San Diego's gay community at Hillcrest and check out Mixx (3671 Fifth Ave, 619/299-6499; $14-24) is Hillcrest's premier gay restaurant. Partly gay-owned, and staffed by efficient waiters, this restaurant serves eclectic cuisine in a tasteful setting.Reservations highly recommended, especially on weekends.
After Dark: A relatively new addition to the nightlife is that is becoming the hot spot is Bourbon Street (4612 Park Blvd.; 619/291-4043; www.bourbonstreetsd.com), near University Heights, outside of the traditional gay hub of Hillcrest. Its gas lamp New Orleans exterior gives way to the original horseshoe bar accented by stained glass windows, and another more modern "Stable Bar" in the back features a chic stainless steel interior with wooden beams, and a cruisy patio with a stone fountain surrounded by verandahs and Old World flair. Weekly events include Latin night, nun bingo, drag acts, and live VJs.
Where To Stay: Bob Korbett runs a homey B&B within walking distance of Hillcrest: Kasa Korbett (4050 Front St; 619/291-3962 or 800/757-5272; www.kasakorbett.com bob@kasakorbett.com; $89-99) features 4 rooms – all with private bath. Rates include pick-up and drop-off at the airport, train station, Blacks Beach and other local attractions.

5. Fire Island, New York
All of gay Manhattan takes a ferry to Fire Island on summer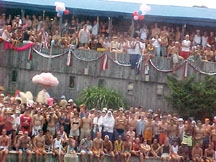 weekends. The expansive beach and car-free boardwalks are the essence of a peaceful retreat.
The population is in fact diverse; aside from Cherry Grove and the Pines, it's predominantly straight. Cherry Grove has the most to offer in the way of bars, restaurants, hotel accomodation and overall outrageous camp sensibility; you'll also find lots of women here. The Pines - having a more understated, albeit intensely gorgeous culture - is a place of elegance and taste where roller coaster sidewalks of raised wooden planks meander through dense foliage past hidden homes in a community seemingly populated with Armani models...and those who can afford them.

In practice, there is little nudity on the beaches near Cherry Grove and the Pines so everyone goes to the stretch of beach between Cherry Grove and the Pines. You'll find the most nude guys here at this beach and the nearby coastal forest is where 'anything goes.' That's because Cherry Grove and the Pines have been left to the gay community to self-govern who don't really care what happens in the undeveloped areas.
Getting to Fire Island is half the fun. Cherry Grove and the Pines are reached by Sayville Ferry ($11 r/t). Driving there, you'll do better avoiding the Long Island Expressway (LIE) and taking the Northern State to the Meadowbrook Parkway to the Southern State, to the Sunrise Highway (Rt. 27) towards Montauk. Turn right on Lakeland Ave. and follow the signs to the ferry. Note that parking is cheaper at Land's End Marina (100 yards beyond the ferry dock and $6/day) than it is at the lot across from the ferry ($8/day), and is free at the train station.
By Day: Join the surfers, artists, and occasional celebs strolling the beach and braving the cold, steel-blue Atlantic.
After Dark: At 8:00 p.m. head to High Tea for good balcony seat. At 10:00 p.m. go out and have a leisurely dinner. Then go home for some dessert and maybe a nap. At 2:00 a.m. go to The Pavillion which is now in full swing. It's about debauchery and dancing with your friends or housemates, not meeting new people.
Where To Eat: Cherry Grove Pizza (631/597-6766) has patio dining and moderate prices.
Where To Stay: The Cherry Grove Beach Hotel (631/597-6600; www.grovehotel.com, grovehotel@aol.com; $40-500) is part of the Ice Palace, the Grove's entertainment complex and therefore party-central.
6. Hanlan's Point Beach, Toronto

Well known to nudists in Canada, Hanlan's Point Beach is situated on Hanlan's Point near Toronto, on the shore of Lake Ontario. Part of the beach was officially recognized by the city in 2002 as being clothing optional. For those who don't care for nudity, there is a wide adjacent stretch of beach where bathing attire is required.
Hanlan's Beach can be reached most directly by taking the Hanlan's Point ferry at the foot of Bay Street at Queens Quay. The ferry cost is currently $6.50 CAD per adult for a return trip and the schedule varies depending on the day of the week and season. After the fifteen-minute trip, it is necessary to walk or cycle another ten or fifteen minutes along a paved path. The beach is shielded from the path by a stand of natural brush and trees. There are designated wooden walkways through this natural area to ensure that foot traffic does not degrade it. Aside from the cost of the ferry there is no admission fee.

Toronto Island is a must see and it is basically free, an oasis in the middle of the city. The island is a like a large peaceful park with beaches (there's the nude beach, gay beach as well as regular beaches), rollerblading, biking and walking paths, and even an amusement park and free petting zoo for children.

7. Baker Beach, San Francisco, California

Located only minutes from downtown San Francisco and offering an incredible view of the Golden Gate Bridge, Baker Beach is one of North America's hottest urban naturist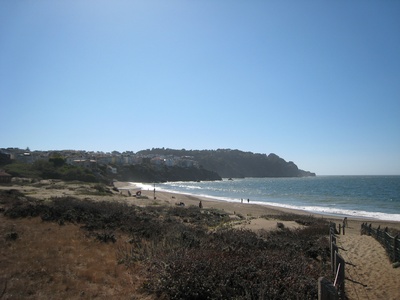 beaches. Baker Beach is popular with gay men who like to swim and sunbathe in the nude. Although the water is usually on the cold side, the beach gets really busy on hot days due to its proximity to the city. In several areas, you will find many fully clothed people just "passing through"; you may even encounter a few annoying gawkers. If this happens, just ask someone how to get to North Baker Beach. While the northern part is mainly gay, this is also where most of the nudists congregate.
For more information visit this website: http://gocalifornia.about.com/cs/clothingoptional/l/bl_nb_bakrmap.htm
8. San Onofre State Park, San Clemente, California
San Onofre State Park offers the visitor a visually stunning beach and dramatic contrast. Just off Interstate 5 between Los Angeles and San Diego, the location is marked to the north by the unique structures of the San Onofre nuclear power plant. These twin
containment towers, known locally as "Les Boobs," are hard to miss from the interstate.
The nude use area is on the south end of the state beach and just north of the Marine Corps' Camp Pendleton. Access is via Trail 6 from the southernmost state park parking lot. The proximity to the Marine base at times produces unique scenes of heavily armored leathernecks and naturists casually observing each other.
Clothing-optional use of the beach has been the result of the dedicated efforts of the Friends of San Onofre Beach. The clothing-optional section of San Onofre is approximately a half-mile long with clean sand for long, sun-kissed strolls. The California water can be chilly except for late summer months, but visitors will enjoy playing and bodysurfing in the water nonetheless.
Parking: Park entrance fee at San Onofre State Park. Limited parking at Trail 6; recommended arrival by 10:00 a.m.
Directions: On Interstate 5 less than an hour north of San Diego, take the San Onofre/Basilone exit. Go south several miles along what looks to be a frontage road to San Onofre State Park. Go 3.5 miles to the southern end of the campground and park in the last parking lot. Take trail six to the beach, and walk south for about half a mile just past the last lifeguard station. Stay north of the Camp Pendleton fence.
9. Oval Beach, Saugatuck, Michigan

While not technically a beach, this series of rolling dunes next to a river lagoon is still quite handsome, snuggled along the eastern shores of wide Lake Michigan. The mellow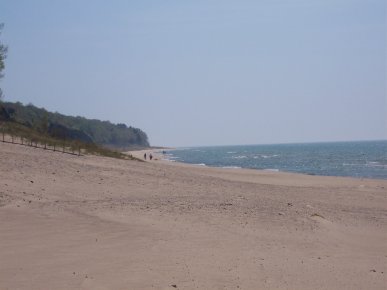 gay twin resort towns and artist's communities of Saugatuck and Douglas, with their down-to-earth queer Midwestern vacationers, are just a short drive away. However there are rumors that the new owner will be closing public access to the nude beach area. Oval Beach has earned Saugatuck the nickname "Provincetown of the Midwest." Hugging the mostly undeveloped dunes of Lake Michigan's eastern shore, the back dunes area of Oval Beach is perfect for sunbathing in the nude. Beaches like these in Saugatuck are a rare gem: the clean, unspoiled, and pristine beauty of the place takes your breath away. Oval Beach is one of Saugatuck's true treasures.

Directions: Oval Beach is located at the end of Oval Beach Road, one mile west of the Saugatuck Ferry landing, across the river from downtown Saugatuck. It's $5 on weekdays and $8 on weekends for parking. Take Ferry Street north from the neighboring town of Douglas and follow the signs, or take the ferryboat from downtown Saugatuck to one of the nearby beach trails. From the parking lot, walk right (north) to the gay section. You'll see a small wooden shack with a guy sitting outside collecting money ($10 to gain access to the "private beach" area). Then you have to walk maybe a 1/4 miles or so until you see an orange post. On the actual waterfront "beach" itself you have to keep your clothes on, but its the rolling dunes BEHIND the beach that are clothing optional.

© 2017 Gay Outdoors ; All Rights Reserved.