learn
How To Choose The Best Tent For You
Camping is one of the best ways to spend quality time with your family in the great outdoors. There are many types of tents on the market today, ranging from ultra-light backpacking tents to large multi-room cabin style tents. To ensure that you and your family have a good ol' time, special consideration should be taken in choosing the right tent for your outdoor adventure.
Camping Season
The first step in ing a tent is choosing the type of camping you will be doing and the time of year you will be doing it.

Summer Tents

Designed for hot climates only. Lots of mesh in tent body for ventilation. Rain fly stops several inches above ground to provide protection as well as ventilation. Generally has two-pole construction. These tents are cool and lightweight, but do not fair well in high winds, cold temperatures, or extended rain.

Three Season Tents
Built to withstand both light snow and warm temperatures, making them very versatile. Usually has full coverage rain fly that extends to the ground. Skylight window in rain fly to let in additional light. Generally has three-pole construction. Stands up against strong winds and heavy rains. Look for large vestibule for storage and two-doors or extra large door for easy entry and exit.

All-Season Tents

Can be used year round but are not designed for extremely harsh winter conditions. Built with beefier materials, sturdy pole designs, extra tie down points, and low profiles, these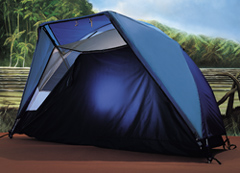 tents are extremely stable. Also has sky light window in rain fly. Generally has a four-pole construction.

Winter Mountaineering

Designed for winter camping under extreme conditions. Has full coverage rain fly and four- or five-pole construction. Also has steep sidewalls to shed wind and snow. Very durable and weather proof. Often has two doors, one on each side for entry and exit versatility. Also, it is common to see two vestibules on this tent type for maximum gear storage options.

Other Tent Features
Other than time of year, there are other tent features one must consider.

Size/Weight

The size and weight of your tent should correspond with the number of people who will be sharing the tent, the amount of gear you are bringing along, and planned activities that might occur inside the tent. Campground campers usually opt for larger roomy tents while hikers and bikers go for small, compact lightweight tents.

Ventilation

Look for breathable sidewalls and roofs to minimize condensation. Mesh windows and doors allow air to flow in and provide views while keeping creepy crawlies outside.

Types of Tents

The most popular types of tents for camping are dome tents, pop up tents, cabin tents, screen house tents, and hoop tents.

Dome Tents

Dome tents are the perhaps the most popular style of tent. They are very easy to set up,
light weight and are free-standing, meaning they do not have to be staked down at set up. There are both single-room and multiple-room dome tents to accommodate any size family. The dome tent has an idyllic shape for adverse weather conditions.

Cabin Tents

Cabin tents are perfect for a group of friends that go out camping in conventional campgrounds. They are called cabin tents because their design resembles a simple cabin. These tents are large and are tall enough that even very tall people have room to stand in them. They have multiple rooms, several entrances, large windows, lots of ventilation, and can have screened in porches and attached canopies. These tents are roomy enough to house cots, chairs, coolers, and even televisions and other creature comforts.

Pop up Tents

As far as tent set-up, it can't get any easier than with a pop up tent. These tents pop up in seconds with no assembly required. They can be taken down and packed away in less than a minute. They are an especially good choice for children due to their ease in set up. Pop up tents are suitable for both indoor and outdoor use and make a good choice for camping and backpacking, backyard barbeques, and picnics and parties. In addition, they are an excellent choice for beach shelters.

Screen House Tents

A screen house tent is a large tent whose sides are made of a screen mesh material. These tents are a good choice for warm summer nights and provide excellent views. They keep out creepy crawlies, yet provide a great deal of ventilation. Screen house tents have spacious interiors, are lightweight and compact, and can be set up and taken down by one person. These tents generally have a two-door design to allow for easy entry and exit. This tent is a popular choice for campers and picnickers, and can also be setup in the backyard at home.

Hoop Tents

Small and compact, hoop tents are the best choice for backpacking expeditions. The poles of this tent style are hoop shaped and form a tunnel shaped tent design. These tents are lightweight (3 to 5 lbs.) and very compact. Because of its compact size, these tents are not ideal for spending lots of time in, but they are an excellent choice for backpacking.