learn
The Legend of Toronto Urban Camping
By Bryen Dunn.
Often when we think of a getaway, we dream of places far away and exotic, or perhaps erotic. With tough economic times hitting a good chunk of the population, many people are seeking out affordable vacation destinations close to home, now often referred to as "staycations". Another growing trend is the desire to combine some form of soft-adventure or active component to their valuable time away from work. With Toronto traffic known for being the most congested in the country, here are a couple of options that will leave you with that feeling of escape, without even having to leave Toronto. Best of all, owing or renting a vehicle is not required.
Urban camping is not a legend. There are actually two campgrounds located within the city of Toronto that provide both visitors and residents an opportunity to experience an urban-rural setting. The 4700 hectare (47 square km/11,500 acres) Rouge Park is operated by the City of Toronto, and is located in the northeast part of Toronto, within the Rouge River, Petticoat Creek and Duffins Creek watersheds. It's been designated as a protected natural ecosystem since the mid 1990's, and parts of the area are also designated as National Historic Sites because of the ancient 1600 Seneca native archaeological findings.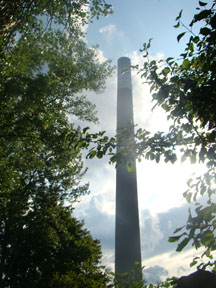 The existing park area is thirteen times larger than Central Park (New York, USA), and over 30 times larger than Hyde Park (London, UK). Interested explorers can discover glacial rock formations, native Indian portage trails, Toronto's only existing farms still in operation, and the largest Carolinian habitat within the city. There's also a wide array of bird species, natural flora, and fauna. Canoeing on the Rouge River is a wonderful experience that provides scenic nature views, as well as glimpses of the distant city landscape. Visitors must bring their own canoes (or other floatation devices), and take caution as the river is unsupervised. There are also ten different hiking trails of varying length that meander through forests and meadows, as well as a sandy beach to soak up the rays at. Several programs are also offered throughout the season, providing historical and cultural interpretations of the region.
Guests can choose to visit and explore for the day, or do an overnight camping adventure. Glenn Rouge Campground is located at 7450 Kingston Road, within Rouge Park, and can accommodate both tents and RV's. It's located along the banks of the river, and provides laundry, showers, flush toilets and fire pits available for all campers. There are 125 camping sites, seasonality is until mid-October, and rates start at just $14 a night for cyclists and backpackers. Leashed dogs are permitted, and firewood and ice are available onsite.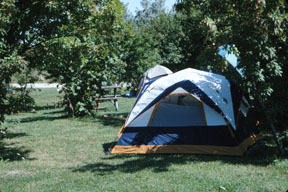 The Toronto Regional Conservation Authority operates Indian Line Campground, which is located at the opposite end of the city, in the northwestern reaches. This site definitely has more of an urban feel to it, far removed from nature, but still providing a fun experience. The nearby Claireville Dam gives a simulated lakeside camping experience, where campers are able to fish or float around in motor-less floatation devices such as canoes, kayaks, or rubber rafts. There's also an onsite swimming pool, camp store, laundry facilities, flush toilets, showers, and a fire pit at each site. This is a very basic row-style campground with 247 sites, both serviced and un-serviced. Rates start at $28.50 per night, and the season ends in late October. Leashed pets are allowed.
Many campers stay here to combine a visit to the adjacent Wild Water Kingdom during their stay, as it is within easy walking distance of the campground. There are a slew of water activities that includes 16 water slides, a half-acre salt-water Tidal Wave Pool, a half-kilometre River Raft Ride, rock climbing under a waterfall on the Wild Water Wall, and Bumper Boats. Land action includes two 18-hole miniature golf courses, batting cages, volleyball tournaments, and weekly musical entertainment options. For those with any energy left, pop into the adjacent 60,000 square foot sports dome, offering a variety of indoor soccer and golfing range options. Finally, when it's time for a break, Caribbean Cove offers up a relaxing lush hideaway surrounding a 6,000 square foot salt water pool with a cascading waterfall. The $29.95 admission fee includes unlimited access to most activities.
The Toronto public transit system can get you to within walking distance of either park, making this a eco-friendly getaway. All buses are equipped with bike racks so you can explore the surrounding areas upon arrival, or if you're feeling fit then the trek can be done by bike to either site within about an hour from most anywhere in the city.
For visitors, this is not only an inexpensive alternative to staying in a hotel, it's a unique experience that can't be found in many major metropolitan centres anywhere in the world. For Toronto residents, this is a great urban adventure that can be done on the cheap, and doesn't require a vehicle. I personally think trekking through the woods, or canoeing down a river, can be a somewhat of an exotic experience no matter where it is. Sleeping beneath the stars, spashing in the water, or lying on the beach admiring the latest bathing wear is certainly added value. With fall quickly approaching, ending the day with a moonlit fire, a bottle of wine, and a playful partner definitely fulfills the erotic part of my "staycation".
Rouge Park: www.rougepark.com
Glenn Rouge Park reservations: camping@toronto.ca or 416.338.CAMP (2267).
Indian Line Campground: www.trca.on.ca; Reservations: 905-678-1233, 1-800-304-9728 or iline@trca.on.ca.
Wild Water Kingdom: www.wildwaterkingdom.com


Be sure to check out Bryen Dunn's website at www.bryendunn.com and his GO Profile.
© 2009 Gay Outdoors ; All Rights Reserved.