learn
Guys Just Want To Have Fun
By Bryen Dunn.
Gay camping! Is this an oxymoron, or a play on words? My first thoughts are do gay men camp, in a tent? With three LGBT designated campgrounds in Ontario (Canada), I made it my mission to try to put some definition to the term camp. After reviewing the websites online, I chose to visit The Point Tent and Trailer Resort for my first gay camping experience.
This 50-acre resort was opened May 2000, after Phil Bentley and his partner purchased a somewhat decaying campground with only 16 sites. After a dedicated investment of time and money, it is now a thriving oasis of pleasure and entertainment. The site originally operated as gay and lesbian campground until 2003, when it became all male
I left early Saturday afternoon and drove a leisurely two hours from Toronto, which
included a few tourist friendly pit stops along the way. The check in desk also acts as the administrative office, general store, and coffee shop. I was greeted by Michael, who happily filled me in on what I needed to know and got me on my way. I chose the "no nudity" camping area which appropriately was where the treed sites were located. The "clothing optional" sites are more in the open allowing one to work on their full body tans. I set up camp, had a quick bite, cracked open a beer and ventured off to explore.
The weekend I attended was actually one of the few "mixed" weekends, where women are allowed. Forbidden Taboo takes place here once a year and is described as a pansexual outdoor playground for the open-minded. Beyond the slapping and tickling going on, there was also an amazing Trailer Crawl taking place where many of the campers would open up their sites to all by offering beverages and food. I basically wandered around chatting with everyone in their kinky gear, while doing shots and drinking cocktails. There was a huge barbeque area as well, with enough burgers and salads to feed any fetish. Bentley sees the open weekends as being well received by the regulars. "There are sometimes a few grumblings from within, but overall they are fun weekends", Bentley assures.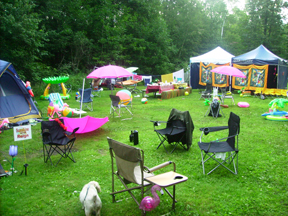 Other annual events include Pride, Survivor, Christmas in July, XXL, Boot Camp, Crude, Halloween, Thanksgiving, and the Seazies, where the best decorated site has the chance to win the coveted Golden Diva Award. A couple of new events planned for 2009 are Canadian Burning Man, a mixed weekend celebrating the freedom of primal self-expression, Carnivale, a Latin themed parade and party, and Gear, which is all about the leather, rubber, PVC, latex, and uniforms.
Back at my campsite, I started getting ready for the evening clubhouse dance party. By this time, the campsite beside me had been filled by a couple of guys and their friends. The euro-dance music wasn't quite conducive to the outdoor camping experience, but the flogging in the distance made it bear-able.
"If you go out in the woods today, you're sure of a big surprise. If you go out in the woods today, you'd better go in disguise. For every bear that ever there was will gather there for certain, because today's the day the teddy bears have their picnic."

Bears are the focus of three themed weekends – Lumberjack, Bear Jamboree, Bear Force/Bear Pride, and Leather Bear. There's plenty to keep the men active, such as the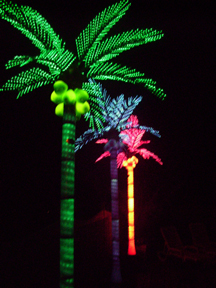 Great Big Bear Party, Bear Games, and Commando Crawl. The fun is aimed at bears, leather men, and their admirers.
"See them gaily dance about, they love to play and shout and never have any cares. At six o'clock their mommies and daddies, will take them home to bed because they're tired little teddy bears."

As I was ready to make my way to the clubhouse, I glanced over and noticed that one of the boys in the campground next to me was no longer so boyish. He was all decked out in a fancy gown, long flowing wig, and heels! This would make for an interesting walk through the campground in the dark.
"Plucked her eyebrows on the way, shaved her leg and then he was a she. She says, hey babe, take a walk on the wild side. Said, hey honey, take a walk on the wild side."

Along my stroll I enjoyed peaking into the action happening at some of the campsites that was openly on display. The club house was buzzing with activity and my camp neighbours were already up on the dance floor. Others huddled on the sidelines, and there was enough latex to make Madonna proud. It's a BYOB party and I saw everything from bottles of beer and wine, to bottles of vodka being enjoyed. DJ Rusty kept the music pumping as he has for the past couple of years. He's the resident DJ and has a seasonal campsite with his boyfriend, which was right across from where I was camped. He told me, "I've DJ'd the Toronto circuit for years, and decided to get out of the city and enjoy the quieter side of life."
"Last night a deejay saved my life with a song. In just one breathe he said, you got get up, you got get up, you got get down."

I observed, I chatted, I drank, and I left. I was told that there was an "after party", which could be found by following a trail around back. It was described as more of a playhouse than a clubhouse, and I decided to leave this up to my imagination, at least for this time. I made my way back to my overnight shelter, hunkered down into my sleeping back, and fell asleep to the sounds of the woods around me.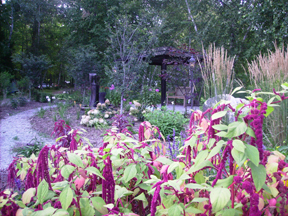 "If you go out in the woods today, you'd better not go alone. It's lovely out in the woods today, but safer to stay at home. There are lots of wonderful things to eat and wonderful games to play. Beneath the trees where nobody sees, they'll hide and seek as long as they please. Today's the day the teddy bears have their picnic."
The next morning I visited the "Garden of Remembrance", a quiet area laced with a multitude of plants and flowers, and a running stream of water that's mostly maintained by the seasonal campers. "It was created with my partner in mind, but it's a place for all to reflect and remember lost loved ones", Bentley states. I also took time to relax at the pool deck area, which is definitely the piece-de-resistance, with heated poolside showers, salt water swimming pool, and a shaded cabana area.
Going into their 10th year of operations, things are certainly different from when the site first opened. There are currently 45 seasonal spots, with plans to increase that by nearly 50% with the next expansion expected to start spring 2009. This will help alleviate the wait time for those on the list for seasonal sites. The current weekend sites will also increase to around 100 from the current 70, and there's a huge open field for basic tenting.
The resort is a nice mix of seasonal campers, transient weekend warriors, and locals dropping by for the day or evening. The beach towns of Turkey Point and Port Dover are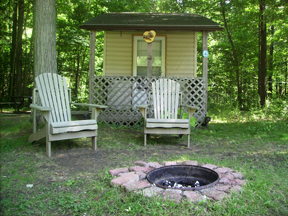 within easy reach, and make for a great day trip for those wanting a change of scenery during their stay. For those eager to partake in all the action, but can't bear the thought of rouging it in a tent, there are eight cabins available. These are tiny enclosed sleeping quarters that make a cozy enclave for two, or three.
After two days of camping, I believe the definition is still somewhat blurred, so pack your bags and sashay over to decide for yourself. Most hear of this place by word of mouth, so you can say you heard it from me. Enjoy!
Be sure to check out Bryen Dunn's website at www.bryendunn.com and his GO Profile.
The Point Tent and Trailer Resort: www.get-tothepoint.com (519 426 7275)
Other Gay Camping Options in Ontario (Canada)
© 2009 Gay Outdoors ; All Rights Reserved.