learn
GO Gathering in Virginia, August 13-15, Sign-Up Begins!
By Mike Boisvert.
Our 8th annual GO Gathering is built for incredible memories. This year we have joined forces with OutCamping's annual Fab Fest. You'll never forget the Fireworks Dance Party on Saturday night; and three delicious catered meals including a continental breakfast with fresh coffee, a mouth watering riverside lunch barbecue and an eye-popping fully catered dinner reception starting with appetizers. Unfortunately, due to cost-prohibitive permits, this is now BYOB. Lots of fresh ice and Styrofoam coolers will be available for purchase at the festival. We'll spend the weekend camping along the Shenandoah River on a private farm 10 miles south of Front Royal, Virginia, with tubing, swimming, sunbathing, fishing and canoeing right outside your tent door. If you don't live nearby make this a mini-vacation and take the extra time to hike in Shenandoah National Park, drive the scenic 105-mile Skyline Drive, visit civil war sites and explore Washington, DC.
The GO Gathering is our big annual party where we really like to spoil ourselves in the woods. The GO Gathering is where GayOutdoors' members from all over the country gather together to introduce themselves, finally get to meet members they have chatted with in the forums or met online, and to plan future events. Every year our gay camping group enjoys good food, friends, and fireworks and every year our group gets a little bit bigger.
The GO Gathering is held on a working cattle farm. People with a fear of cows would not have a good weekend. The farm has 11 campsites spaced far apart along a 1.5-mile bend in the river. Each campsite is very private. During the GO Gathering, we are not the only group on the farm. The GO Gathering is a planned camping date with the farm owner at the very beginning of the season for campsites #9 through #11. You must have a ticket to attend the GO Gathering. You can purchase GO Gathering Tickets online; any gay-friendly guy can sign-up! The GO Gathering is an annual event and purchasing an advance ticket is mandatory.
If this is your very first GO Gathering, or you've got questions, email us your questions. We'll send you a personalized reply.
[Choose the 2010 GO Fab Festival Ticket]
**************************************************************************
*********************
Photo Gallery
>>View Last Year's Photos, Comments, and Outing Report

**********************************************************************************************
Directions
1. Take I-66 West towards Front Royal and Winchester.
2. Take the VA-79 exit- exit number 13- toward VA-55/ LINDEN/ FRONT ROYAL.

3. Turn LEFT onto VA-79 APPLE MOUNTAIN RD at the stop sign.

4. Turn RIGHT onto VA-55/ JOHN MARSHALL HWY at the light. Continue to follow VA55 E until it ends at a light, approximately 5 miles.

5. Turn LEFT onto US-340/ S ROYAL AVE. Continue to follow US-340 S about 9.5 miles.

6. Turn RIGHT onto VA-629/ ACORN HILL RD.
NOTE: You will see a white church on your right about 100 yards before turning.

7. Turn RIGHT onto VA-628/ ROCKY HOLLOW RD for about 3/10 of a mile, if that.

8. Turn LEFT onto VA-629/ ACORN HILL RD. Yep, Acorn Hill again.

9. Follow Acorn Hill Rd. all the way to the end.
This will take you all the way to the river. If you're traveling at night, you won't
see it until you're right on it. Go slow or you might end up in the river.

10. Turn left. Continue driving on gravel road. It will turn to your left. When it veers off to the right there might be a chain up, it should be unlocked. Just get out of your car and take it down and leave it down.
There's a sign for Massanutten Canoe Co., and a sign that says Private Property - Do Not Enter. ENTER ANYWAY.

NOTE: LANDMARK - You will see an old house on the right with trailers of
canoe's in the back yard. (You might not see this at night.)
Follow the road into the deep woods.
If you come up on a gate made of metal, open it if it is closed. You can leave it open.
You will come to a large field on your right. Keep going on the dirt rd.
NOTE: You might see some cows. No tipping please.

The main road will turn to the right, stay with it. Look for a sign that say's CAMPING.
You will pass over a cattle guard at about the same time there will be a small cabin on your right, drive on. You're almost there.
The road runs down towards the river and will head off to your left just over a small river bed, might actually have water in it if it's been raining.
You will no longer be on the road but heading through the field towards the trees. When you get to the trees, turn left. I believe the first site you will come to is site #7. Look for a white sign with the #9 on a tree. Our campsites begin here from #9 to #11. Park in the field and bring your gear down to the site or drive on down and unload.
**********************************************************************************************
We Begin On Friday
The GO Gathering weekend starts on Friday with an all day tent pitching party and campsite setup. We are expecting around 100 people and that equates to around 70 or 80 tents. The best spot for setting up your tent is along the shoreline. The earlier you arrive, the better the campsite you can have. This is not a KOA type campground. No Showers are Available! There are not any picnic tables. Clean outhouse bathrooms are the only facilities. For Friday night, you'll need to bring your own food and a stove to cook on.
When you arrive on Friday please join everyone at campsite #10 for a special meet and greet, Happy Hour. Instead of live entertainment, we will be featuring popular DJ's from the Washington and Baltimore area. This year we will enjoy a dance floor with disco outdoor lights and sounds from Jericho Events. We will have DJ music and live guest entertainment all weekend long.
*************************************************************************************************
Escape the Summer Heat Along the Shenandoah River
Imagine the dog days of summer.
Maybe it's one of those sweltering days where everyone's talking about their weekend plans just to get out of the city..and while everyone seems stuck in their common routine, it's your turn to offer up what you're doing...
"I'm going camping along the Shenandoah River with over 100 gay guys."
Yeah. When it comes to bragging rights, it's hard to top a summertime camping weekend with a bunch of gay outdoozy guys. Your GO profile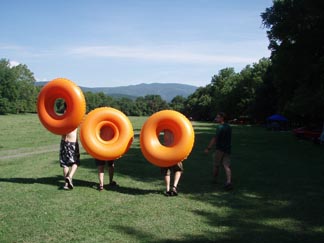 photos of this event afterwards will inspire envy of everyone who did not attend. It's all about GO-ing Outdoors and Making New Outdoorzy Buddies in a safe, comfortable atmosphere.
Saturday morning begins with a continental buffet breakfast of fresh juices, coffee, fruit, muffins', pastries, and cereals at 10:00 AM. Afternoon activities will include, sunbathing, canoeing, kayaking, tubing, volleyball, fishing, drinking, dancing, or just reading a book.
At 1:00 PM a cookout with BBQ chicken, Pork BBQ Sandwiches, Hamburgers, and Hot Dogs will be served with side dishes, desserts. Lunch will be served riverside, buffet style.
Saturday evening is the main event and begins with a fully catered reception of appetizers and dinner at 7:00PM. As dusk falls upon us, you will want to grab your chair and head up to the field for Fireworks. At the conclusion of the fireworks show, we will retreat to the river for a bonfire dance party on the river until whenever.

***********************************************************************************************
Camping
We always camp riverside, on a private farm, located 10 miles South of Front Royal, VA. The farm has the ultimate campsite with its own mini-waterfall (The Ledge). The Shenandoah river water is warm (75 – 85 degrees) and clean. If you like fishing, do not forget to bring your pole. If you like a casual float down the river, remember to bring a tube or other floating device. Something with a cup holder is always nice. It is a great place to meet other gay guys and make lifetime friends. As long as you're gay-friendly, even straight guys are welcome to sign-up for the GO Gathering and join our group.
Camping on the farm in Bentonville, VA is primitive camping. The farm owner provides outhouses only. These tiny little wooden boxes are a toilet seat and a hole in the ground. You get the picture. Most people only visit the little boxes for number two. There is ample private woods space for your quick personal session with nature. If you really want to clean up, you should grab some soap and head for the river.

With that being said, the answer to what should I bring is everything you might possibly want while stranded in the woods along the Shenandoah River. While some people bring everything and the kitchen sink; other campers come only with a tent and a few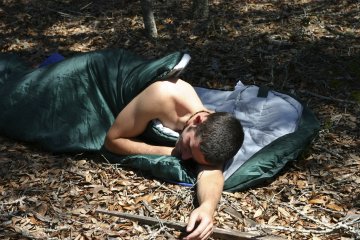 supplies. There is a definite balance between comfort and convenience. If you drag too much shit to the woods, you will spend a huge portion of your weekend on setting up and packing up.

No matter what your camping style is, the following is a list of highly recommended basic camping supplies:
Tent with Ground Tarp

Air Mattress with electric air pump

(or sleeping pad)

Warm bedding in Layers -some nights its cold and sometimes its HOT! (or sleeping bag)

Flashlight & Batteries

(or headlamp)

Propane or Gas Lantern

(there are some fluorescent ones that run on batteries)

Bug Spray for the Flies (don't worry about mosquitoes)

River Shoes (Sandals are the best!)
************************************************************************************************
Who Is Attending/Carpooling
After you purchased a ticket, be sure to let other GO members know that you are going by also signing-up on the GO website. This is a good way to contact other members for carpooling and allow you to recognize the other GO members attending. Do not sign up here until you have confirmed reservations from OutCamping.
************************************************************************************************


Itinerary Overview


Friday, August 7

9AM: Campground Opens
7PM: Meet 'N Greet Party at Campsite #10

9:00PM: Riverside Bonfire Dance Party



Saturday, August 8


10AM: Continental Breakfast Buffet with coffee

11AM-1PM: Various activities to do include swimming, sunbathing, canoeing, kayaking, tubing, volleyball, fishing, reading a book

1PM: Riverside Lunch BBQ Buffet

2-7PM: Various activities to do include swimming, sunbathing, canoeing, kayaking, tubing, volleyball, fishing, reading a book

7PM: Fully catered reception of appetizers and dinner

9:30PM: Fireworks
10:00PM: Riverside Bonfire Dance Party

Sunday, August 9


Pack-up and chill-out day. Various activities to do include swimming, sunbathing, canoeing, kayaking, tubing, volleyball, fishing, reading a book

4:00PM: Campground Closes

***********************************************************************************************
Pricing
Tickets for the GO Gathering Weekend are only available at the OutCamping Website. Tic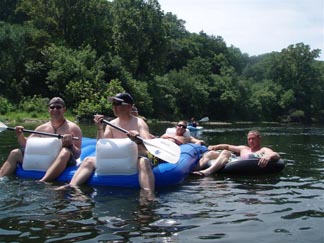 kets cost $95.00 per person for the entire weekend. The Festival begins Friday August 13th, 2010 at 9:00 AM and ends on Sunday at 4:00 PM. Your ticket price includes camping fees, Saturday night fireworks show, Saturday breakfast, lunch, & dinner; and DJ music live guest entertainment with disco lights all weekend long.. You must bring your own food to cook for Friday! Extra ice for your cooler and styrofoam coolers will be available at the campsite for an additional charge. Tickets must be purchased before the sales closing date of Saturday August 6, 2010. There is no raindate for the GO Gathering 2010.


Camping in the rain is no fun and we have tried in years past to make sure we had a backup raindate. Unfortunately, this does not work with most peoples schedules. For many people the GO Gathering is a planned summer mini vacation and their schedules are just not flexible. Because of this, we will not have a scheduled rain date for the GO Gathering 2009. If you buy a ticket you are taking the chance that Mother Nature will screw all of us and you will loose 50% of what you paid. This will only happen if a freak of "M" nature occurs between the Saturday of the ticket sales closing date and the follwing Friday of the GO Gathering. We will only cancel the GO Gathering if we are guaranteed a TOTAL RAIN OUT weekend.


[Choose the 2010 GO Fab Festival Ticket]

************************************************************************************************

Cancellation Policy
We understand that shit happens and plans change, we have no problem giving anyone a 100% refund as long as your refund request is received before the Ticket Sales Closing Date. Your money will be prompty refunded in the same manner we received it. After the Ticket Sales Closing Date, All Ticket Sales are Final. No tickets will be sold after this date. No refunds will be given after this date unless we have a TOTAL RAIN OUT weekend. This year, the Ticket Sales Closing Date is Saturday August 6, 2010. In the event the GO Gathering has to be canceled, OutCamping will only provide a 50% refund for each ticket. If this refund policy is not acceptable to you, please do not buy a ticket. Please understand that we have non-recoverable expenses. We are also a Not-for-Profit Corporation that is trying to give back to the GLBT community.
Your host,
Mike Antonelli
OutCamping.org

© 2010 Gay Outdoors ; All Rights Reserved.