Osceola Trail Maintenance Weekend
Volunteering DATE: 05/24/2014 - 05/24/2014
Trip/Event Location: Waterville Valley, NH
US
Trip Leader(s): Gandalf , JDNnh
Max # People: 15
Trip Guiding / Event Fee: No, I will not be asking participants for money
Difficulty Level: Moderate
Join us on our annual trail maintenance weekend where we work on our adopted trail. Free logding and food all weekend!
Jon and I will be hosting our annual trail maintenance day to GayOutdoors&
...
Driving directions to the location and spot to meet at:
Please meet at our house for 8:00 am so we can make introductions, distribute tools, and arrange carpooling to the trailhead. We are meeting at our house: 676 Upper Mad River Road, Thornton, NH.
Directions:
Take I-93 and use Exit 28. At the end of the ramp take right onto Rte 49 East for 3.5 miles and take a left on Burbank Hill Road.
During this 3.5 miles, you'll pass a traffic light where there is a dam on your right, then pass a White Mountain National Forest campground and then see the William Tell Restaurant on your left. About a mile after the restaurant, you'll see Burbank Hill Road on the left (Goose Hollow Campground sign). If you cross the Mad River on the bridge, you just missed the left turn.
Take a left onto steep Burbank Hill Road and you'll quickly reach the top of the hill where you take your first right onto Upper Mad River Road (Hiking Sign). The road will soon turn into gravel, you'll pass two apartments on your right and then a house. Our property begins right after this house and after about 200 yards you'll see a mailbox with "676" which is our house. The house is not very visible from the road.
Please park your car in the upper lot at my house and walk down the driveway.
Trip Report/Photos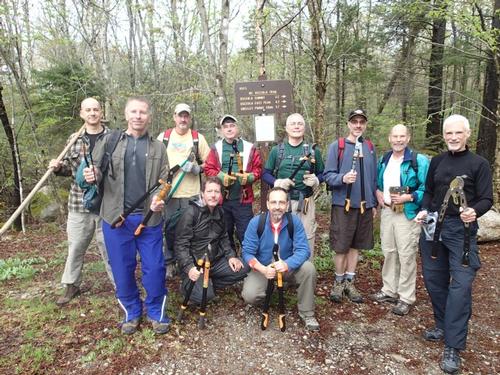 Eleven of us worked to get our adopted trail in shape for the hiking season by cleaning water bars, brushing back encroaching vegetation and removing one blowdown!
We performed trail work on our adopted trail [Mt. Osceola Trail] from Tripoli Road to the summit of East Osceola. This is a very popular trail so it requires a lot of attention to protect them from all that loving they get :-)
With an agreement made with the Forest Service, GayOutdoors adopted Mt. Osceola Trail; it's 5.7 miles long, it has two 4,000 footers [Mt. Osceola at 4,340 ft. and East Osceola at 4,156 ft.] and can be reached either from Tripoli Road or the Kancamagus Highway. GayOutdoors has purchased tools for trail maintenance over the years just because we think it's the right thing to do and happy to share them with all the GO members that help us out each year. You can learn a lot about trail maintenance by working with us!
Friday, the travel day to the GO Center, had a bit of everything for weather: rain, scattered showers, and periodic clearing skies. The air was damp with cool temperatures. We decided to start up the fireplace to take a chill out of the air. Seven of us hung around the fireplace and got caught up with each other's activities.
On Saturday after a breakfast of bagels & coffee, the remainder of our team met at the GO Center to discuss the work that had to be done and make arrangements for carpooling. We split into two teams. Jon took a team of seven from the start of Tripoli Road trailhead to the summit of Mt. Osceola while Mike took a team 4 to focus on brushing back encroaching spruce branches on the ridge between Mt. Osceola and East Osceola from the same trailhead.
We encountered many people who thanked us for our work as they made their way to the summit. The day was going well until a passing shower that lasted for over an hour dampened our spirits. Jon's team was unfortunately on the summit of Mt. Osceola when it arrived and ate lunch in the rain. Mike's team fortunately was able to enjoy the spectacular views from Mt. Osceola as the shower occurred when they were working on the ridge. Everyone started to head back around 2PM however Mike's team had a greater distance to cover since they were on East Osceola. On the descent we saw some wildflowers near the end including painted trillium, hobblebush, trout lily and red trillium.
After trail work we took showers back at the house, relaxed inside the house munching on snacks, enjoyed some homebrew by Jon & Mike [GO Beer], and entertained Sunshine. Then we had our traditional hungry hiker BBQ feast cooked by Jon that included Grilled Herb Chicken Breast with peppers, Kielbasa and baby carrots, tossed greens with veggies/Feta Cheese, warm pesto salad with shave parmesan, and corn on the cob! We were so full we didn't have room for dessert: angel cake topped with strawberries and whipped cream.
After dinner we sat around the living room, went outside to enjoy fireworks put on by Jon/Mike, went into the loft to see pictures taken during the day and watch a movie, "Captain Phillips." The next morning we cooked up pancakes with maple syrup, scrambled eggs, sausage, broccoli/tomato salad, toast and coffee!
GayOutdoors provided free lodging and meals for the weekend. Many GO members who helped us out this year earned a free White Mountain National Forest parking pass. GO is listed at all the trailheads as being a trail adopter that provides us with goodwill among the greater hiking community.
Quite a productive day on our adopted trail! What a great crew! THANK YOU!!!
There are 76 photos in Album (Note: Move mouse pointer over larger pic and click on NEXT for better viewing)
What Members Are Saying About This Trip/Event
Enjoyed the trail maintenance hike despite the changing weather conditions! Great guys, fine food, and a terrific time! - freespirit
Members That Participated
Gandalf
Outdoor Fitness Level: Very Strenuous
Thornton, NH
United States
Online Status: OFFLINE
Last Login: 09/27/2023 08:52 PM
Member Since: 08/20/2001
JDNnh
Outdoor Fitness Level: Very Strenuous
Thornton, NH
United States
Online Status: OFFLINE
Last Login: 09/11/2023 11:12 AM
Member Since: 10/30/2001
guest member
mjm727
Outdoor Fitness Level: Moderate
Methuen, MA
United States
Online Status: OFFLINE
Last Login: 04/22/2021 02:24 PM
Member Since: 08/07/2009
Richardg
Outdoor Fitness Level: Strenuous
NYC/Hudson Valley, NY
United States
Online Status: OFFLINE
Last Login: 09/27/2023 11:27 PM
Member Since: 09/23/2013
Eupatorium
Outdoor Fitness Level: Moderate
Alexandria, VA
United States
Online Status: OFFLINE
Last Login: 09/10/2023 11:48 AM
Member Since: 01/01/2011
phoenix
Outdoor Fitness Level: Moderate to Strenuous
Somersworth, NH
United States
Online Status: OFFLINE
Last Login: 09/25/2023 07:47 AM
Member Since: 02/24/2013
HikerBiker
Outdoor Fitness Level: Moderate to Strenuous
Londonderry, NH
United States
Online Status: OFFLINE
Last Login: 09/17/2023 02:04 PM
Member Since: 02/23/2003
georgep
Outdoor Fitness Level: Strenuous
Hooksett, NH
United States
Online Status: OFFLINE
Last Login: 06/14/2022 03:12 PM
Member Since: 09/10/2008
alex4mts
Outdoor Fitness Level: Very Strenuous
Lexington, MA
United States
Online Status: OFFLINE
Last Login: 07/06/2023 11:50 AM
Member Since: 12/07/2007
freespirit
Outdoor Fitness Level: Moderate
Dover, NH
United States
Online Status: OFFLINE
Last Login: 09/26/2023 09:23 AM
Member Since: 04/22/2006
<