Mt. Moosilauke via Gorge Brook
Hiking/Walk
DATE: Jul 21, 2018 Saturday

END DATE: Jul 21, 2018 Saturday

Trip/Event Location: Warren NH
Trip Leader(s)
Gandalf
Campton, NH United States,
JDNnh
Manchester, NH United States
Meeting Time: 10:00 AM
Max # People: 15
Trip Guiding / Event Fee: No, I will not be asking participants for money
Difficulty Level:
Moderate to Strenuous
(Do you qualify to attend with this trip difficulty rating? Click Here.)
Region: New England
Sign Up To This Trip/Event
You must be a least a guest member to participate. Comments such as "+1" or "bringing a friend" are NOT permitted. All participants must sign-up for the event individually.
Select your mode of transportation, make any comments and then click on button.
You are not logged in.
Please, Log In
Trip Leaders can click here to edit or delete this activity.
Disclaimer: The club and its members take no responsibility and will not be held responsible for any injuries or accidents that may occur during club events. Outdoor sports are inherently dangerous and accidents will happen. By joining the club or participating in any events posted on the GayOutdoors web page you are taking responsibility for your own safety and well-being. Anyone with an internet connection can post a trip on the GayOutdoors web site. It is your responsibility to determine if this person has the experience and competence to lead the trip. GayOutdoors does not certify or confirm the qualifications of any of its members to lead or participate in trips.
Be Prepared: Please be prepared to be self-sufficient. Have your own provisions such as first aid kit, food, water, extra clothing for unplanned weather, etc. Have your EMERGENCY CONTACT SHEET completed and in your backpack; it may save your life, and help reach someone who greatly cares!
Pace: There may be activities when the group is either slower or faster than your current ability. Please know that because this is a group activity, it's hard to accommodate everyone's pace perfectly. Our desire is not to leave anyone, however there have been times when it is in the best interest of all to split up. Please do your part by knowing your own abilities, communicating with the organizer head of time if you would like to start early and have us catch up or fine with finishing on your own.
Summary
Join us on this southwestern outpost of the high peaks that is unmatched for the variety of its views!
Mount Moosilauke is a 4,802 foot mountain located in Benton, New Hampshire along the Kinsman Range. It is the Western-most 4,000 footer mountain in the White Mountains. The Appalachian Trail passes over the mountain. The summit is above tree line and offers magnificent 360 degree views of the White Mountains leading out to Mt. Washington and nearly the entire Green Mountain chain – from Jay Peak to Stratton.
This is a popular climb, so the summit will be crowded. Combined with neighboring the Carriage Road/Snapper Trail, we will do a nice 7.5 mile loop which offers 2550 feet of climbing which will take about 6 hours. Mt. Moosilauke is the 10th highest peak in New Hampshire.
We will hike from the newly built Lodge up the Gorge Brook Trail 3.7 miles to the peak. The Gorge Brook Trail is perhaps the easiest and most popular route to the summit. We will return to the cars via the Carriage Road to the South peak, then follow the Carriage Road to the Snapper trail and finally the Gorge Brook trail.
You will need to be prepared for the day and have sturdy hiking boots, at least 2 liters of water, lunch, snacks, bug spray, rain gear, and other clothing appropriate for the weather. No blue jeans, cotton shirts/sweaters, etc.
Apres Hiking BBQ: Everyone is welcome to join us back at our house in Waterville Valley to relax our on outdoor deck with views of the Sandwich Mountain/Mad River [BYOB and bring snacks] followed by one of Jon's delicious dinners. We ask $10 per person to help pay for our food costs. Showers are available so bring a change of clothing to make your visit with us more comfortable.
Lodging Option: Bunk beds are available at our house [with Wi Fi] near Waterville Valley, NH for Friday and/or Saturday night. Its $25 for Friday night and $35 for Saturday that includes dinner. Coffee/bagels each morning and linen/blankets/towels are provided. Space is limited so email ASAP to reserve a bunk!
Driving directions to the location and spot to meet at: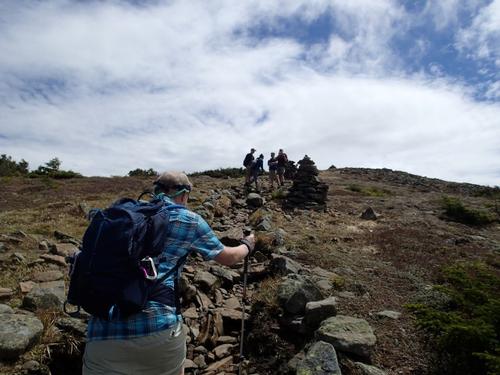 Darmouth's Ravine Lodge is at the end of the appropriately named Ravine Lodge Road, off of NH's Route 118. The best way to get there is to get off at exit 32 off I-93 (Woodstock/Lincoln/Kancamagus) and go west on Rt. 112 past North Woodstock. A few miles out of town, you will see the signs for Rt. 118 South and turn LEFT (it's easy to miss — if you pass the Beaver Brook parking lot or the Lost River Valley Campground, you've gone too far!). After 7.1 miles (winding uphill then starting down the other side), turn RIGHT onto Ravine Road..
Turn right and go all the way down. As soon as you see cars parked on the left side the road, you are there, and you need to park here, since there is no parking nearer the lodge. We are driving a blue Toyota Tacoma truck.
Trip Leader(s)
Gandalf
Outdoor Fitness Level: Very Strenuous
Campton, NH
United States
Online Status: OFFLINE
Last Login: 07/12/2018 11:30 PM
Member Since: 08/20/2001
JDNnh
Outdoor Fitness Level: Very Strenuous
Manchester, NH
United States
Online Status: OFFLINE
Last Login: 06/22/2018 10:15 AM
Member Since: 10/30/2001
members signed up for this event
guest member
ColdMountain
Outdoor Fitness Level: Moderate to Strenuous
Waltham, MA
United States
Online Status: OFFLINE
Last Login: 07/01/2018 10:50 PM
Member Since: 09/21/2013
Driving My Own Car


(Possibly willing to give guys a ride)
Comment: I'll take the bunkhouse option, too, please. Looking forward to it.
jrdhiker
Outdoor Fitness Level: Moderate to Strenuous
Upton, MA
United States
Online Status: OFFLINE
Last Login: 07/16/2018 07:18 AM
Member Since: 12/17/2008
Driving My Own Car


(Possibly willing to give guys a ride)
Bobcat
Outdoor Fitness Level: Strenuous
Upton, MA
United States
Online Status: OFFLINE
Last Login: 07/16/2018 07:20 AM
Member Since: 12/16/2008
Driving My Own Car


(Possibly willing to give guys a ride)
Discuss This Trip/Event