Mt. Madison and Adams Hike
Hiking/Walk DATE: 07/20/2019 - 07/20/2019
Trip/Event Location: Gorham, NH
US
Trip Leader(s): Gandalf , JDNnh
Max # People: 15
Trip Guiding / Event Fee: No, I will not be asking participants for money
Difficulty Level: Very Strenuous
This is a big hike, but should be a fun one. There will be plenty of time above treeline and no shortage of views! Adams [5,774 feet] and Madison [5,367 feet] are part of the northern Presidential
...
Driving directions to the location and spot to meet at:
Follow New Hampshire Route 16 north thorough Pinkham Notch to the town of Gorham and turn left [west] on U.S. Highway 2. The large Appalachia Trailhead parking area is on the left [south] side of the highway about 6 miles west of Gorham. We'll be driving a blue Toyota Tacoma truck.
Or take I-93 North, then U.S Highway 3 North, and then New Hampshire Route 115. Turn right [east] on U.S. Highway 2 and drive about 12 miles [more or less] to the large Appalachia Trailhead parking area on the right [south] side of the highway. We'll be driving a blue Toyota Tacoma truck.
Trip Report/Photos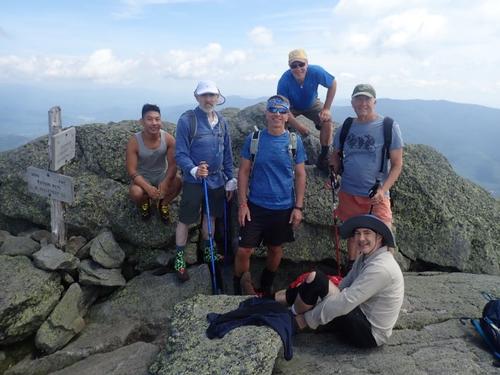 Difficulty: Very Strenuous
Distance: 9.6 miles
Elevation Gain: 5,244 feet
Time: 8-10 hours
Trails: Valley Way, Brookside, Watson Path, Osgood, Star Lake, Airline
The weather gods saw fit to deliver an unusually clear day in the Northern Presidentials, however it would be 93 degrees in the valleys with a heat index of 100. We arrived at the Appalachia parking lot just off of Route 2 around 8:00am Saturday morning. The parking lot was full so we had park off the shoulder of Route 2. A number of hikers were gathering their gear as they prepared to enter the trail. The Appalachia parking lot is the starting point for a number of trails that ascend Mt Madison and Mt Adams so we knew it was not going to be a secluded hiking experience unless we took off the beaten path trails.
We started out on Valley Way for the first hour of our hike and much to our surprise did not encounter any hikers heading to the Madison hut for the evening. Not wanting to tempt fate by encountering any more hikers we quickly took a left onto the Brookside trail, which connected to the Watson path and that would eventually ascend Mt Madison rather than taking Valley Way thereby saving us the trouble of covering the distance from the hut to the summit twice.
The Brookside trail was appropriately named for it followed Snyder Brook as it ascended the ridge heading to Mt Madison. The gentle sound of the water flowing over the rocks made the hike especially delightful as the weather was hot and we only encountered a couple of trail runners who flew past us. As the heat of the day descended upon us, a few of us took our shirts off. We settled into a comfortable pace and stopped periodically to eat, drink, and rest for we knew this was going to be a long day and we needed to reserve as much strength as possible for the latter potions of the hike.
We took a left at the junction with the Watson Path and at the crossing of Snyder Brook we enjoyed viewing gorgeous Duck Fall surrounded by mossy rocks that is not talked about much in the hiking guides.
The Watson Path is one of the more challenging routes in the White Mountains as it is very steep, very rocky and very exposed once it breaks out above the treeline. This is definitely not someplace you want to be with a storm in progress or even brewing. The original route was constructed over one hundred years ago, in 1882, by L. M. Watson and lead from Ravine House, next to Durand Lake in Appalachia, to the summit of Mount Madison. The lower portions of the original route have now been taken over by other trails and/or reclaimed by Mother Nature and only the upper portion remains the original route.
Once on the Watson Path, the trail began to ascend more steeply as it meandered towards tree line. A few sections were steep and required a little scrambling, but nothing like once you emerged above tree line and had to scramble up and over the pile of rocks that makeup the Mt. Madison summit. We only encountered one person on the Watson Trail during our steep ascent up Madison. When we emerged above tree line were relieved with the cool breeze on this very hot day.
Once beyond tree line the hiking gods decided to toy with us by giving us several false summits to add a little excitement to our otherwise tranquil and thoroughly enjoyable hike. Each time we were about to crest what we thought had to be the summit we were greeted with yet another "false summit" just over the horizon. After being treated to three false summits in just under an hour, we eventually reached the true summit and were met with an absolutely breathtaking view of Mt Washington and the various gulfs that make up the range below.
The auto road and the cog railway were clearly visible in the distance as caravans of cars were headed to the summit to enjoy the views that this exceptionally clear day had to offer. The Madison summit was relatively crowd free with only a couple of people moving around hoping to get just the right picture. We met a thru-hiker at the summit with the standard beard but what really surprised us was that he basically had an overstuffed day pack. He started April 18th and looked rather clean. He explained that he just got back on the trail after taking two weeks off to attend a wedding.
After a thirty-minute lunch break with the usual assortments of photos being taken, we headed towards the Madison hut. You don't actually see the hut until you are almost on top of it for it is located in a saddle between Mt Madison and Mt Adams. We stopped in for a few minutes to fill up our water bottles and go to the bathroom. The hut didn't look all that crowded, there were a few people milling about outside either finishing a hike or just getting ready for a hike. Rich decided to skip Mt. Adams and would rejoin us at the Gulfside/Airline junction during our descent.
We ascended up on the Star Lake Trail to the summit of Mount Adams. We also got a close-up look at Star Lake and a beautiful photo of Mount Madison. The views of the Great Gulf Wilderness and Jefferson Ravine were also very nice. The lower portion of the Star Lake Trail beyond Star Lake gets progressively steeper and rougher as it angles up the rocky slope, and the rocks become larger and require more strenuous rock hopping. What made this section of our hike difficult is that there was not a breeze and we sweated profusely on the ascent. Extremely hot. It then gets more like the top of Mount Washington and we found ourselves constantly hunting out the easiest route among the massive granite blocks. The final stretch to the top is up a huge granite chute or ravine that is very impressive.
The summit for Mt Adams is not as large as Mt Madison so it took us a few minutes to find a spot to sit and take some photos. It was hot, not much of a breeze and buggy. We did not linger very long. Although Mt Adams is closer to Mt Washington, I felt that the view from Mt Madison was better. Our rationale was that Mt Madison gives you a panoramic view, were as Mt Adams gives you an up close and personal view. I'm sure others will disagree. Either way, both summits offer you a spectacular view of the Northern Presidentials!
By this time, it was 2:10pm and we needed to leave shortly if we wanted to reach our vehicles at a reasonable hour. We encountered a number of groups as we descended Mt Adams on the Airline trail. We met up with Rich at the Airline junction and we were all reunited for our descent.
We slowly descended Airline heading towards our vehicles and the end of a long day. We were slowly exhausting what energy reserves we had left. We descended on the knife-edge crest of Durand Ridge with magnificent views!
We continued our slow but methodical pace towards our vehicles and salvation. We were all dehydrated no matter how much water we drank on this very hot and humid day. We were all beginning to long for our car vehicles. At 5:30pm we emerged from the forest and collapsed in our vehicles before heading back to the house.
Thankfully Jon had some energy left to cook dinner for Rich and I. We enjoyed grilled shrimp kebob skewers, toasted garlic bread smothered with cheese grilled asparagus, rice and salad.
The next day Jon and I soaked in the Mad River to keep ourselves cool on another very hot day. In retrospect, as tired as we were after the hike, we have to say that it was by far one of the most awesome hikes we have done in a while!
Trip Report by Mike Boisvert
Photos by Mike Boisvert and Jon Normand
There are 135 photos in Album (Note: Move mouse pointer over larger pic and click on NEXT for better viewing)
What Members Are Saying About This Trip/Event
Thanks Mike & Jon for leading this trip- Very exhausting but was a great workout! After the hike, I picked up some Boneless Buffalo Wings & headed back to the Great Gulf to meet up with John & enjoy the cool pools at our camping spot. - Bobcat
Members That Participated
Gandalf
Outdoor Fitness Level: Very Strenuous
Thornton, NH
United States
Online Status: OFFLINE
Last Login: 09/27/2023 08:52 PM
Member Since: 08/20/2001
JDNnh
Outdoor Fitness Level: Very Strenuous
Thornton, NH
United States
Online Status: OFFLINE
Last Login: 09/11/2023 11:12 AM
Member Since: 10/30/2001
Richardg
Outdoor Fitness Level: Strenuous
NYC/Hudson Valley, NY
United States
Online Status: OFFLINE
Last Login: 09/27/2023 11:27 PM
Member Since: 09/23/2013
dpbyrnes
Outdoor Fitness Level: Moderate to Strenuous
Ipswich, MA
United States
Online Status: OFFLINE
Last Login: 09/10/2023 12:03 PM
Member Since: 01/24/2009
Bobcat
Outdoor Fitness Level: Strenuous
Upton, MA
United States
Online Status: OFFLINE
Last Login: 09/27/2023 09:30 PM
Member Since: 12/16/2008
Long.S
Outdoor Fitness Level: Strenuous
Medford, MA
United States
Online Status: OFFLINE
Last Login: 08/27/2023 04:50 AM
Member Since: 12/09/2018
<