Mts. Webster and Jackson
Hiking/Walk DATE: 02/20/2016 - 02/20/2016
Trip/Event Location: Bretton Woods, NH
US
Trip Leader(s): Gandalf
Max # People: 15
Trip Guiding / Event Fee: No, I will not be asking participants for money
Difficulty Level: Moderate to Strenuous
The open rock summit of one of the easier 4,000 footers Mt. Jackson [4052'] rewards with fine views of the Presidentials! Mt Webster [3910 ft.] has excellent views of Crawford Notch!
ROUTE: We&
...
Driving directions to the location and spot to meet at:
From the traffic lights at the intersection of US 3 and 302 in Twin Mountain, turn east on US 302. Drive 8.6 miles, passing the AMC Highland Center and Saco Lake, to a hiker's parking lot on the right [west] side of the highway just before entering Crawford Notch. The trailhead is across the road. We'll be driving a blue FJ Cruiser.
Trip Report/Photos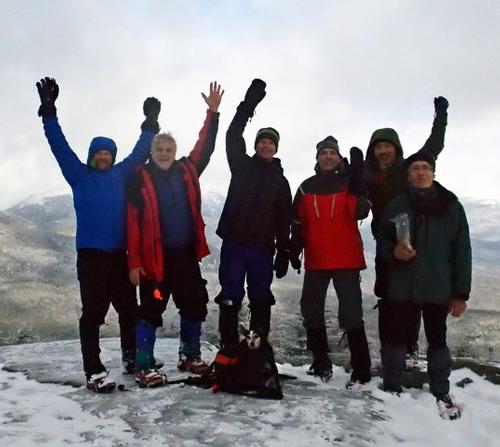 For this winter hike, we decided on Jackson first and then stay on the ridge to reach Webster. Short, easy, and right to the point. At least that was the original plan!
We met at the trail head parking lot around 9:30am. There was a fresh snowfall of about 3 inches making road travel slower than usual. Martin was driving from Stowe, VT and had the furthest to travel. He had mentioned that if road travel conditions were not good that he might not meet us. Compass, Scott's dog, began to whimper, "When are you guys starting...I want to get going!" After waiting 15 minutes, we started at 9:45am.

We crossed the road and met a large group who told us they turned around due to very icy conditions. We put on our MicroSpikes and up we went. Attending were Luciano, Rob, Kevin, Scott and his dog Compass, Jon and myself. Jon led for the climb up to Mt. Jackson while I led after that.
We started up the trail moving pretty fast, and with the temperatures that morning I heated up pretty quickly under my jacket. Shortly after getting around the first bend before it grades out a bit, we stopped to drop some layers.
The three steep sections to Bugle Cliff junction were a sheet of ice...VERY ICY...I wished I had brought my crampons. What added to the difficulty is that temperatures were so warm that snow was accumulating at the bottom of our MicroSpikes making them useless…we had to keep grinding our boots onto the ice or kick them against a tree so we could use the spikes. Careful maneuvering was required to get up the steep sections by holding on to trees, rocks and anything else that could help us get up! We felt like we were auditioning for the Ice Capades…twirls, spins, butt slides, triple salchow and double toe loops!!! Compass had no problems going up and looked at us as if we were wimps. :-)
We all conversed back and forth, laughed, and kept on trekking towards the junction. Even after Bugle Cliff, with the powder snow hiding a trail that is a sheet of ice beneath, I could have worn my crampons all the way to summit! Arriving at the Webster-Jackson junction we still had not run into anyone on the trail. We continued upward on the Jackson Branch and encountered more snow on the trees as we climbed up. We saw a group at the top of the summit ledges and blue skies were overhead! This summit is very popular with Gray Jays and we did not encounter a single one the entire day.

We continued on to the ledges not sure what to expect. It was a combination of ice and snow so caution was exercised. At the summit we were greeted by brand new signage.
We all took quite a few photos for the first few minutes we were there. We broke out our lunches and marveled at the view of the Presidential Range before us. Scott took great care of Compass by making sure she kept warm in his pack. So cute! We probably had the summit to ourselves for a good 10 minutes before three Canadian women arrived and then shortly after a couple. We packed up our things and started our hike to Mt. Webster using the Webster Cliff Trail.
Loose powder on the Webster Cliff Trail was doable with MicroSpikes thanks to a group ahead of us who had snowshoes and breaking trail. We had some sections on our bums sledding out, with a few big bumps that set us air born that was quite entertaining. Compass was having a blast! The sun came out and we hiked along the ridge in a winter wonderland!
We were socked in on the summit of Mt. Webster but the wind helped give us some periodic views. More butt surfing was in order for the descent down the Jackson Branch. We reached the Silver Cascade that resembled a vertical ice castle with layers of ice and large frozen icicles.
As we were leaving we heard a shout and it was Martin! He had car trouble and started hiking on the trail at 11AM. He booked because he caught up to us…we had a 90 minute head start! It was so great to see him. I finished my winter 4,000 footers two years ago and he has been keeping this insulated coffee mug filled with chocolate candy to give to me since then! Thank you Martin…very thoughtful of you. Martin is also one of our new board members.

We were a bit nervous about getting down all the icy sections we climbed up on but thankfully it had warmed up and these areas had turned slushy so we had no issues. We were down and out by 4:00pm. A few went back to our house for some après-hike festivities around the fireplace followed by a delicious meal prepared by Jon: seasoned pork loins, potatoes, green beans and salad. And I cannot forget the Amaretto Cake topped with whipped cream that I think everybody had 2 slices!
It was such a great day with amazing weather conditions and trail conditions. Thank you to everyone who joined us! We loved having Compass along!!!
Trip Report by Mike
Pictures taken by Jon
There are 96 photos in Album (Note: Move mouse pointer over larger pic and click on NEXT for better viewing)
What Members Are Saying About This Trip/Event
Members That Participated
Gandalf
Outdoor Fitness Level: Very Strenuous
Thornton, NH
United States
Online Status: OFFLINE
Last Login: 09/25/2023 02:37 PM
Member Since: 08/20/2001
JDNnh
Outdoor Fitness Level: Very Strenuous
Thornton, NH
United States
Online Status: OFFLINE
Last Login: 09/11/2023 11:12 AM
Member Since: 10/30/2001
Robert.L
Outdoor Fitness Level: Very Strenuous
Bowdoin, ME
United States
Online Status: OFFLINE
Last Login: 07/19/2021 06:34 PM
Member Since: 09/07/2014
gsgraham
Outdoor Fitness Level: Moderate to Strenuous
Fairlee, VT
United States
Online Status: OFFLINE
Last Login: 07/31/2021 03:18 PM
Member Since: 04/09/2005
Scorpione
Outdoor Fitness Level: Moderate
Boston / Cape Ann, MA
United States
Online Status: OFFLINE
Last Login: 11/17/2020 04:17 AM
Member Since: 07/25/2013
Driving My Own Car


(Possibly willing to give guys a ride)

Comment: Not full moon but almost. :-)
wildcat
Outdoor Fitness Level: Very Strenuous
Stowe, VT
United States
Online Status: OFFLINE
Last Login: 09/12/2023 12:52 PM
Member Since: 09/15/2006
liketodo
Outdoor Fitness Level: Moderate to Strenuous
Boston, MA
United States
Online Status: OFFLINE
Last Login: 12/19/2022 04:54 PM
Member Since: 01/13/2007
<