learn
Vermont's Perfect Gay Nude Swimming Holes
By Mike Boisvert.
The Ledges
On Harriman Reservoir there are 2 established beach swimming places, but also a place called "The Ledges". This is a well-known, traditional clothing-optional place. A large sandy beach and big, flat rocks for sunbathing at the water's edge (size of beach may be diminished when water level in reservoir is high.) Some rocks to jump from. Please respect the place, no noise, gawking or littering. Most of the crowd is male, but the area is also popular with straight folks. Summer weekends draw over 100 nude bathers.
Directions: From Brattleboro, take RT 9 W. Before you get to Wilmington, go S on RT 100 to the Harriman Reservoir. Go 1.2 miles (past Dix Rd on the left) , west onto Boyd Hill Rd. and past Riley Boyd Rd. on left and straight thru next intersection [do not bear left up the hill]. Drive to a pair of yellow pipes, from a former gate. The road bears left downhill to what might be a residence, take a right up slight hill, and parking lot is not far. The beach is just thru wooded trail, continue along shoreline, and across little bridge. The trails significantly split, right is better. Take off your clothes, join the parade, follow shoreline and the gay area is beyond the central area where most straight skinny-dippers gather.
Rock River
Rock River, is Vermont's most popular place for gay nude swimming and sunbathing. It's known for being very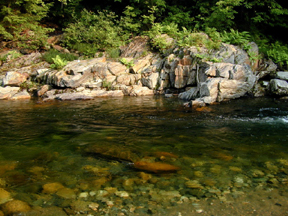 cruisy. If this is not your scene, just stay near the water. It's known to have a good social atmosphere and everyone seems to look after each other. A popular activity is taking the rocks and building beautiful cairn structures. It's between Brattleboro and Newfane, VT, and has several natural pools. The first pool you reach is the largest, family oriented and clothing is required. As you walk further upstream, you'll come to a second pool, which has probably nudity, but is made up of mostly straight folks. Further upstream, you will come to a third pool, which tends to be all nude and all gay.

Directions: From Brattleboro, take State Route 30 north. After 7 or 8 miles, when you see the turnoff for Maple Valley Ski Area, continue north on SR-30 for another 1.5 miles, until you reach the Williamsville Road turnoff on the left. The turnoff is just before a large bridge over Rock River. Pull over and park on the east end of the bridge. Cross dangerous SR-30 very carefully, head short way up road, and on right there is a dirt road into camps; some are abandoned and collapsed. Ignore residents, respect their privacy and walk past camps onto dirt path that heads toward the river. Be careful on trecherous rock. Don't carry a lot of gear. Soon you will see clothing optional sign. Take off your clothes and join the men. Cross there to path on other side or go onto rapids at next bend where many welcoming naked men can be found. Be prepared to get drenched if you loose your footing in the pool.
Woodbury Quarry
Woodbury Quarry, in Woodbury, VT, north of Montpelier and Barre, is an abandoned quarry. This is a great swimming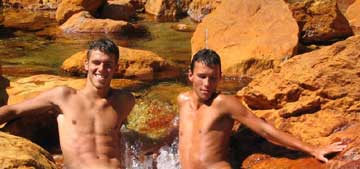 hole deep in the woods. As most quarries, one side is a sheer rock wall. Before you dive in, you may want to check its depth to be safe. Nudity is a tradition here, and you'll normally find a few gay swimmers and sunbathers.

Directions: From Montpelier, head east on US Highway 2 about 5 miles to the junction with State Route 14 in East Montpelier. Turn left onto SR-14 and head north about 13 miles to the village of Woodbury. Once you see a white church (Woodbury Methodist) on the left side, turn right onto Cabot Road. Proceed 0.7 mile, then turn left onto a dirt road. Continue along this road (staying right at the fork) about 0.75 mile until the road turns sharply to the right (leading to a working quarry). At this point continue straight ahead another 0.6 mile. The road get rougher. Park and go a short distance through the woods to the quarry.
Brewster River Gorge
Here is a very fun swimming and jumping place in the Brewster River. Is the water really warmer here or does it just seem so because you hate to leave? The trails have been known to be cruisy. When you first get out of the car and start walking, the first set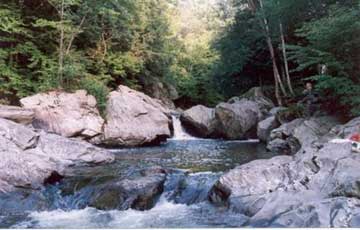 of pools is used by clothed bathers. It's not until you cross the river do you run into nude swimmers. The main pool is surprisingly deep. Nudity is common in several places. Crowds are small and significantly gay.
Directions: From Johnson, go west on RT 15 to Jeffersonville then south on RT 108. Take RT 108 about .5 miles south and turn east (left) AFTER the mill onto CANYON ROAD, then turn right before you cross the unused covered bridge. Park in the parking area. Walk past the parking area and over the covered bridge to the other side of the river, where a sign marks the start of the actual trail. The trail leads to falls and swimming holes for the general public. Walk about 15 - 20 minutes to the only 90 degree bend in the river to the gay nude beach. Very peaceful and respectful fun.
Clarendon Gorge
High cliffs and a deep pool with a rope swing. Popular local swimming hole, lots of parties resulting in some litter. Clothed swimmers are closer to US-7, but nude use is customary as you go farther upstream along the river. If you come to a high suspension footbridge that spans the river, you've reached the end of the traditional nude area. This is also where the Appalachian Trail and Long Trail crosses the gorge. You'll just might see some hot thru-hiker skinny-dipping here.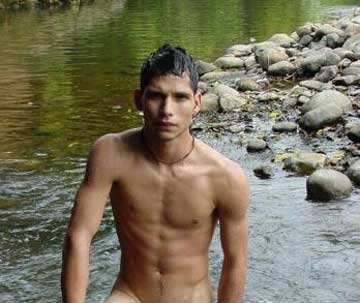 Nude use is well established, and the area is very popular with gay men.
Directions: From Rutland, take RT 7 south. Take a left onto RT 103. Following RT 103 for approximately 2.5 miles, you will come to a parking area on the right just before you cross the railroad tracks. This is used as an access point to the Long Trail. Park here and follow the well worn path to the suspension bridge. After crossing the bridge, walk straight, which is upstream. Explore the area upstream where you will find other gay men.
If you have any information on these areas, please contact us so we can update this information.
&copy 2011 Gay Outdoors All Rights Reserved.