Sandwich Mt. Trail Maintenance Weekend
Volunteering DATE: 05/26/2012 - 05/26/2012
Trip/Event Location: Waterville Valley, NH
US
Trip Leader(s): Gandalf , JDNnh
Max # People: 15
Trip Guiding / Event Fee: No, I will not be asking participants for money
Difficulty Level: Moderate
Help give something back to the forest and trails that serve us. We are looking forward to fun, hard work, comaraderie, new skills and friendships!
The trails themselves are within a designated
...
Driving directions to the location and spot to meet at:
Please meet at my house for 8:00 am so we can distribute tools, split the group in two and arrange for carpooling.
Directions:
Take I-93 and use Exit 28. At the end of the ramp take right onto Rte 49 East for 3.5 miles and take a left on Burbank Hill Road.
During this 3.5 miles, you'll pass a traffic light where there is a dam on your right, then pass a White Mountain National Forest campground and then see the William Tell Restaurant on your left. About a mile after the restaurant, you'll see Burbank Hill Road on the left (Goose Hollow Campground sign). If you cross the Mad River on the bridge, you just missed the left turn.
Take a left onto steep Burbank Hill Road and you'll quickly reach the top of the hill where you take your first right onto Upper Mad River Road (Hiking Sign). The road will soon turn into gravel, you'll pass two apartments on your right and then a house. My property begins right after this house and after about 200 yards you'll see a mailbox with "676" which is my house. The house is not very visible from the road.
Please park your car in the upper lot at my house and walk down the driveway.
Trip Report/Photos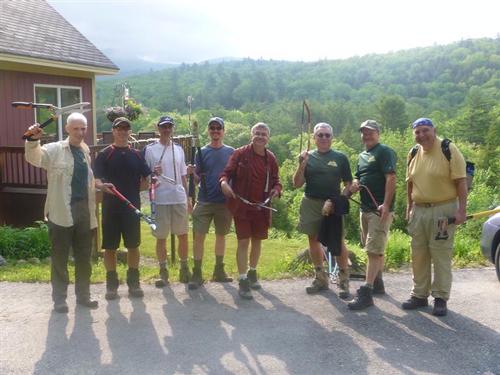 We performed our annual trail work over Memorial Day Weekend. The most popular trails on Sandwich Mountain [Brokeback Mountain] see a lot of traffic and require a lot of attention to protect them from all that loving they get :-)
With an agreement made with the Forest Service, GayOutdoors adopted two trails on Sandwich Mountain to maintain: Smarts Brook and Drakes Brook trails. Both can be reached off Rt. 49 as you drive into Waterville Valley. We've been doing this for many years now. We first adopted Smarts Brook trail that was badly neglected and it took us quite a bit of work to get it into the condition it is in today. Then we adopted Drakes Brook. Jon and I have purchased tools for trail maintenance over the years just because we feel it's the right thing to do and happy to share them with all the GO members that help us out each year. We usually do just Level 1 Maintenance but we have rerouted small sections of trail that were underwater. You can learn a lot about trail maintenance by working with us!
On Saturday nine of us worked to get these trails in shape for the hiking season by cleaning lots of water bars, clearing blowdowns, and brushing back encroaching vegetation.
After trail work we took showers back at the house, relaxed on the deck, keeping watch over Sunshine, and enjoyed Carlos' El Presidente cocktails. Then we had our traditional hiker feast cooked by Jon that included greek inspired lemon & garlic chicken breast, grilled sausage, feta & cherry tomato tossed fresh string bean salad, rice pilaf and corn bread. We all saved room for dessert: homemade orange zested pecan honey cake. After dinner we sat around the campfire laughing and sharing stories. The next morning we cooked up apple cinnamon pancakes!
GayOutdoors provided free lodging and meals for the weekend. Many GO members who helped us out this year earned a free White Mountain National Forest parking pass. GO is listed at all the trailheads as being a trail adopter that provides us with goodwill among the greater hiking community.
Quite a productive day on our adopted trails! What a great crew! THANK YOU!!!
CLICK HERE TO VIEW PICTURES AND SLIDE SHOW [press F11 for full effects]
- The Trip Has No Photos -
What Members Are Saying About This Trip/Event
Members That Participated
Gandalf
Outdoor Fitness Level: Very Strenuous
Thornton, NH
United States
Online Status: OFFLINE
Last Login: 09/27/2023 08:52 PM
Member Since: 08/20/2001
JDNnh
Outdoor Fitness Level: Very Strenuous
Thornton, NH
United States
Online Status: OFFLINE
Last Login: 09/11/2023 11:12 AM
Member Since: 10/30/2001
wildcat
Outdoor Fitness Level: Very Strenuous
Stowe, VT
United States
Online Status: OFFLINE
Last Login: 09/12/2023 12:52 PM
Member Since: 09/15/2006
guest member
mjm727
Outdoor Fitness Level: Moderate
Methuen, MA
United States
Online Status: OFFLINE
Last Login: 04/22/2021 02:24 PM
Member Since: 08/07/2009
JPHiker
Outdoor Fitness Level: Moderate
Lake Worth Beach, FL
United States
Online Status: OFFLINE
Last Login: 09/26/2023 08:10 AM
Member Since: 11/11/2002
guest member
HikerBiker
Outdoor Fitness Level: Moderate to Strenuous
Londonderry, NH
United States
Online Status: OFFLINE
Last Login: 09/17/2023 02:04 PM
Member Since: 02/23/2003
guest member
alex4mts
Outdoor Fitness Level: Very Strenuous
Lexington, MA
United States
Online Status: OFFLINE
Last Login: 07/06/2023 11:50 AM
Member Since: 12/07/2007
<