Mount Sunapee Hike
Hiking/Walk DATE: 10/11/2008 - 10/11/2008
Trip/Event Location: Newbury, NH
US
Trip Leader(s): Gandalf
Max # People: 15
Trip Guiding / Event Fee:
Difficulty Level: Moderate
Newbury, NH&nbspis about 2 hours from Boston (100 miles) so carpooling is strongly recommended.
This will be a moderate hike for about 5 hours. Dress in layers, bring lunch, plenty of water and a
...
Driving directions to the location and spot to meet at:
Trip Report/Photos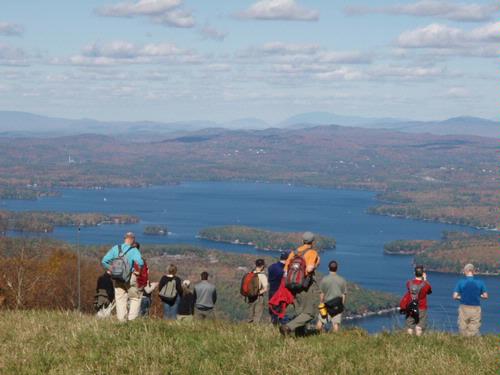 Mike, Jon, Rick, Rich, Stephen, Carlos,&nbspRam, Tedd, Jim, James,&nbspDoug and Anthony hiked up Mt. Sunapee (2,726') last Saturday.
We went up the Andrew Brook Trail - it went to Lake Solitude.&nbspWe hung out at the lake for awhile&nbspto soak up the&nbspviews.&nbsp&nbsp
We&nbspthen pushed on to the summit because White Ledge was too crowded.&nbspThe highlight from the top was the great view of the lake&nbspwith the fall foliage and this distant view of Mt. Moosilauke and Franconia Notch. We had lunch on&nbspa&nbsppicnic tables&nbspon the deck of the summit lodge.&nbsp
We then came back down&nbspand&nbspsoaked up the sun at White Ledge&nbspabove Lake Solitude before heading down for good. It was about a&nbsp7 mile round trip hike and took about 5 hours, including all break time, which was about&nbsp2 hours worth, so this hike was extremely easy. Here are some pictures.
There are 51 photos in Album (Note: Move mouse pointer over larger pic and click on NEXT for better viewing)
What Members Are Saying About This Trip/Event
Thanks for a great hike, Mike! Couldn't have been a more perfect day or group of guys. By the way, I'm Stephen...I think we've met before...see caption on 2nd picture (and that's Doug, not Bruce, on the left). lol - shep5
My first outing with GO. Signed up as a full member and it was worth it on the first trip. Had a great time and look forward to making many more new friends along the way. Thanks Everyone. See you soon. And Carlos got it right I thought there was going to be some skinny dipping at the pond lol. - AJDME
Great weather, great company, great foliage. If only Mike had jumped into the Pond of Solitude... - JPHiker
Members That Participated
Gandalf
Outdoor Fitness Level: Very Strenuous
Thornton, NH
United States
Online Status: OFFLINE
Last Login: 09/27/2023 08:52 PM
Member Since: 08/20/2001
HikerBiker
Outdoor Fitness Level: Moderate to Strenuous
Londonderry, NH
United States
Online Status: OFFLINE
Last Login: 09/17/2023 02:04 PM
Member Since: 02/23/2003
HikerLegs
Outdoor Fitness Level: Moderate
South Burlington, VT
United States
Online Status: OFFLINE
Last Login: 07/23/2023 10:03 PM
Member Since: 03/03/2002
shep5
Outdoor Fitness Level: Very Strenuous
Jaffrey, NH
United States
Online Status: OFFLINE
Last Login: 04/04/2020 12:45 PM
Member Since: 10/30/2001
JPHiker
Outdoor Fitness Level: Moderate
Lake Worth Beach, FL
United States
Online Status: OFFLINE
Last Login: 09/26/2023 08:10 AM
Member Since: 11/11/2002
JDNnh
Outdoor Fitness Level: Very Strenuous
Thornton, NH
United States
Online Status: OFFLINE
Last Login: 09/11/2023 11:12 AM
Member Since: 10/30/2001
freespirit
Outdoor Fitness Level: Moderate
Dover, NH
United States
Online Status: OFFLINE
Last Login: 09/26/2023 09:23 AM
Member Since: 04/22/2006
I Already Have A Ride
Comment: guest registrant
AJDME
Outdoor Fitness Level: Moderate
ogunquit, ME
United States
Online Status: OFFLINE
Last Login: 03/05/2022 12:15 PM
Member Since: 02/20/2007
<