Osceola Trail Maintenance Day
Trail Maintenance
DATE: Jun 19, 2021

END DATE: Jun 19, 2021

Hike/Event Location: Waterville Valley NH
Trip Leader(s)
Gandalf
Thornton, NH United States,
JDNnh
Manchester, NH United States
Meeting Time: 8:30 AM
Max # People: 10
Hike Guiding / Event Fee: No, I will not be asking participants for money
Hike Difficulty Level:
Moderate
(Do you qualify to attend with this hike difficulty rating? Click Here.)
Sign Up To This Trip/Event
You must be a least a guest member to participate. Comments such as "+1" or "bringing a friend" are NOT permitted. All participants must sign-up for the event individually.
Select your mode of transportation, make any comments and then click on button.
You are not logged in.
Please, Log In
Disclaimer: The club and its members take no responsibility and will not be held responsible for any injuries or accidents that may occur during club events. Outdoor sports are inherently dangerous and accidents will happen. By joining the club or participating in any events posted on our website you are taking responsibility for your own safety and well-being. Anyone with an internet connection can post a trip on our web site. It is your responsibility to determine if this person has the experience and competence to lead the trip. We do not certify or confirm the qualifications of any of our members to lead or participate in trips.
Summary
Join us on our annual trail maintenance weekend where we work on our adopted trail.
Jon and I will be hosting our first of two trail maintenance days to GayOutdoors' adopted trail, Mt. Osceola.
We are hopeful that GayOutdoors has enough energetic, ambitious members to keep our adopted trail in top condition. The work itself, cleaning out waterbars, clearing small to medium blowdowns, clipping brush and painting blazes, is fairly easy. We are fortunate to be part of a club of gay men that have the opportunity to go hiking regularly in various places to take in the beauty of the White Mountains. We often oooh and awwwwe at some of the things we see. Now we have the opportunity to be a part of doing something to give back to the hiking community, while working on something we love...hiking trails...and helping make them a place where both ourselves and others can enjoy. We are looking forward to fun, hard work, comaraderie, new skills and friendships!
We will starting from Tripoli Road for our first session. The Mt. Osceola trail from Tripoli Road to Mt. Osceola is extremely popular in summer due to its gradual ascent to the highest peak in Waterville Valley and vast panorama from its ledges! It is also popular being on the NH four thousand footer list at 4,340-feet.
What can we do? We need members to do all sorts of trail maintenance, from cleaning out waterbars, clearing small to medium blowdowns, clipping brush and painting blazes. You don't have to be an expert to help and we can easily train you. All tools are provided. We'll let you in on one of the best kept secrets in the mountains: trail work is fun! A trail that you have worked on belongs to you in a way that it's difficult to put into words.
This is a rain or shine event, so watch the sky, and bring appropriate clothing. Bring work gloves. Please dress for all weather conditions. Bring plenty of water, daypack, and lunch. Hiking boots are recommended.
Let's show everyone that GayOutdoors is serious about giving back to the hiking community, and let's show them what gay men can do! Will you come help us on this day? It's a full day and we expect to finish around 4pm. Water and snack breaks are taken throughout the day. Lunch may be occur on the trail itself.
Lodging/Post-Hike Social: Due to the recent relaxation of the CDC guidelines, we have decided to offer free lodging Friday and Saturday night to the first four people who contact us as long as you show us your vaccination card that indicates your fully vaccinated. We are also cancelling the tailgate party and instead inviting everyone who can show us proof they have been fully vaccinated back to our house for showers and an BBQ! Please let us know you'll be joining us for the BBQ so we have enough food for everyone. It's a BYOB weekend and we cannot let you in on Friday until 7PM.
As part of GayOutdoors' philosophy, we believe in doing our part to give back to the community. We are really excited about seeing many members sign up for this trail maintenance event. It's great to see friends coming together and willing to give of their time/efforts to make a difference. I'm sure that you'd agree how very proud we are of GO and it's members for taking the initiative. Hats off to each of you. We look forward to seeing each of you at the Mt. Osceola Trail Maintenance Day. As a team, we can get a lot accomplished. Let's do it!
Namaste and Happy Trails!
Jon and Mike
Directions To Trailhead Parking Lot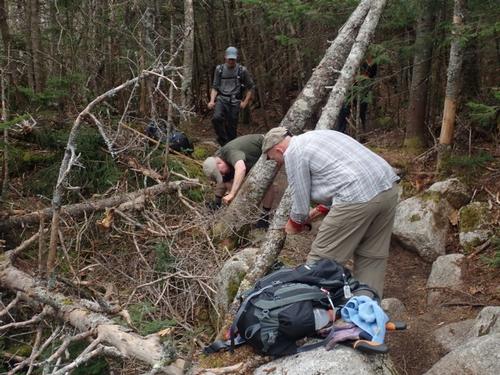 At exit 28 of Interstate 93, northbound travelers turn right at the end of the exit ramp and drive 10 miles to Waterville Valley on NH 49 East. As you enter Waterville Valley turn left, and drive towards the Waterville Valley Ski area and be sure not to miss the right turn to Tripoli Road. From NH 49, it's 4.5 miles on a gravel road to the crest of the 2,300 foot pass. You'll probably have to park on one side of the road. We'll meet at the parking area kiosk. We'll be driving a blue Toyota Tacoma Truck.
Trip Leader(s)
Gandalf
Outdoor Fitness Level: Very Strenuous
Thornton, NH
United States
Online Status: OFFLINE
Last Login: 07/30/2021 04:28 PM
Member Since: 08/20/2001
JDNnh
Outdoor Fitness Level: Very Strenuous
Manchester, NH
United States
Online Status: OFFLINE
Last Login: 07/23/2021 09:23 AM
Member Since: 10/30/2001
members signed up for this event
nhclimber03264
Outdoor Fitness Level: Moderate to Strenuous
Plymouth, NH
United States
Online Status: OFFLINE
Last Login: 07/29/2021 09:59 PM
Member Since: 10/09/2019
Driving My Own Car


(Possibly willing to give guys a ride)
Russell
Outdoor Fitness Level: Moderate to Strenuous
Newtonville, MA
United States
Online Status: OFFLINE
Last Login: 07/30/2021 11:08 PM
Member Since: 03/08/2021
Driving My Own Car


(Willing to give guys a ride)
Bushwack
Outdoor Fitness Level: Strenuous
Hanover, NH
United States
Online Status: OFFLINE
Last Login: 07/30/2021 01:05 PM
Member Since: 05/27/2017
Driving My Own Car


(Willing to give guys a ride)
alex4mts
Outdoor Fitness Level: Very Strenuous
Lexington, MA
United States
Online Status: OFFLINE
Last Login: 06/23/2021 01:38 PM
Member Since: 12/07/2007
Driving My Own Car


(Willing to give guys a ride)
fwalley
Outdoor Fitness Level: Moderate to Strenuous
West Roxbury, MA
United States
Online Status: OFFLINE
Last Login: 06/17/2021 12:45 AM
Member Since: 10/30/2001
Driving My Own Car


(Willing to give guys a ride)
Comment: Hi Mike- Ranger and I are thinking of visiting to provide moral support! We won't be there remotely close to 8:30 but keep an eye out for us. I will bring a clipper but don't hold a spot for me- Ranger will define how far I get to hike :) Any issues let me know! Hope to see you on the trail!! Frank
Discuss This Trip/Event