Fisher Mountain
06/13/2020
Trip Report/Photos from Gandalf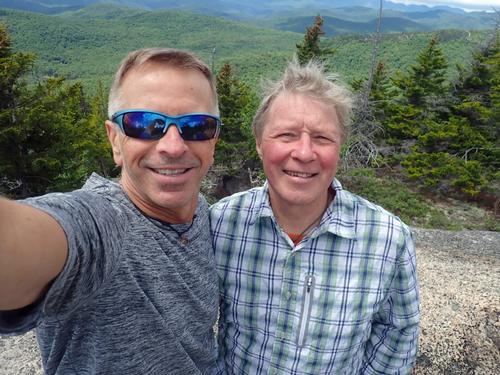 Fisher Mountain [2,609'] is the best little peak that no one's ever heard of. West of famous Welch-Dickey Loop.
To reach Fisher Mountain: From Route 175 in Thornton, take Mill Brook Road. Near the end of the road, the gated Forest Road 23 [can't see numbers anymore] will be on the left. There is some room to park prior to the gate without obstructing access. On foot, take Forest Road 23, then bear right onto Forest Road 23C. Prior to reaching Shattuck Brook, take a left onto Forest Road 23D [can't see numbers anymore]. The blue blazed trail follows a logging road that is clearly marked. The trail was mainly straightforward to follow.
We crossed a brook almost immediately. It's wide and clear at first, but then leaves the old logging road and becomes a trail that is well maintained with blue blazes. Within 15 minutes we reached the first in a series of open ledges. Our approach to the first ledges was in a beautiful forest with nice rock formations in it.
We then reached the first open steep ledges, with views to the southwest and over to the backside of Dickey Mountain and Cone Mountain. The trail continues across open, steeply sloping, angled ledges until it reaches an enormous open slab of ledge. There are some very steep pitches where grippy boots are needed.
This would be dangerous if wet. If we slipped, we'd be sliding a looooooong way! The trail goes right up the middle of this. We followed the painted blue blazes on the rock. We kept climbing over more steep, angled ledges and crossed the "fissure on Fisher", a very deep crack not good for dogs. All the cairns were well maintained but we repaired a couple. We followed cairns and blazes to an opening that felt at first like the summit. We took a faint herd path to the right that reached to the actual summit with a decent sized cairn marking the top!
On the summit, we got some interesting views of Hogback Mountain, Green Mountain and Mt. Tecumseh. We bushwhacked to the left of the summit where we found some open ledges with incredible views of Mt. Moosilauke, Cannon Mountain, Franconia Ridge and the Osceola's. This is a very cool hike with spectacular views from the large open ledges. If you like Welch/Dickey but not its crowds, you'll love Fisher!
After a decent day of hiking a vendor was selling fresh lobster near Dunkin' Donuts. Jon boiled up some lobster and corn with a side salad.
There are 28 photos in Album (Note: Move mouse pointer over larger pic and click on NEXT for better viewing)
Gandalf
Posted Jun 14, 2020 at 11:11 PM
We'll have to post next summer followed by a swim in the Mad River from our house!
HikerLegs
Posted Jun 14, 2020 at 10:03 PM
I'm eager to do this peak ! I'm at the point where I'm working on my 2000 footers instead of 4000 footers.... this one looks like my kind of hike.
JPHiker
Posted Jun 14, 2020 at 5:17 PM
Wow. What a nice mountain. Will definitely be on my list from now on.