HIKE FOR EQUALITY: Cathedral Ledge
Hiking/Walk
DATE: Jun 23, 2019 Sunday

END DATE: Jun 23, 2019 Sunday

Trip/Event Location: North Conway NH
Trip Leader(s)
Gandalf
Campton, NH United States
Meeting Time: 10:00 AM
Max # People: 30
Trip Guiding / Event Fee: No, I will not be asking participants for money
Difficulty Level:
Easy to Moderate
(Do you qualify to attend with this trip difficulty rating? Click Here.)
Region: New England
JOIN OUR NEW MEETUP GROUP to increase our exposure and have more guys sign up for our trips: click here to join our MeetUp Group. This trip may be posted at our MeetUp so you can sign up either there or here.
Sign Up To This Trip/Event
You must be a least a guest member to participate. Comments such as "+1" or "bringing a friend" are NOT permitted. All participants must sign-up for the event individually.
Select your mode of transportation, make any comments and then click on button.
You are not logged in.
Please, Log In
Trip Leaders can click here to edit or delete this activity.
Disclaimer: The club and its members take no responsibility and will not be held responsible for any injuries or accidents that may occur during club events. Outdoor sports are inherently dangerous and accidents will happen. By joining the club or participating in any events posted on the GayOutdoors web page you are taking responsibility for your own safety and well-being. Anyone with an internet connection can post a trip on the GayOutdoors web site. It is your responsibility to determine if this person has the experience and competence to lead the trip. GayOutdoors does not certify or confirm the qualifications of any of its members to lead or participate in trips.
Be Prepared: Please be prepared to be self-sufficient. Have your own provisions such as first aid kit, food, water, extra clothing for unplanned weather, etc. Have your EMERGENCY CONTACT SHEET completed and in your backpack; it may save your life, and help reach someone who greatly cares!
Pace: There may be activities when the group is either slower or faster than your current ability. Please know that because this is a group activity, it's hard to accommodate everyone's pace perfectly. Our desire is not to leave anyone, however there have been times when it is in the best interest of all to split up. Please do your part by knowing your own abilities, communicating with the organizer head of time if you would like to start early and have us catch up or fine with finishing on your own.
Summary
This year's Pride Hike is run in association with North Conway's first ever White Mountains Pride Festival!
Celebrate Gay Pride with Mike on this EASY TO MODERATE 5.2 mile loop hike with 722 feet elevation gain up to Cathedral Ledge from Echo Lake State Park. Please bring a rainbow flag to stick outside your pack as we "Hike For Equality", continuing the fight for equal rights for all citizens and fostering a community where all LGBTQ members feel valued, included, and safe! We will have a few spare rainbow flags, not many, for you to borrow, if you don't have one. You can also buy rainbow flags for this hike. Amazon sells a dozen 12x18 for $18.95 or a dozen 5x8 for $5.95.
Cathedral Ledge is far better known to rock climbers than hikers but it provides some incredible views of the White Mountains and Saco River below! There are a couple of short, steep sections, up Cathedral Ledge. We'll hike partly around Echo Lake, join up with the Bryce Path to take us up Cathedral Ledge. We'll use Cathedral Ledge Road to descend and Bryce Link to hook back to the trails we took on the ascent.
GayOutdoors will also have a booth to promote our club at the White Mountains Pride Festival on Saturday, June 29th. Mark your calendars for this fun event in North Conway, NH!
What to wear/bring: Wear clothing suitable for a hike. Hike in layers. It's best not to wear any cotton/blue jeans. Carry a pack with a rain jacket inside in the event of wind or inclement weather. Also carry 1 liter of water, snacks and anything else you may require for a day hike. Contact us if you have any questions.
Après Hike Social Mixer: Following the hike, one of the White Mountains Pride sponsors will be hosting a lunch/social mixer after the hike. While everyone has to buy their own lunch/beverages, this social mixer will provide everyone a chance to talk about today's hike, upcoming events for White Mountains Pride week, and plan for future summer adventures! We'll update this page once we know who will be hosting the lunch/social mixer.
Bunk Beds Lodging Option [Men Only]: Bunk beds are available at our house [with Wi Fi] near Waterville Valley, NH for Friday and/or Saturday nights. It's $25 per night. Please note that I live 1 ½ hours away from North Conway off of I-93. Coffee/bagels each morning and linen/blankets/towels are provided. We'll have dinner at a local restaurant on Saturday night. Space is limited so email ASAP to reserve a bunk!
YOU MUST REGISTER FOR THIS HIKE. We highly recommend you become a GO member and sign up on this page to receive updates as we get closer to the hike. If not, then at least email Mike to let him know you will be attending and how many in your party.
Driving directions to the location and spot to meet at: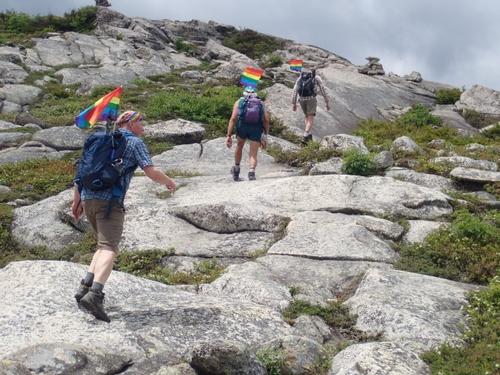 We are meeting at 10:00AM at Echo Lake State Park. Please note that there is a $4 entry free to enter and park at Echo Lake State Park. We'll be meeting at the trailhead kiosk inside the park. I'll be wearing a GO hat and have a rainbow flag sticking outside his pack.
Trailhead is at Echo Lake State Park is located off from West Side Road.
From I-93: Exit 23 onto Route 104 East. Follow Route 104 east to Route 25 North. Turn left onto NH 16 North to North Conway. Follow signs to Echo Lake State Park off River Road.
From I-95: Take Route 16 North to North Conway and turn left onto River Road. Follow signs to Echo Lake State Park.
Trip Leader
Gandalf
Outdoor Fitness Level: Very Strenuous
Campton, NH
United States
Online Status: OFFLINE
Last Login: 03/17/2019 11:50 AM
Member Since: 08/20/2001
members signed up for this event
guest member
Franconia
Outdoor Fitness Level: Moderate to Strenuous
Portland, ME
United States
Online Status: OFFLINE
Last Login: 02/13/2019 01:24 PM
Member Since: 02/24/2015
Driving My Own Car


(Possibly willing to give guys a ride)
Philip
Outdoor Fitness Level: Moderate
Tuftonboro, NH
United States
Online Status: OFFLINE
Last Login: 03/18/2019 01:23 PM
Member Since: 02/08/2016
Driving My Own Car


(Willing to give guys a ride)
TIMber64
Outdoor Fitness Level: Moderate to Strenuous
Windham, ME
United States
Online Status: OFFLINE
Last Login: 03/14/2019 05:33 AM
Member Since: 05/23/2015
Driving My Own Car


(Possibly willing to give guys a ride)
Discuss This Trip/Event