Squam Lake Canoeing/Island Camping
Kayaking/Canoeing
DATE: Aug 10, 2018 Friday

END DATE: Aug 12, 2018 Sunday

Trip/Event Location: Holderness NH
Trip Leader(s)
Richardg
NYC/Hudson Valley, NY United States
Meeting Time: 1:00 PM
Max # People: 12
Trip Guiding / Event Fee: Yes, but only to cover shared expenses, and I too am paying
Difficulty Level:
Moderate to Strenuous
(Do you qualify to attend with this trip difficulty rating? Click Here.)
Region: New England
JOIN OUR NEW MEETUP GROUP to increase our exposure and have more guys sign up for our trips: click here to join our MeetUp Group. This trip may be posted at our MeetUp so you can sign up either there or here.
Sign Up To This Trip/Event
You must be a least a guest member to participate. Comments such as "+1" or "bringing a friend" are NOT permitted. All participants must sign-up for the event individually.
Select your mode of transportation, make any comments and then click on button.
You are not logged in.
Please, Log In
Trip Leaders can click here to edit or delete this activity.
Disclaimer: The club and its members take no responsibility and will not be held responsible for any injuries or accidents that may occur during club events. Outdoor sports are inherently dangerous and accidents will happen. By joining the club or participating in any events posted on the GayOutdoors web page you are taking responsibility for your own safety and well-being. Anyone with an internet connection can post a trip on the GayOutdoors web site. It is your responsibility to determine if this person has the experience and competence to lead the trip. GayOutdoors does not certify or confirm the qualifications of any of its members to lead or participate in trips.
Be Prepared: Please be prepared to be self-sufficient. Have your own provisions such as first aid kit, food, water, extra clothing for unplanned weather, etc. Have your EMERGENCY CONTACT SHEET completed and in your backpack; it may save your life, and help reach someone who greatly cares!
Pace: There may be activities when the group is either slower or faster than your current ability. Please know that because this is a group activity, it's hard to accommodate everyone's pace perfectly. Our desire is not to leave anyone, however there have been times when it is in the best interest of all to split up. Please do your part by knowing your own abilities, communicating with the organizer head of time if you would like to start early and have us catch up or fine with finishing on your own.
Summary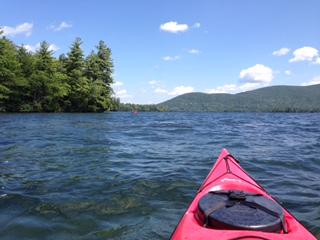 Join us for a summer weekend of camping, canoeing, swimming, campfires and camaraderie on Squam Lake in Holderness, NH. We had a blast in 2016 and have again reserved Bowman Island # 4 for 12 people. Bowman Island is a 23-acre island located across a narrow channel from Moon Island. There is a dock and small beach at the northwest end of the island and a dock right near our site at the southeast side of the island.
Our spacious site is set-off from the others on the island. Each site has a fire ring, no grate and nearby composting toilet.
This trip requires previous paddling or kayaking experience and the physical ability to paddle with gear and provisions.
On Saturday we will tour the lake by canoe visiting scenic, historic and swimming spots.
For our trip report and pictures from 2016 please go to
https://www.gayoutdoors.org/page.cfm?typeofsite=trip-report&id=4228
The Squam Lakes Association rents canoes and kayaks to the public at the SLA Resource Center on Route 3 in Holderness, NH. Participants should contact others to partner for shared canoe rentals, tents and other shared gear. Boat reservations in advance are suggested. Anyone planning to kayak should be aware of limitations of space for overnight camping gear.
Information can be found at http://www.squamlakes.org/natural-areas-trails-and-recreation/boat-rentals.
Shared costs for the site will be $25 / person for Friday through Sunday and must be remitted to trip leader by May 1 to confirm a spot. No refunds after May 1 unless someone takes your spot. Details for the payment will follow by email. Canoe rental is not included.
We are required to use the site's 3 wooden, raised platforms to prevent damage to the ground, so we will try to coordinate tents.
Suggested Shared Gear:
3 season tent + ground cloth
Tarp
Camp stove & fuel
Cookware
Pot holder
Water containers
Water Filter
Other Gear:
Dry bags or heavy plastic trash bags
Sleeping bag / sleeping pad
Bowl / plate / mug
Spork or spoon / knife and fork
Water bottles
Sunglasses
Scrub pads
Straps / bungee cords
Camp chair
Flashlight /head lamp
Summer appropriate, synthetic or wool (fast drying) base layers plus insulation and wind/water proof layers for mixing and matching.
Camp shoes, water shoes
Bathing suit
Toiletries, sunsreen, wide brimmed hat, 10 + essentials, etc.
Camp food, festive beverages and Saturday trip lunch
Driving directions to the location and spot to meet at:
Park in the lot in front of the SLA Resource Center on Route 3 in Holderness, NH at 1 PM and meet on the lake side by the canoe shed. We will pick up our canoes and pack gear for the group paddle to Bowman Island. Please be prompt for efficient departure, so we can make camp in time for a relaxing happy hour and dinner.
Trip Leader
Richardg
Outdoor Fitness Level: Strenuous
NYC/Hudson Valley, NY
United States
Online Status: ONLINE
Last Login: 03/19/2019 05:01 AM
Member Since: 09/23/2013
members signed up for this event
Robert.L
Outdoor Fitness Level: Strenuous
Spencer, MA
United States
Online Status: OFFLINE
Last Login: 03/17/2019 11:03 AM
Member Since: 09/07/2014
Driving My Own Car


(Willing to give guys a ride)
Bobcat
Outdoor Fitness Level: Strenuous
Upton, MA
United States
Online Status: OFFLINE
Last Login: 03/15/2019 09:06 PM
Member Since: 12/16/2008
Driving My Own Car


(Possibly willing to give guys a ride)
jrdhiker
Outdoor Fitness Level: Moderate to Strenuous
Upton, MA
United States
Online Status: OFFLINE
Last Login: 03/18/2019 04:33 PM
Member Since: 12/17/2008
Driving My Own Car


(Possibly willing to give guys a ride)
Yak-n-Biker
Outdoor Fitness Level: Moderate to Strenuous
Warner, NH
United States
Online Status: OFFLINE
Last Login: 08/13/2018 10:41 AM
Member Since: 04/02/2011
Driving My Own Car


(Willing to give guys a ride)
guest member
Bike-N-'Yaker
Outdoor Fitness Level: Moderate
Warner, NH
United States
Online Status: OFFLINE
Last Login: 03/06/2018 07:12 PM
Member Since: 04/02/2011
Driving My Own Car


(Willing to give guys a ride)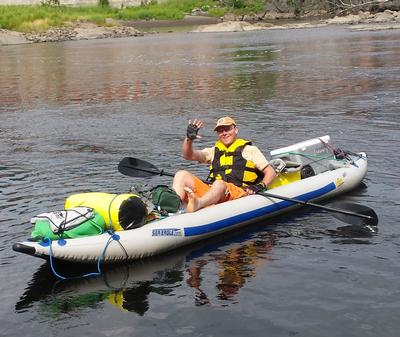 guest member
Stacey
Outdoor Fitness Level: Moderate
Cumberland, RI
United States
Online Status: OFFLINE
Last Login: 01/07/2019 12:48 PM
Member Since: 10/07/2010
Driving My Own Car


(Willing to give guys a ride)
Discuss This Trip/Event
Bobcat
Posted Aug 13, 2018 at 10:59 AM
Hi Richard: Thanks for organizing the trip- it was a great campsite & fun swimming off the island in the warm, clear lake water. The loon calls were awesome. Glad Friday was so warm & sunny. Hope Saturday night stayed dry! See you next month for the Adirondack hiking week! (We can settle up for the firewood costs then.) Bob & John