Italian Dolomites Hut-to-Hut Trek
Vacation Trip
DATE: Sep 02, 2017 Saturday

END DATE: Sep 14, 2017 Thursday

Trip/Event Location: Boston MA
Trip Leader(s)
Gandalf
Campton, NH United States
Meeting Time: 4:20 PM
Max # People: 12
Trip Guiding / Event Fee: Yes, but only to cover shared expenses, and I too am paying
Difficulty Level:
Moderate to Strenuous
(Do you qualify to attend with this trip difficulty rating? Click Here.)
Region: International
Sign Up To This Trip/Event
You must be a least a guest member to participate. Comments such as "+1" or "bringing a friend" are NOT permitted. All participants must sign-up for the event individually.
Select your mode of transportation, make any comments and then click on button.
You are not logged in.
Please, Log In
Trip Leaders can click here to edit or delete this activity.
Disclaimer: The club and its members take no responsibility and will not be held responsible for any injuries or accidents that may occur during club events. Outdoor sports are inherently dangerous and accidents will happen. By joining the club or participating in any events posted on the GayOutdoors web page you are taking responsibility for your own safety and well-being. Anyone with an internet connection can post a trip on the GayOutdoors web site. It is your responsibility to determine if this person has the experience and competence to lead the trip. GayOutdoors does not certify or confirm the qualifications of any of its members to lead or participate in trips.
Be Prepared: Please be prepared to be self-sufficient. Have your own provisions such as first aid kit, food, water, extra clothing for unplanned weather, etc. Have your EMERGENCY CONTACT SHEET completed and in your backpack; it may save your life, and help reach someone who greatly cares!
Pace: There may be activities when the group is either slower or faster than your current ability. Please know that because this is a group activity, it's hard to accommodate everyone's pace perfectly. Our desire is not to leave anyone, however there have been times when it is in the best interest of all to split up. Please do your part by knowing your own abilities, communicating with the organizer head of time if you would like to start early and have us catch up or fine with finishing on your own.
Summary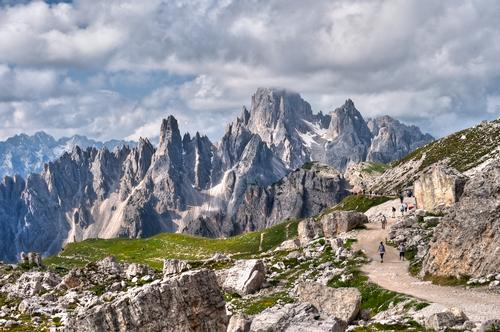 The Alta Via 1 is a walking trail through the Italian Dolomites, for 75 miles from Dobbiaco in the North to Belluno in the South. The highest point reached by the standard route is 9,029ft and the height gain on the route is around 21,833ft. It will take us 8 days to complete the trek. Life on the AV1 quickly falls into a relaxing pattern. The huts are welcoming and the food excellent.
From soaring rock towers to grassy alpine meadows the Italian Dolomites offers some of the most dramatic, exciting and challenging hiking areas in the Alps. Strikingly different from the French or Swiss Alps, the limestone Dolomites rise dramatically from narrow valleys to form impressive spires, canyons, sheer rock walls rising 3,000′ and huge limestone plateaus. Beginning in the Italian Sud Tirol, the hike leads south along the high route, Alta Via 1, through the Pragser, Tofana, and Civetta mountain groups. The impressiveness of the scenery and the variety of terrain on this route is matched only by the warmth and hospitality offered by the mountain huts. The unusual contrasts in landscapes, changing colors and textures of the mountains and curious mix of Italian and Austrian influences means fantastic hiking, stunning scenery and plenty of pasta. This YouTube video will give you flavor of the trek.
Jon and I have decided to do the entire Alta Via 1 trek for our vacation flying over Saturday, September 2nd on a 'red-eye' flight from Boston and flying back Thursday, September 14th. We've been working with Alpine Exploratory to contact all of the hotels and huts we would need to stay in. You have the option to stay in Venice for a couple of days after the trek and we can share with you the hotel we are staying in if you'd like to hang out with us. [The Thursday return is based upon spending an additional two nights in Venice.]
THIS IS A MODERATE TO STRENUOUS TREK. Because this is a moderate to strenuous hike, we will not accept everyone who signs up. We'll be asking you a series of questions as to your hiking experience and fitness level. For example, if you've recently climbed a peak like with Mt. Washington that requires climbing up 4,000 feet in one day, you would probably qualify. If not, we would need a history of mountains you've climbed in 2016 that makes you think you qualify.
Here is the trekking itinerary:
Arrive in Dobbiaco
Stage 1: Bus to Lago di Braies. Walk to Rifugio Sennes, (6 miles), 925m ascent, 270m descent
Stage 2: Walk to Rifugio Fanes, (6 miles), 530m ascent, 580m descent
Stage 3: Walk to Rifugio Lagazuoi, (7 miles), 1215m ascent, 565m descent
Stage 4: Walk to Rifugio Nuvolau, (9 miles), 870m ascent, 1050m descent
Stage 5: Walk to Rifugio Citta' di Fiume, (9.5 miles), 490m ascent, 1130m descent
Stage 6: Walk to Rifugio Vazzoler, (11 miles), 750m ascent, 950m descent
Stage 7: Walk to Rifugio Sommariva al Pramperet, (12.5 miles), 1110m ascent, 965m descent
Stage 8: Walk to La Stanga. Bus to Belluno, (11 miles), 815m ascent, 2230m descent
Depart from Belluno
This is a self-guided trip but they book all the transportation to and from the trek, hotels/huts along the way, and provide us with maps/route maps [and assistance if we run into any issues during the trek]. Jon and I have trekked the Tour Du Mont Blanc, Alta Via II and Haute Route so we are quite familiar with trekking in Europe. That said, we don't consider ourselves experts, especially since we've never trekked the Alta Via I before so incidents may happen such as missing a bus/train, making a wrong turn on the trek itself and encountering bad weather.
Since we are not returning to the start, we will be using our backpack to carry everything. No luggage transfers…we carry everything in our pack. We did this for previous treks and did not have any problems. Basically we wore the same clothes often but made sure we had a set of clothes for travelling/relaxing at the hut. It made travelling so much easier in the airports and travelling to/from the trek. The packs should weigh between 20-25 pounds.
Price per person: $890 Euro (based on double occupancy) Exchange rate as of 12/20/16 makes the price at $925. For a single supplement it's an additional $60 Euro.
What's included:
9 nights' accommodations at two small hotels and 7 mountain huts
Meals included are all breakfasts plus evening meals as all the mountain huts
Travel to Dobbiaco and from Belluno is not included in the price – it's up to us to make the arrangements that suit us best. Our arrival and departure will be from the Venice airport. For lunches there is lots of opportunity to stock up on ingredients along the route. We will often find huts and cafés during the walking, useful for lunch stops.
The mountain huts provide showers and beer/wine for purchase. You'll be sharing a room with another person in the hotels. While 4 of these huts have to be in dormitories with bunk beds, at the other 3 huts we have the chance to book smaller rooms and the outfitter is often successful on 2, 3 of these. We could get lucky and have private rooms with only two people. We could end up being a large group and the huts normally only have a couple of private rooms but they will try their best to get them when they can.
Then the trek itself with huts/hotels, dinner and breakfast will run about $925. In addition, we'll need extra money for lunches, travel to and from starting point/ending point, beverages [wine/beer], shower tokens, laundry, etc. so allow roughly $200-$350 for these costs. Then if you add the airfare, we are looking around $1,780 per person. I'm not including spending a couple of nights with meals in Venice should you choose to do this.
We would need $200 deposit at the end of February if you wish to join us. Please note that this is NON-REFUNDABLE! I'll provide the outfitter with all the names but you'll be booking with them separately as to making payments. The balance would be due nine weeks prior to our departure. If you are single and would like to partner with someone contact another member who signed up and let us know.
Driving directions to the location and spot to meet at:

I was checking on flights and I was looking for one where we would arrive in Venice in the morning so we would then be able to get a bus to bring us to Dobbiaco. I found a round trip flight on British Airways from Boston to Venice for $505 leaving at 7:20pm and arriving in Venice at 12:05pm. If you are leaving from another airport, you have to be sure you arrive at the Venice Marco Polo airport by noon. We'll have to find a convenient location in the airport to meet you.
Trip Leader
Gandalf
Outdoor Fitness Level: Very Strenuous
Campton, NH
United States
Online Status: OFFLINE
Last Login: 07/16/2018 07:24 PM
Member Since: 08/20/2001
members signed up for this event
JDNnh
Outdoor Fitness Level: Very Strenuous
Manchester, NH
United States
Online Status: OFFLINE
Last Login: 06/22/2018 10:15 AM
Member Since: 10/30/2001
Robert.L
Outdoor Fitness Level: Strenuous
Spencer, MA
United States
Online Status: OFFLINE
Last Login: 07/17/2018 11:01 AM
Member Since: 09/07/2014
Driving My Own Car


(Willing to give guys a ride)
go4itPete
Outdoor Fitness Level: Strenuous
San Francisco, CA
United States
Online Status: OFFLINE
Last Login: 07/09/2018 03:34 PM
Member Since: 10/27/2009
Driving My Own Car


(Willing to give guys a ride)
Comment: I enjoyed the Cortina area hiking/via ferrata GO trip Sept 2015. Live part-time in Austria, so I will be driving there to the Aosta area. Thank you for organizing this, ever since I read on your profile that you did the AV2, it has been on my list. So much to do! I can send you photos of our 2015 trip, if you like.
Richardg
Outdoor Fitness Level: Strenuous
NYC/Hudson Valley, NY
United States
Online Status: ONLINE
Last Login: 07/17/2018 12:54 PM
Member Since: 09/23/2013
Bobcat
Outdoor Fitness Level: Strenuous
Upton, MA
United States
Online Status: OFFLINE
Last Login: 07/16/2018 07:20 AM
Member Since: 12/16/2008
Driving My Own Car


(Possibly willing to give guys a ride)
guest member
jim.mc
Outdoor Fitness Level: Strenuous
Burlington , VT
United States
Online Status: OFFLINE
Last Login: 01/08/2018 09:08 AM
Member Since: 11/12/2015
Driving My Own Car


(Possibly willing to give guys a ride)
Discuss This Trip/Event