LAKE PLACID FALL FOLIAGE HIKING ADVENTURE
4000 Footer DATE: 09/22/2022 - 09/26/2022
Trip/Event Location: Lake Placid, NY
US
Trip Leader(s): Gandalf , JDNnh
Max # People: 12
Trip Guiding / Event Fee: No, I will not be asking participants for money
Difficulty Level: Strenuous
Join us for four days of fall foliage day hiking in beautiful Adirondack Park in late September using Lake Placid, NY as our base! Can't do all four days, then just join us for the days that
...
Driving directions to the location and spot to meet at:
We'll share the address of our condo for a BYOB Meet 'N Greet Thursday evening. We'll coordinate hike meet up locations and start times with participants directly.
Trip Report/Photos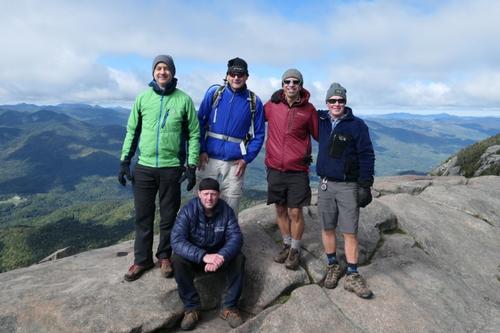 Awesome friends, wonderful hikes, bountiful dinners and lots of laughs make life so worth living! We reached the Adirondacks using the Charlotte ferry outside of Burlington, VT. For a few days, Jon and I rented a condo along the shore of Lake Placid with beautiful views of Whiteface Mountain, a full working kitchen and a fireplace!
We invited friends to find their own accommodations and join us hiking up a few 46ers [Adirondack Mountain Club 4,000 footers list]. After the hike, we invited everyone back to socialize each night, enjoy appetizers and partake in delicious meals cooked by Jon.
Ever wish you could travel somewhere that's so spectacular, so overwhelmingly gorgeous, that it makes all of life's worries seem small? New York's Adirondack Park is that kind of place! New York's Adirondack Park is the largest state park within the continental United States, covering about six million acres of land. It's larger than Yosemite, Yellowstone, Glacier, Grand Canyon, and the Great Smokies National Parks combined.
While the high mountain terrain in New Hampshire's White Mountains tends to be along ridges, the concentration of complex mountain terrain in the High Peaks is probably unequalled in the northeastern United States. In places the forested mountainsides have been stripped by landslides, leaving the long, fan-shaped scars which are a characteristic of these mountains. It's impossible to put into words just how breathtaking this beauty is...
So we'd like to do our best to show you. Read our trip reports and view our pictures!
We had a fantastic time and we can't thank enough our friend's spirit and adventure for making this a memorable trip!!! Thanks to: JT, John and Rich.
~ Mike and Jon
Whiteface Mountain [4,867'] Trip Report– One of the most alpine mountains in the East, the summit ridge would be at home in the Swiss Alps…Whiteface stands alone, with its own weather observatory and an auto road, just like Mt. Washington! 10.6 miles round trip using the Wilmington Trail with 3,620 feet gain. The overnight rain combined with below freezing temperatures made us prepared for possibly snowy conditions but not like this. As we climbed higher we began to encounter snow on the trees. We found ourselves hiking in a winter wonderland! At 4.8 miles, we arrived at the auto road Wilmington Turn, with massive stone embankments. The wind really picked up and the trail was icy further up so we decided to follow the auto road to the summit. The rock walls were covered with icicles. Due to the weather, the auto road was closed and we had it all to ourselves…so unusual.
There was only one truck parked near the elevator entrance tunnel and were pleasantly surprised to see it open. When we reached the actual elevator, the door actually opened…there was nobody around. We heard the wind howling outside. The elevator shaft is made of stone, goes up 426 feet or 27 stories.
We stepped out of the elevator into a protective timber framed building circled by stone walls. We layered up and ventured outside. Winds were really strong on the summit!!! We were happy we carried our hats, gloves, handwarmers, fleece and shells for the top! It was magical as we were treated with gorgeous rime ice covering the building and stone pathways. It was a world of crystalline beauty! We were the only ones on the summit…eerie and beautiful at the same time. Traction was not needed at all. After our summit photos we returned inside for lunch. We then retraced our steps down the mountain. The sun appeared and views opened up as we descended. We stopped at the Whiteface Mountain ski resort area and got this haunting picture of snowcapped Whiteface Mountain that we just climbed. Also got some more great pictures of Whiteface Mountain from our condo. A memorable hike that none of us will ever forget!!!
Giant Mountain [4,627'] Trip Report – The twelfth highest in the Adirondacks and one of the more dramatic peaks in the park! 6 miles roundtrip using the Ridge/Zander Scott trail with 3,050 feet elevation gain. It was steep, as we climbed up a succession of ledge areas with spectacular and panoramic views throughout. We reached the top and all but 7 High Peaks [39 out of the 46 high peaks] can be seen from the summit of Giant! From distant Lake Champlain and Vermont to nearby Ausable Club at the base of the precipitous west face, the view is spectacular as one would expect from a large mountain that stands alone! We carefully retraced our steps down the steep ledges and took our time. Spectacular hike!
Cascade [4098'] Mountain – Easiest of all the 4,000 footer peaks to ascend, this bald mountains attracts many hikers to enjoy its marvelous views of other peaks! 4.8 miles roundtrip using the Cascade Trail with 1,940 feet elevation gain. The day began with a terrific sunrise from our condo in Lake Placid. The trail was a bit awkward at first with ankle banging rocks to maneuver around but climbs steadily without any particular steep sections with our first good views at 1.8 miles. We then moved out across huge ledges, and climbed the gentle hunk of granite that is the actual summit. It was very windy as we contemplated the incredible panorama: Whiteface Mountain and its ski runs, the wild mountain mass of the High Peaks with Giant Mountain further back. There were cool cloud formations above the High Peaks. We saw rain approaching from far away and decided to skip hiking to Porter Mountain so we could stay dry. What a wonderful open summit!
There are 83 photos in Album (Note: Move mouse pointer over larger pic and click on NEXT for better viewing)
What Members Are Saying About This Trip/Event
wow already snow on top of Whiteface... Thats one of my favorite mountains in MY state and so close from home - Stephinmtl
Members That Participated
Gandalf
Outdoor Fitness Level: Very Strenuous
Thornton, NH
United States
Online Status: OFFLINE
Last Login: 09/27/2023 08:52 PM
Member Since: 08/20/2001
JDNnh
Outdoor Fitness Level: Very Strenuous
Thornton, NH
United States
Online Status: OFFLINE
Last Login: 09/11/2023 11:12 AM
Member Since: 10/30/2001
Richardg
Outdoor Fitness Level: Strenuous
NYC/Hudson Valley, NY
United States
Online Status: OFFLINE
Last Login: 09/27/2023 11:27 PM
Member Since: 09/23/2013
Bushwack
Outdoor Fitness Level: Strenuous
Hanover, NH
United States
Online Status: OFFLINE
Last Login: 09/24/2023 10:09 PM
Member Since: 05/27/2017
nhclimber03264
Outdoor Fitness Level: Moderate to Strenuous
Plymouth, NH
United States
Online Status: OFFLINE
Last Login: 09/26/2023 08:54 PM
Member Since: 10/09/2019
Stephinmtl
Oct 1, 2022 at 3:49 PM
Comment: wow already snow on top of Whiteface... Thats one of my favorite mountains in MY state and so close from home
<