Carter Dome [4832'] and Mt. Hight [4675'] Hike
4000 Footer DATE: 09/17/2022 - 09/17/2022
Trip/Event Location: Gorham, NH
US
Trip Leader(s): Gandalf , JDNnh
Max # People: 12
Trip Guiding / Event Fee: No, I will not be asking participants for money
Difficulty Level: Strenuous
Join us for an amazing and challenging 10.2 mile loop hike to one of the most spectacular views in NH! Elevation gain will be 3,600 feet. The giant of the Carters is upstaged by its spur, Mt. Hight,
...
Driving directions to the location and spot to meet at:
Trailhead and parking area is on the east side of NH 16, 1 mile north of the Mt. Washington Auto Road. We'll be driving a blue Toyota Tacoma truck.
Trip Report/Photos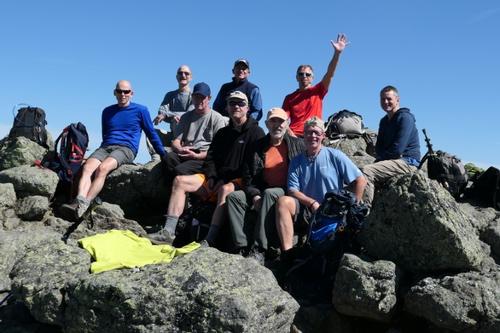 Great hike on a beautiful September day. Lots of folks having a fine time hiking. Very spotty and sparse yellows and reds but it looks like another week or two for some real color.
The hike up to Mt Hight is SO WORTH IT! By far the best views in the Carter range.
Our first stage was using the Nineteen Mile Brook Trail to Carter Notch Hut passing several small cascades. There were some BIG mushroom on the trail. Views of Upper Carter Lake with view up the cliffs of Wildcat Mountain were spectacular! We took a break in Carter Notch Hut enjoying homemade vegan chocolate cake and chili. Yum!
Our next stage was the very steep climb up exposed pitches and we took a side path to the ledge with stunning vistas near Pulpit Rock of the Northern Presidentials, Carter Notch/Hut with Wildcat Mountain looming beyond, and down the Wildcat River valley! We continued our climb reaching the summit of Carter Dome and enjoying a fine view from a nearby clearing of the Northern Presidentials and many distant ranges. We then continued to Mt. Hight with a panoramic view including the Presidentials, Carter Range and Wild River valley to Baldface Range.
We left the summit for a very steep and rough descent to Zeta Pass, then following Carter Dome Trail
Awesome hike! It was a gorgeous day with panoramic views. Another friendly group of guys. Thanks for the awesome day fellas!!!
There are 54 photos in Album (Note: Move mouse pointer over larger pic and click on NEXT for better viewing)
Members That Participated
Gandalf
Outdoor Fitness Level: Very Strenuous
Thornton, NH
United States
Online Status: ONLINE
Last Login: 09/25/2023 02:37 PM
Member Since: 08/20/2001
JDNnh
Outdoor Fitness Level: Very Strenuous
Thornton, NH
United States
Online Status: OFFLINE
Last Login: 09/11/2023 11:12 AM
Member Since: 10/30/2001
baezfred
Outdoor Fitness Level: Moderate to Strenuous
Lancaster, NH
United States
Online Status: OFFLINE
Last Login: 09/23/2023 08:20 PM
Member Since: 02/18/2018
MO
Outdoor Fitness Level: Moderate to Strenuous
Lancaster, NH
United States
Online Status: OFFLINE
Last Login: 09/24/2023 11:41 PM
Member Since: 12/06/2016
dpbyrnes
Outdoor Fitness Level: Moderate to Strenuous
Ipswich, MA
United States
Online Status: OFFLINE
Last Login: 09/10/2023 12:03 PM
Member Since: 01/24/2009
mecyclingrunner
Outdoor Fitness Level: Moderate to Strenuous
LEWISTON, ME
United States
Online Status: OFFLINE
Last Login: 09/23/2023 07:00 AM
Member Since: 07/22/2018
Ricardo
Outdoor Fitness Level: Moderate to Strenuous
Boston, MA
United States
Online Status: OFFLINE
Last Login: 08/19/2023 12:23 AM
Member Since: 05/24/2020
nhclimber03264
Outdoor Fitness Level: Moderate to Strenuous
Plymouth, NH
United States
Online Status: OFFLINE
Last Login: 09/24/2023 09:50 PM
Member Since: 10/09/2019
Bobcat
Outdoor Fitness Level: Strenuous
Upton, MA
United States
Online Status: OFFLINE
Last Login: 09/24/2023 09:39 PM
Member Since: 12/16/2008
<