Mts. Lafayette and Lincoln
Hiking/Walk DATE: 01/23/2021 - 01/23/2021
Trip/Event Location: Lincoln, NH
US
Trip Leader(s): Gandalf , JDNnh
Max # People: 10
Trip Guiding / Event Fee: No, I will not be asking participants for money
Difficulty Level: Very Strenuous
This is it! The hike we've been training for! A winter Franconia Ridge Traverse!
With an elevation of 5,260 feet, Mt. Lafayette stands as the highest mountain in the Franconia Range and the
...
Driving directions to the location and spot to meet at:
We will meet at the trailhead for the Franconia ridge trails. This is easily accessible from I-93. Heading north on I-93, stay alert as the road narrows to one lane going north in Franconia Notch. Almost immediately as it narrows, you will see a big brown sign directing you to exit right for Trailhead Parking. Exit there and park anywhere. We are driving a blue Toyota Tacoma truck. There is also parking on the west side of the Interstate at Lafayette Campground. If you are heading north, you will need to continue driving to the exit for Cannon Mountain, where you will crossover, and head back south towards the campground. You can easily cross over on foot to the meeting point on the east side, by walking under the highway in the pedestrian tunnel.
Trip Report/Photos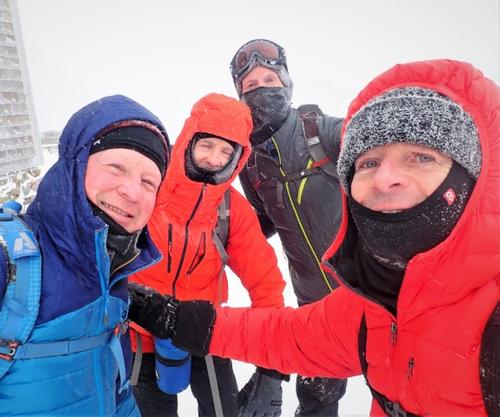 We were going to hike across the ridge but the weather conditions were horrendous! 13 degree start with the summit a 0, -25 wind chill and poor visibility. Lots of snow drifts above treeline…3-4 feet deep where we had to break trail!
Below treeline was gorgeous with a stunning amount of snow on the conifers! Light traction up to Greenleaf Hut when we switched to snowshoes and kept them on the rest of the day. Don't be deceived by what it looks like on the drive up or the parking lot; the mountains up high now have winter snowpack and it is building with each minor snowfall! Old Bridle Path was fairly well packed. Maybe a foot of snow at the trailhead, but two feet after Agony Ridge.
Deeper snow after Greenleaf Hut; generally three feet with a few stretches of four feet deep snow drifts. Chilly where exposed to the wind. Cairns were difficult to find with the trail actively drifting in more. The four of us were breaking trail...I'm sure we went off trail a few times.
We saw these two ghostly guys in this poor visibility descending. They were flailing in waist deep snow drifts coming towards us. No goggles and we were amazed they had no snowshoes. When they told us that had traversed the entire ridge we were stunned with how ill prepared they looked. They were so happy to see us and acted like they were happy to be alive. We told them to follow our tracks...they were about 10 minutes away from treeline. The wind was so strong that they our tracks probably disappeared for them to follow. Most likely the guys missed the right turn at the large cairn and continued down into the drainage. They ended up being rescued by a helicopter. They were so lucky.
We had a reading of zero degrees on the summit with winds picking up to 35mph making the wind chill -25. The wind was wild! Wearing a balaclava and googles was absolutely necessary however one member of our group's goggles frosted over so he had to try to see without them while the snow was piercing into his eyes. We were the only ones on the summit and we did not see anyone attempting on our descent. On the return, the snow was really flying around making our return challenging. All of our snowshoe tracks on the way up were gone because of the wind. The cairns were covered with snow and ice...they all looked the other rocks sticking out. The flat white lighting, high winds and snow blowing around made route finding a challenge. Thankfully we've been up here many times before. A challenging and memorable hike with Dave and Jim!
~ Mike and Jon
There are 87 photos in Album (Note: Move mouse pointer over larger pic and click on NEXT for better viewing)
Members That Participated
Gandalf
Outdoor Fitness Level: Very Strenuous
Thornton, NH
United States
Online Status: OFFLINE
Last Login: 09/27/2023 08:52 PM
Member Since: 08/20/2001
JDNnh
Outdoor Fitness Level: Very Strenuous
Thornton, NH
United States
Online Status: OFFLINE
Last Login: 09/11/2023 11:12 AM
Member Since: 10/30/2001
guest member
alex4mts
Outdoor Fitness Level: Very Strenuous
Lexington, MA
United States
Online Status: OFFLINE
Last Login: 07/06/2023 11:50 AM
Member Since: 12/07/2007
dpbyrnes
Outdoor Fitness Level: Moderate to Strenuous
Ipswich, MA
United States
Online Status: OFFLINE
Last Login: 09/10/2023 12:03 PM
Member Since: 01/24/2009
jmahoney
Outdoor Fitness Level: Strenuous
Boston, MA
United States
Online Status: OFFLINE
Last Login: 09/25/2023 09:23 AM
Member Since: 07/19/2018
<