Mts. Tom, Field and Willey
Hiking/Walk DATE: 11/09/2019 - 11/09/2019
Trip/Event Location: Bretton Woods, NH
US
Trip Leader(s): Gandalf , JDNnh
Max # People: 15
Trip Guiding / Event Fee: No, I will not be asking participants for money
Difficulty Level: Strenuous
Three 4,000 footers in one hike! Hike the Tom, Field, Willey loop and enjoy the amazing views of early November in Crawford Notch!
We will start from the Highland Center and take the A-Z trail to
...
Driving directions to the location and spot to meet at:
We will meet at the AMC Highland Center in Crawford Notch. To reach the parking lot from Twin Mountain, at the junction of US 3 and US 302 take US 302 east and drive about 8 miles. You'll see the AMC Highland Center on your right. If you are coming from North Conway, the parking lot is about 21.5 miles from the junction of US 302 and NH 16 in Glen.
We'll be driving a blue Toyota Tacoma truck.
Trip Report/Photos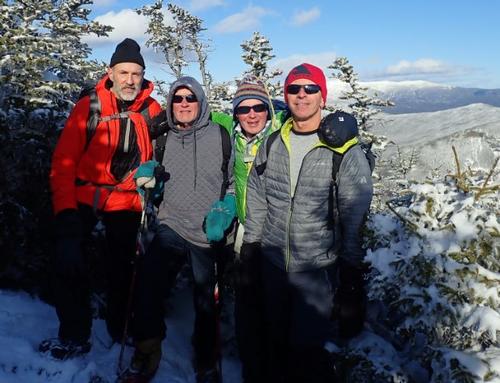 Ah our hike got us feeling Christmassy!
Mt Tom, Mt Field, Mt Willey, Mt. Avalon; Crawford Notch, NH.
Via Avalon Trail, A-Z Trail, Mt Tom Spur, Willey Range Trail, Approx 10.6 miles.
Temperature: 28 dF +/- at the trailhead, 33 dF at Mt Field summit, with negligible winds.
Sunny Skies.
Trailhead: 8:45; Mt Tom Summit: 11:10; Mt Field Summit: 12:10; Mt Willey Summit; 1:30; back at car: 4:45. (Approx. 8 hours.)
When you think that New England has an embarrassment of riches in terms of mountains, it's important to stay focused as you drive past dozens of perfectly good snow covered mountains!
If you're looking for a trifecta of towering peaks, sure, there are other places to look. But here, you've got three peaks that offer a lot of fun, and while you're very much hiking four-thousand footers, somehow, they don't feel tough in the sense that some of the others do. Today, we were blessed with 3-6 inches of fresh snow. This was the first snowfall so there's still no shortage of rocks poking out above the trail, but it didn't feel overwhelming or endless. This was my sixth time hiking this circuit [could be more] and it's a classic hike that just keeps getting better!
We got to the trailhead at 8:30AM. At the Highland Center, we gathered our gear and hit the trail.
Most of the opening mile or so on the A-Z trail was fairly pedestrian, a moderate trail through some fairly open forest, with snow covered trees. Fresh snow certainly changed things. We all put on MicroSpikes early into the hike. Winter has arrived in the White Mountains!
At the clearing on the ridge, we turned right onto the Mt Tom spur and headed up. After a short hike that gradually pitched a bit more upward (but still remained fairly moderate) we arrived at the summit. We all touched summit cairn #1. There's not much of a view, but we could identify the Twins, Zealand and Mt. Bond. We were in the prime location to see a lot of the more majestic mountains, and yet, those sights were stymied.
When we turned around, we noted a familiar posse of grey jays hanging around on a tree above us! We also encountered them on the summit of Mt. Field.
Back at the junction of Mt. Tom Spur trail, and then turning the 80 yards to the Willey Range trail, we shuffled along to the other two peaks. We trekked in a gorgeous winter landscape and made good time. On either side of the trail, the snow stuck to tree trunks and branches as we ascended. I'm always impressed of the beauty of snow covered trees. Wow!
We had lunch at Field's summit, and off one side, could glimpse the summit of Mt. Washington through the trees. We all touched summit cairn #2. None of these three peaks really has the kind of unbridled view that one really would want. I modulated my expectations early, already knowing this truth. We were out on the trail on a bluebird day that felt more like January than November, enjoying the sunlight filtering through the trees, made ever more verdant with all that snow everywhere. Forest bathing at its finest!
And then, it was off to Willey. All told, it's neither a long nor hard hike across that col — almost a mile and a half. There is some elevation change, but not even near the hard end of the spectrum. Footing remained with rocks poking out of the snow, but it wasn't a hard way going, by far. On Willey's summit, there was the familiar walk around the cone to get there, and then, off to one side, the third cairn of the day, and one that was just as small as the others. The cairns are secondary.
We had another fantastic view of Webster Cliffs and the Presidentials. On the way down, we took a quick detour up Mt. Avalon, with the beautiful golden sunset lighting up Mt. Washington with a lenticular cloud above it!
The mountains, and indeed the hike itself, is the reward. This one is a New England Classic, for sure!
Trip Report: Mike Boisvert
Pictures: Jon Normand
There are 61 photos in Album (Note: Move mouse pointer over larger pic and click on NEXT for better viewing)
What Members Are Saying About This Trip/Event
We had a great time hiking this ridge to 3 four thousand footers. The views over Vermont into New York was a treat. The snow on Mt Washington was the icing on the cake. A fantastic day spent on the trails with some GO Buds. - JDNnh
Awesome photos, Jon. What a great day for a "winter" hike. Images 29, 37, 38, 60 and 61 would be perfect for framing. I especially liked #29. - sedonahikerman
Members That Participated
Gandalf
Outdoor Fitness Level: Very Strenuous
Thornton, NH
United States
Online Status: OFFLINE
Last Login: 09/25/2023 02:37 PM
Member Since: 08/20/2001
JDNnh
Outdoor Fitness Level: Very Strenuous
Thornton, NH
United States
Online Status: OFFLINE
Last Login: 09/11/2023 11:12 AM
Member Since: 10/30/2001
dpbyrnes
Outdoor Fitness Level: Moderate to Strenuous
Ipswich, MA
United States
Online Status: OFFLINE
Last Login: 09/10/2023 12:03 PM
Member Since: 01/24/2009
nhclimber03264
Outdoor Fitness Level: Moderate to Strenuous
Plymouth, NH
United States
Online Status: OFFLINE
Last Login: 09/24/2023 09:50 PM
Member Since: 10/09/2019
Bobcat
Outdoor Fitness Level: Strenuous
Upton, MA
United States
Online Status: OFFLINE
Last Login: 09/24/2023 09:39 PM
Member Since: 12/16/2008
<