Mt. Garfield Hike
Hiking/Walk DATE: 10/19/2019 - 10/19/2019
Trip/Event Location: Lincoln, NH
US
Trip Leader(s): Gandalf , JDNnh
Max # People: 15
Trip Guiding / Event Fee: No, I will not be asking participants for money
Difficulty Level: Moderate to Strenuous
This ledge top four thousand footer has one of the premier viewing perches in the Whites for peak foliage!
The round trip is a moderate 10 miles with 3,000' of elevation with unforgettable
...
Driving directions to the location and spot to meet at:
Drive north through Franconia Notch on the parkway. As this scenic route becomes I-93, take exit 35 onto US 3 North towards Twin Mountain/Lancaster. Drive 4.8 miles on US 3 then turn right onto Gale River Loop Road. Follow the road until you see the sign for the Garfield Trail Parking Lot. [If you pass the Gale River Parking Lot, you drove too far.
Trip Report/Photos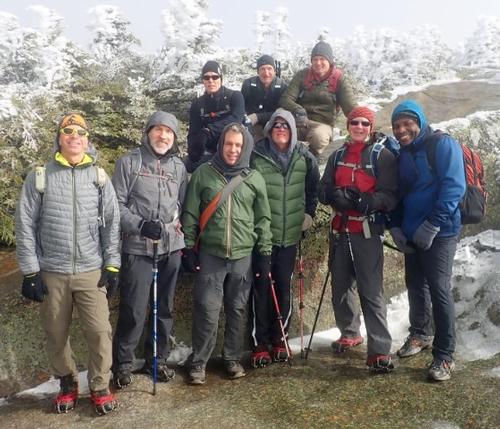 Garfield Trail, Garfield Ridge Trail, 10 miles roundtrip.

Mike & Jon, Dave, Rick, John, Junior & John, Bob, Fred and Mo did a hike up Mt. Garfield [4,500']. We arrived at the trailhead for 9AM -- and the parking lot was completely full! We were a group of ten, one of the largest Jon and I have led this year!

It started as a mostly cloudy day but it turned into sunny skies in the early afternoon. We started amid lovely foliage and encountered winter like conditions further up. We took the Mt. Garfield Trail up to the ridge and then west on the Garfield Ridge Trail. What a gorgeous fall hike!
The Garfield Trail is long but practically flat. We walked along, chatting pleasantly and enjoying the colors. We encountered a few recent fallen trees from this week's nor'easter. We came across a group of ten and for the remainder of the day we leap frogged each other. Sometimes we were intermingled with each other. Other times, it was difficult to keep a head count, counting members of the other group by mistake. All in good fun!
There were a few stream crossings. We all made it through just fine, except for Rick, who decided to just put his boots in the water and cross. Soon we started climbing up the seven switchbacks and as we climbed further up, the trees became coated with hoar frost. Magical!
We reached the Garfield Ridge Trail and decided to put on our MicroSpikes. From here, it was a short .2 mile climb to the top. Now we were beginning to feel the cold.
The upper summit forecast for the day was a high of 42 with winds of 15 mph. We had felt warm with few layers on our ascent thus far, due to the fact that we had been sheltered in the trees for the entire hike. However, now that we were coming out of the trees and making the final push toward the summit, the cold was making itself known, so we put on another layer.

This was our first real uphill climbing all day. We made it to the top -- and there were not many people up there. Our group picture on the summit is a reminder why winter hiking is so nice!
Mt. Garfield has a reputation for being a mountain with spectacular views. However, it was cloudy when we arrived but the sun was trying to make an appearance. We didn't stay at the summit for long since it was chilly and breezy. We wanted to get back down those .2 miles, into the trees and out of the wind. So down we went.

Soon afterward, the cloud lifted a bit, long enough for Jon to snap pictures of the valley through the trees (and curse at our luck for not being on the peak during this moment…LOL.

We got back to the trail junction, sat and had lunch. Throughout the day, we encountered lots of dogs having a good time!
We started our descent talking and having a good time. When we came to the stream crossings, we were experienced with this by now, and crossed with more confidence than what we had earlier this morning.

After the hike, most of us returned back to our house, the Mad River Lodge, enjoying appetizers and beverages before dinner. Jon cooked up another delicious gourmet dinner that we all raved about!
It was a lovely hike. Thanks for the great company, everyone!
Mike and Jon
There are 72 photos in Album (Note: Move mouse pointer over larger pic and click on NEXT for better viewing)
Members That Participated
Gandalf
Outdoor Fitness Level: Very Strenuous
Thornton, NH
United States
Online Status: OFFLINE
Last Login: 09/27/2023 08:52 PM
Member Since: 08/20/2001
JDNnh
Outdoor Fitness Level: Very Strenuous
Thornton, NH
United States
Online Status: OFFLINE
Last Login: 09/11/2023 11:12 AM
Member Since: 10/30/2001
dpbyrnes
Outdoor Fitness Level: Moderate to Strenuous
Ipswich, MA
United States
Online Status: OFFLINE
Last Login: 09/10/2023 12:03 PM
Member Since: 01/24/2009
guest member
HikerBiker
Outdoor Fitness Level: Moderate to Strenuous
Londonderry, NH
United States
Online Status: OFFLINE
Last Login: 09/17/2023 02:04 PM
Member Since: 02/23/2003
mecyclingrunner
Outdoor Fitness Level: Moderate to Strenuous
LEWISTON, ME
United States
Online Status: OFFLINE
Last Login: 09/23/2023 07:00 AM
Member Since: 07/22/2018
jsenat
Outdoor Fitness Level: Moderate
Cape Cod, MA
United States
Online Status: OFFLINE
Last Login: 04/22/2023 10:53 AM
Member Since: 11/08/2015
Bobcat
Outdoor Fitness Level: Strenuous
Upton, MA
United States
Online Status: OFFLINE
Last Login: 09/27/2023 09:30 PM
Member Since: 12/16/2008
baezfred
Outdoor Fitness Level: Moderate to Strenuous
Lancaster, NH
United States
Online Status: OFFLINE
Last Login: 09/23/2023 08:20 PM
Member Since: 02/18/2018
MO
Outdoor Fitness Level: Moderate to Strenuous
Lancaster, NH
United States
Online Status: OFFLINE
Last Login: 09/26/2023 07:42 PM
Member Since: 12/06/2016
<