Mt. Jefferson with Six Husbands
Hiking/Walk DATE: 08/18/2012 - 08/18/2012
Trip/Event Location: Gorham, NH
US
Trip Leader(s): Gandalf , JDNnh
Max # People: 15
Trip Guiding / Event Fee: No, I will not be asking participants for money
Difficulty Level: Very Strenuous
The audacious Six Husbands route to Mt. Jefferson scales the precipitous buttress of the northern Jefferson's Knee, with some difficult ledge scrambles and several nearly vertical ladders ~ not for
...
Driving directions to the location and spot to meet at:
We'll meet at the large parking area for Great Gulf Wilderness on the west side of NH 16, 6.5 miles south of US 2 in Gorham, and 4.1 miles north of AMC's Pinkham Notch Camp. We'll be driving a blue FJ Cruiser/
Trip Report/Photos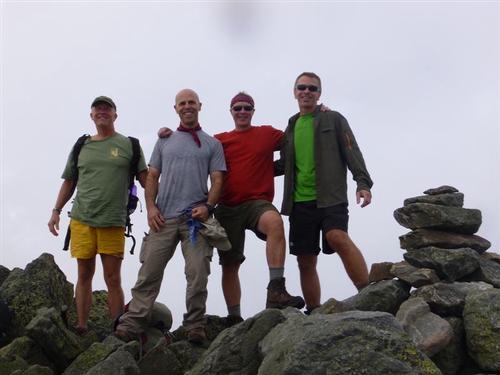 The Six Husbands Trail is named in honor of the six successive husbands of Weetamoo, king of the Pocasset Tribe who forced all his six husbands to place old wooden ladders through the extremely steep and unnerving sections just below treeline on this trail...and one by one they all would fall off the side of the mountain so he'd have to re-marry! (I kid I kid, he pushed them off when they weren't looking!)

On trail at 8:15am, finished at 8:00pm, temps below treeline in 70's, temps above treeline in 50's, calm winds, with partly cloudy high cloud coverage.

So off we went in the Great Gulf Wilderness and to one of the steepest trails in the White Mountains, the Six Husbands Trail.
To get to the Six Husbands one has to hike 4.5 miles deep into the Great Gulf which gets wilder and more remote once passing the Bluff tentsite. There were not many people on the trails in here, 7 hikers in the morning. Two were going up the Six Husbands like us, another two was going up Mt. Madison via Osgood Trail, and a section AT hiker was excited to get above treeline [he raved about NH hiking!] Great Gulf trail is absolutely beautiful with tons of swimming holes and several primitive tentsites.
The Six Husbands trail is one of the best sections of hiking in the White Mountains, it's steep, rough, dicey and very excitng! The real fun began with huge boulders and steep sections that need ladders to get up the trail.
It was so much fun until the ladders stopped and I was left under an overhanging rock on a partly wet ledge making things very dicey with a huge drop just five feet to my left! The next 50 feet which went under then around and up this overhanging rock actually terrified me...Huntington Ravine style!

I carefully pulled my way up and around using my knees, friction and crawling because of the partly wet rock surface; making sure not to put much pressure on my boots because they kept slipping on the wet surfaces. Once past that 50 foot section I finally breathed normally again and knew most of the tough sections were behind me! There were a couple more...but the toughest were behind me.

Once passed this section you head into the Alpine Zone. We had lunch on Jefferson's Knee with incredible views into Great Gulf, Jefferson Ravine, and across to the Wildcat-Carter-Moriah Range.
From Jefferson's Knee, we made a final push to the summit of Mt. Jefferson and took a break. We followed the Gulfside Trail and dropped down reaching the Sphinx Trail/Col. Sphinx trail was a punishing descent. Wet, mossy covered rocks and water crossings made for slow going. We were concerned about slipping on the many mossy rocks and falling. But it was a very scenic trail with interesting water features. The Sphinx trail follows a brook most of the way down. In some sections, we were actually in the brook with water all around us! It made us wonder if we were actually on the trail. We would not want to do this in rainy weather. Lots of beautiful cascades. The trail was a bit difficult to follow. Thankfully someone placed some orange survey tape on one crossing. We lost the trail again near the Gulfside Trail.
Once we reached the Gulfside Trail it was 5.6 miles of mostly downhill back to our cars. We dragged our weary butts out of the woods about 8PM. It's was a 12-hour, 14.5-mile hike, but aside from scratches and scrapes, we did fine!

~ Mike Boisvert


There are 80 photos in Album (Note: Move mouse pointer over larger pic and click on NEXT for better viewing)
What Members Are Saying About This Trip/Event
What a beautiful hike along the Peabody River with its many waterfalls and cascades. Deeper we meandered into this ampthitheater named the Great Gulf. Our ascension high above onto the spine of the northern Presidentials was tough but worth it. This journey was spiritual, physical and rewarding. Thanks guys for such an epic day! - JDNnh
Mike & Jon: Thanks for the great trip- The Great Gulf is my favorite- the waterfalls, steep climb up 6 Husbands, and clouds hanging over/ around Jefferson made for an amazing hike! - Bobcat
Members That Participated
Gandalf
Outdoor Fitness Level: Very Strenuous
Thornton, NH
United States
Online Status: OFFLINE
Last Login: 09/27/2023 08:52 PM
Member Since: 08/20/2001
JDNnh
Outdoor Fitness Level: Very Strenuous
Thornton, NH
United States
Online Status: OFFLINE
Last Login: 09/11/2023 11:12 AM
Member Since: 10/30/2001
JR
Outdoor Fitness Level: Strenuous
Boston, MA
United States
Online Status: OFFLINE
Last Login: 09/27/2023 06:12 PM
Member Since: 10/18/2004
Bobcat
Outdoor Fitness Level: Strenuous
Upton, MA
United States
Online Status: OFFLINE
Last Login: 09/27/2023 09:30 PM
Member Since: 12/16/2008
<