NH Pride Hike
Hiking/Walk DATE: 06/16/2012 - 06/16/2012
Trip/Event Location: Goffstown, NH
US
Trip Leader(s): Gandalf , JDNnh
Max # People: 15
Trip Guiding / Event Fee: No, I will not be asking participants for money
Difficulty Level: Easy to Moderate
Wear your rainbow colors as we hike up Goffstown's [near Manchester] South Uncanoonuc Peak! We will hike to the summit of South Uncanoonuc following a nature trail and descending a former
...
Driving directions to the location and spot to meet at:
To reach the South Peak trail, turn off NH 114 south about 0.5 miles east of Goffstown onto Wallace Road. You are still within the town's residential district. Just after the turn onto Wallace Road you will see a right fork. Don't take it. Bear left along Wallace Road and keep driving 1.4 miles. Turn right onto Mountain Base Road. This takes you ~ after 1 mile through a neighborhood of small houses and trailers ~ to the south side of Uncanoonuc Lake at a beach. The mountain rises to your left.
Watch for a nature trail sign on a tree directing you toward the trail, ahead along the road. Park near the sign. Don't drive further on this dirt road. We will be driving a blue Toyota FJ Cruiser at the parking lot.
Trip Report/Photos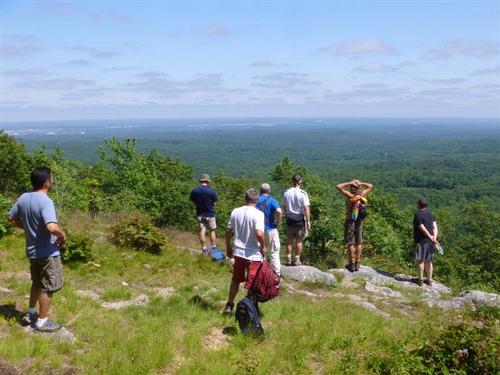 A couple small mountains that look like mirror images of each other (with the exception of multiple radio towers planted on the southern peak), overlook Manchester. They are called North Uncanoonuc and South Uncanoonuc. They both have a decent trail
We decided to hike up the southern peak which has probably the finest forest of communication towers in New Hampshire. It used to actually have a trolley that ascended its northeastern slope. This railway has since been removed and is now a foot path [incline railway] that we planned to use for the descent. There is also an auto road that goes to the top. The summit sits at 1,321 feet.
On this Saturday afternoon, we set out for the summit of South Uncanoonuc Mountain. Some of us wore rainbow colors including Brad's dog, River. This was after all, a NH Gay Pride hike. The trailhead parking is shared with beach parking for Uncanoonuc Lake. A sign indicates this is for residents only however on the way out, we met a local police officer who indicated that it only applies if we were to use the beach. Hikers from anywhere in the country can park here. I always thought this but it was good to get a confirmation from a local police officer. I know some people have not hiked up this mountain due to concerns of their car being towed due to the sign.
Before we started off, Jon gave everyone a brief history of the mountain at the kiosk. We followed a dirt road with Uncanoonuc Lake to our right. We then saw an Uncanoonuc Nature Trail sign on the ground at the start of a dirt/rough driveway and a hand carved trail map on a post. So we turned left here only to end up at someone's camp. So we turned around, followed the dirt road again and shortly thereafter found the start of the official trail. This trail ascends 650 feet but rather gradually [versus using the incline railway which would have been a steeper ascent]. The trail was then easy to follow.
Certain sections of the trail was quite eroded and rocky. We were hiking in a beautiful, shady hardwood forest. We reached a trail junction and waited for Rob who was lagging behind. After a few minutes I walked down the trail looking for him and yelling out. I did not hear any response so all I could assume was that he turned around. [He later contacted me. He was recovering from back problems and was feeling a few twinges so he stopped by a tree to do some stretches. He decided to turn around but we had gone up ahead and was out of reach. He thought of yelling out to us.]
The trail continued up gradually. Near the top, we crossed the auto road and on the other side followed a dirt service road.
The actual summit, the site of a former firetower, was to our left and fenced in. After passing a couple of communication towers on our right we turned right to a herd path that led to ledges.
We were not alone on the ledges. There was couple at the ledges when we arrived and a man reading a book.
It was so hazy today we were unable to see the Boston skyline. We were able to see Pack Monadnock and a partial view of Manchester.
We returned to the dirt service road and hooked up with the Incline Railway trail for our descent. On the descent, we saw the Walker Trail to our left and followed it briefly to an excellent view of Manchester! We returned back to the Incline Railway trail for our descent. The trail was quite steep and rocky so everyone was careful with their footing.
We finished around 4pm. We saw very few people the whole trip. All and all, it was nice to be in the woods and get a bit of exercise. Unfortunately we didn't get the views of the Boston skyline. We were able to explore a forest that most had never been to before, get a little exercise, and the view to Manchester wasn't that bad either. It's a fine hike to do when you live in the area and short on time.
There are 16 photos in Album (Note: Move mouse pointer over larger pic and click on NEXT for better viewing)
Members That Participated
Gandalf
Outdoor Fitness Level: Very Strenuous
Thornton, NH
United States
Online Status: OFFLINE
Last Login: 09/27/2023 08:52 PM
Member Since: 08/20/2001
JDNnh
Outdoor Fitness Level: Very Strenuous
Thornton, NH
United States
Online Status: OFFLINE
Last Login: 09/11/2023 11:12 AM
Member Since: 10/30/2001
ArtN
Outdoor Fitness Level: Moderate
Lowell, MA
United States
Online Status: OFFLINE
Last Login: 01/25/2021 08:49 AM
Member Since: 05/08/2011
guest member
bigmoosehill
Outdoor Fitness Level: Moderate
londonderry, NH
United States
Online Status: OFFLINE
Last Login: 08/15/2023 11:45 AM
Member Since: 03/24/2009
goldnwolf
Outdoor Fitness Level: Moderate
St. Petersburg / Pittsburgh , NH
United States
Online Status: OFFLINE
Last Login: 09/10/2022 11:39 PM
Member Since: 10/30/2001
Driving My Own Car


(Willing to give guys a ride)

Comment: Yay! An easy hike close to home. Thanks Mike! :-)
HikerLegs
Outdoor Fitness Level: Moderate
South Burlington, VT
United States
Online Status: OFFLINE
Last Login: 07/23/2023 10:03 PM
Member Since: 03/03/2002
HikerBiker
Outdoor Fitness Level: Moderate to Strenuous
Londonderry, NH
United States
Online Status: OFFLINE
Last Login: 09/17/2023 02:04 PM
Member Since: 02/23/2003
SummerInOgunquit
Outdoor Fitness Level: Moderate to Strenuous
Portsmouth, NH
United States
Online Status: OFFLINE
Last Login: 09/26/2022 03:35 PM
Member Since: 04/14/2012
<