Pawtuckaway State Park Hike
Hiking/Walk DATE: 11/08/2008 - 11/08/2008
Trip/Event Location: Deerfield, NH
US
Trip Leader(s): Gandalf
Max # People: 15
Trip Guiding / Event Fee:
Difficulty Level: Easy to Moderate
This 7-mile hike loop hike includes North Mountain (1011') with Devils Den,&nbsphuge boulders in the Boulder Field, scenic Round Pond and a climb up the firetower at South Mountain (908').
Almost two
...
Driving directions to the location and spot to meet at:
Trip Report/Photos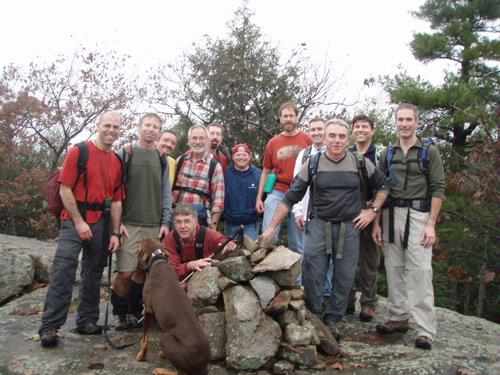 Thirteen GO members spent the day rambling around Pawtuckaway State Park!&nbsp Despite some errors on my part with meeting directions, we all met at Reservation Road near the trailhead for North Mountain. The back entrance is a little hard to find as the park sign was taken down at Reservation Road.
We parked on Reservation Road at another parking area before the official North Mountain Trail junction -junction #12 on the Pawtuckaway State Park map&nbspand&nbsphiked up to&nbspNorth Mountain just fine. The views from the top, although very limited, were pleasant. We snapped a few pics and started down in the direction of the Boulder Field.
On the descent we checked out the &quotDevil's Den&quot which I'm not exactly sure why it is named as such. We arrived at the Boulder Field (using the Boulder Trail) that consists of these huge glacial erratics that is usually full of rock climbers trying to scale them.
We continued along&nbspthe shore of a beautiful beaver pond. When we hit a road that was not near Round Pond, I became confused and thought we landed&nbspon the road south of Round Pond. So we banged a left and started going up which was odd.&nbspWe&nbsptook our lunch break and looking at Dave's GPS realized we were on the road north of&nbspRound Pond leading to Nottingham Road! We also ran into a couple heading the opposite direction whom&nbspreassured our location. Realizing&nbspthe mistake we did a 180 and headed back.&nbspThankfully did not add much more mileage to the hike.&nbsp&nbsp
We took a brief break at Round Pond at a place where Jon and I like to sunbathe and swim in the summer. We then followed the South Ridge Trail to the South Summit and the fire tower. We then descended to Tower Road (junction #6) where we had spotted my truck. I took&nbspthe drivers back to our starting point who returned to pick up the rest of the group.
Both north and south peaks have great ridgelines.&nbspThe leaves were pretty much off the trees so they got views &quotthrough&quot the trees. A great day to be in the woods. (First two photos below do not enlarge!)
There are 22 photos in Album (Note: Move mouse pointer over larger pic and click on NEXT for better viewing)
What Members Are Saying About This Trip/Event
Great hike as always, Mike and Jon! Thanks! - shep5
Members That Participated
Gandalf
Outdoor Fitness Level: Very Strenuous
Thornton, NH
United States
Online Status: OFFLINE
Last Login: 09/25/2023 02:37 PM
Member Since: 08/20/2001
HikerBiker
Outdoor Fitness Level: Moderate to Strenuous
Londonderry, NH
United States
Online Status: OFFLINE
Last Login: 09/17/2023 02:04 PM
Member Since: 02/23/2003
JPHiker
Outdoor Fitness Level: Moderate
Lake Worth Beach, FL
United States
Online Status: OFFLINE
Last Login: 09/17/2023 12:19 PM
Member Since: 11/11/2002
shep5
Outdoor Fitness Level: Very Strenuous
Jaffrey, NH
United States
Online Status: OFFLINE
Last Login: 04/04/2020 12:45 PM
Member Since: 10/30/2001
JDNnh
Outdoor Fitness Level: Very Strenuous
Thornton, NH
United States
Online Status: OFFLINE
Last Login: 09/11/2023 11:12 AM
Member Since: 10/30/2001
DaveSchumaker
Outdoor Fitness Level: Moderate to Strenuous
Manchester, NH
United States
Online Status: OFFLINE
Last Login: 09/28/2022 03:22 PM
Member Since: 12/31/2007
JR
Outdoor Fitness Level: Strenuous
Boston, MA
United States
Online Status: OFFLINE
Last Login: 09/25/2023 12:02 PM
Member Since: 10/18/2004
katahdin55
Outdoor Fitness Level: Moderate to Strenuous
PROVIDENCE, RI
United States
Online Status: OFFLINE
Last Login: 03/23/2022 11:22 PM
Member Since: 03/01/2006
<