TRAIL MAINTENANCE DAY AT MT. OSCEOLA
Trail Maintenance
DATE: Jun 03, 2023

END DATE: Jun 03, 2023

Hike/Event Location: Waterville Valley NH
Trip Leader(s)
Gandalf
Thornton, NH United States,
JDNnh
Thornton, NH United States
Meeting Time: 8:30 AM
Max # People: 15
Hike Guiding / Event Fee: No, I will not be asking participants for money
Hike Difficulty Level:
Moderate
(Do you qualify to attend with this hike difficulty rating? Click Here.)
Sign Up To This Trip/Event
You must be a least a guest member to participate. Comments such as "+1" or "bringing a friend" are NOT permitted. All participants must sign-up for the event individually.
Select your mode of transportation, make any comments and then click on button.
You are not logged in.
Please, Log In
Disclaimer: The club and its members take no responsibility and will not be held responsible for any injuries or accidents that may occur during club events. Outdoor sports are inherently dangerous and accidents will happen. By joining the club or participating in any events posted on our website you are taking responsibility for your own safety and well-being. Anyone with an internet connection can post a trip on our web site. It is your responsibility to determine if this person has the experience and competence to lead the trip. We do not certify or confirm the qualifications of any of our members to lead or participate in trips.
Summary
Volunteer with GayOutdoors members for a day of trail work on our adopted trail, Mt. Osceola! Mt. Osceola is extremely popular in summer due to its gradual ascent to the highest peak in Waterville Valley, on the NH four thousand footer list at 4,340 feet and has a vast panorama from its summit ledges! We will focus on clearing drainages, removing blowdowns, and clearing branches that encroach within the trail corridor.
We encourage help from volunteers who love the outdoors, enjoy hands-on conservation work, and are excited to work with our GayOutdoors members! We hope to work efficiently so we can summit! Plan on a full day and we usually finish around 4PM however if you need to get home earlier you can hike back down to your vehicle at any time. As part of our philosophy, we believe in doing our part to give back to the hiking community!
You don't have to be an expert to help and we can easily train you. We'll have fire rakes, grub hoes, saws and loppers for everyone. We switch off the tools we use with other members so everyone gets a chance to do something different during the day!
Members from another group, Pemi Valley Hikers, will be helping us. Meet us at the trailhead at 8:30 and bring snacks, lunch, water and what you normally would carry for a 4,000 footer hike but be sure to bring work gloves. I'll be driving a blue Toyota Tacoma truck.
Thanks so much to everyone; your efforts are absolutely critical to keeping our trails open and accessible for everyone. The White Mountain National Forest have so much appreciation for everything we do. We look forward to working with you for another great season. We can't wait to see you on the trails!
To say THANK YOU for your help you are invited back at our house near Welch and Dickey trailhead afterwards for appetizers and a BBQ!!! Please bring your own beverages.
Everyone is invited to spend a FREE weekend at our house Friday and/or Saturday night with breakfast each morning. We only have 6 bunks so the first 6 guys that contact us to reserve will get one; and let us know which night[s] you'll be lodging with us. You're on your own for dinner Friday night but you're welcome to use our kitchen facilities to cook. We plan on having a campfire followed by fireworks Saturday night!
Directions To Trailhead Parking Lot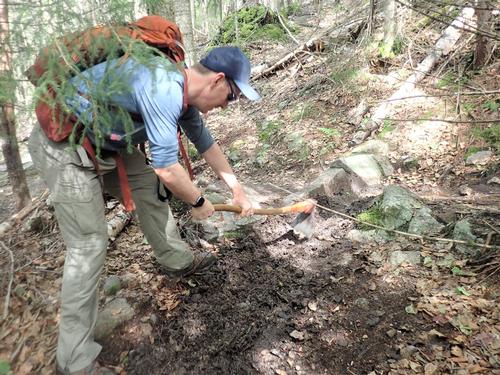 At exit 28 of Interstate 93, northbound travelers turn right at the end of the exit ramp and drive 10 miles to Waterville Valley on NH 49 East. As you enter Waterville Valley turn left, and drive towards the Waterville Valley Ski area and be sure not to miss the right turn to Tripoli Road. From NH 49, it's 4.5 miles on a gravel road to the crest of the 2,300 foot pass. You'll probably have to park on one side of the road. We'll meet at the parking area kiosk. We'll be driving a blue Toyota Tacoma Truck.
Trip Leader(s)
Gandalf
Outdoor Fitness Level: Very Strenuous
Thornton, NH
United States
Online Status: OFFLINE
Last Login: 05/27/2023 10:42 PM
Member Since: 08/20/2001
JDNnh
Outdoor Fitness Level: Very Strenuous
Thornton, NH
United States
Online Status: OFFLINE
Last Login: 05/19/2023 08:47 AM
Member Since: 10/30/2001
members signed up for this event
wildcat
Outdoor Fitness Level: Very Strenuous
Stowe, VT
United States
Online Status: OFFLINE
Last Login: 05/25/2023 01:45 PM
Member Since: 09/15/2006
Driving My Own Car


(Possibly willing to give guys a ride)
Carl_B
Outdoor Fitness Level: Strenuous
Leominster, MA
United States
Online Status: OFFLINE
Last Login: 05/27/2023 08:48 PM
Member Since: 06/21/2014
Driving My Own Car


(Willing to give guys a ride)
nhclimber03264
Outdoor Fitness Level: Moderate to Strenuous
Plymouth, NH
United States
Online Status: OFFLINE
Last Login: 05/27/2023 08:39 PM
Member Since: 10/09/2019
Driving My Own Car


(Possibly willing to give guys a ride)
Twigs
Outdoor Fitness Level: Moderate
Townsend, MA
United States
Online Status: OFFLINE
Last Login: 05/27/2023 10:06 AM
Member Since: 08/18/2022
Driving My Own Car


(Willing to give guys a ride)
Bushwack
Outdoor Fitness Level: Strenuous
Hanover, NH
United States
Online Status: OFFLINE
Last Login: 05/27/2023 09:35 PM
Member Since: 05/27/2017
Driving My Own Car


(Willing to give guys a ride)
beyoungyu
Outdoor Fitness Level: Moderate to Strenuous
Harrisburg, PA
United States
Online Status: OFFLINE
Last Login: 04/14/2023 03:40 PM
Member Since: 01/05/2002
Driving My Own Car


(Willing to give guys a ride)
Outsider87
Outdoor Fitness Level: Strenuous
Campton, NH
United States
Online Status: OFFLINE
Last Login: 05/25/2023 09:15 AM
Member Since: 02/12/2002
Driving My Own Car


(Willing to give guys a ride)
guest member
Tophertech
Outdoor Fitness Level: Strenuous
Rochester , NH
United States
Online Status: OFFLINE
Last Login: 05/27/2023 11:21 PM
Member Since: 08/10/2021
Driving My Own Car


(Possibly willing to give guys a ride)
Discuss This Trip/Event