A Spectacular Spring Hike Thru the Arnold Arboreum
Half Day Hike
DATE: May 09, 2021

END DATE: May 09, 2021

Hike/Event Location: JAMAICA PLAIN MA
Trip Leader(s)
emsinjp
Jamaica Plain, MA United States
Meeting Time: 12:00 PM
Max # People: 12
Hike Guiding / Event Fee: No, I will not be asking participants for money
Hike Difficulty Level:
Easy to Moderate
(Do you qualify to attend with this hike difficulty rating? Click Here.)
Sign Up To This Trip/Event
You must be a least a guest member to participate. Comments such as "+1" or "bringing a friend" are NOT permitted. All participants must sign-up for the event individually.
Select your mode of transportation, make any comments and then click on button.
You are not logged in.
Please, Log In
Disclaimer: The club and its members take no responsibility and will not be held responsible for any injuries or accidents that may occur during club events. Outdoor sports are inherently dangerous and accidents will happen. By joining the club or participating in any events posted on our website you are taking responsibility for your own safety and well-being. Anyone with an internet connection can post a trip on our web site. It is your responsibility to determine if this person has the experience and competence to lead the trip. We do not certify or confirm the qualifications of any of our members to lead or participate in trips.
Summary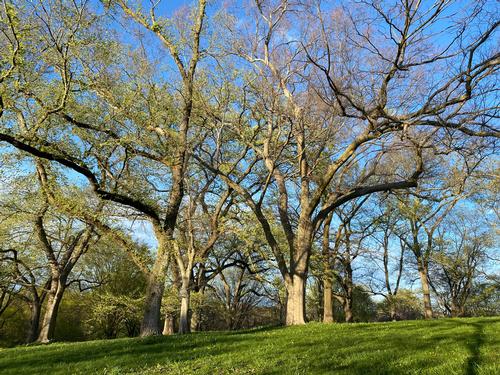 Come on along for a spectacular spring hike through the always scenic Arnold Arboretum. Beginning at the main entrance, our amazing hike will take us throughout the entire preserve for about 5 miles. Early spring is the absolute best time to experience the glorious, natural wonders of this really special place - the azaleas and lilacs will be in full bloom (or almost!), wild flowers will be abundant and the trees will be bursting with life. The Arboretum is a 300-acre treasure operated by Harvard University (great 1000 year lease!) on land owned by the City of Boston. It's a National Historic Landmark, and it's one of the finest examples of design by the renowned landscape architect Frederick Law Olmsted (think Central Park!). Please wear your good hiking shoes & warm layered clothes and bring a liter of water. After our fabulous hike, we'll have an option to head over to nearby & happening Jamaica Plain center for some schmoozing over an early dinner with drinks. Steady rain cancels.
Directions To Trailhead Parking Lot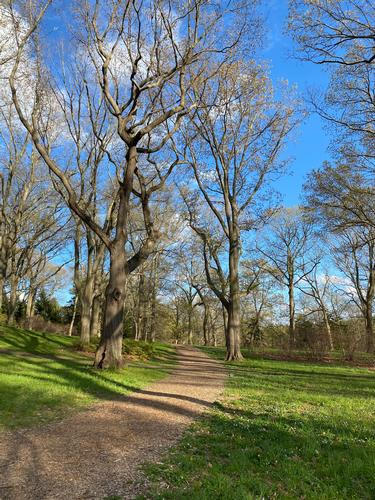 We'll meet at 12:00 noon at the main entrance to the Arnold Arboretum at 125 Arborway, Boston, MA 02130. You can use that address for Google Maps and GPS. Parking is free along the main road (Arborway) and on nearby neighborhood streets. It's a 10 minute walk from the Forest Hills Station of the MBTA's Orange Line. We'll meet on the road area directly in front of the brick Adminstration/Bussey Building, which is just inside the main gate at the right.
Trip Leader
emsinjp
Outdoor Fitness Level: Moderate to Strenuous
Jamaica Plain, MA
United States
Online Status: OFFLINE
Last Login: 06/12/2021 11:36 AM
Member Since: 03/11/2010
members signed up for this event
guest member
i6483103
Outdoor Fitness Level: Moderate
SHARON, MA
United States
Online Status: OFFLINE
Last Login: 05/02/2021 09:39 PM
Member Since: 08/14/2013
Driving My Own Car


(Possibly willing to give guys a ride)
HikerBiker
Outdoor Fitness Level: Moderate to Strenuous
Londonderry, NH
United States
Online Status: OFFLINE
Last Login: 06/05/2021 04:55 PM
Member Since: 02/23/2003
Driving My Own Car


(Possibly willing to give guys a ride)
guest member
jcinmass
Outdoor Fitness Level: Moderate to Strenuous
Boston, MA
United States
Online Status: OFFLINE
Last Login: 05/31/2021 08:33 AM
Member Since: 05/22/2011
Driving My Own Car


(Possibly willing to give guys a ride)
sustaining member
Jimfb
Outdoor Fitness Level: Moderate
Natick, MA
United States
Online Status: OFFLINE
Last Login: 05/10/2021 01:03 PM
Member Since: 07/17/2017
Driving My Own Car


(Willing to give guys a ride)
Bushwack
Outdoor Fitness Level: Strenuous
Hanover, NH
United States
Online Status: OFFLINE
Last Login: 06/11/2021 04:23 PM
Member Since: 05/27/2017
Driving My Own Car


(Willing to give guys a ride)
HikerLegs
Outdoor Fitness Level: Moderate
Manchester, NH
United States
Online Status: OFFLINE
Last Login: 05/31/2021 02:02 PM
Member Since: 03/03/2002
Driving My Own Car


(Possibly willing to give guys a ride)
menard77
Outdoor Fitness Level: Moderate
Salisbury, MA
United States
Online Status: OFFLINE
Last Login: 05/27/2021 05:37 PM
Member Since: 04/17/2021
Driving My Own Car


(Possibly willing to give guys a ride)
promeneur
Outdoor Fitness Level: Moderate
Nashua, NH
United States
Online Status: OFFLINE
Last Login: 06/08/2021 10:46 PM
Member Since: 02/08/2021
Driving My Own Car


(Possibly willing to give guys a ride)
freespirit
Outdoor Fitness Level: Moderate
Dover, NH
United States
Online Status: OFFLINE
Last Login: 06/08/2021 07:59 AM
Member Since: 04/22/2006
Driving My Own Car


(Willing to give guys a ride)
mt-high
Outdoor Fitness Level: Moderate to Strenuous
Boston, MA
United States
Online Status: OFFLINE
Last Login: 06/12/2021 11:20 PM
Member Since: 08/24/2017
Driving My Own Car


(Willing to give guys a ride)
guest member
NHJack
Outdoor Fitness Level: Moderate
Weare, NH
United States
Online Status: OFFLINE
Last Login: 05/09/2021 08:50 AM
Member Since: 02/07/2021
Driving My Own Car


(Possibly willing to give guys a ride)
Waiting list
rh30530
Outdoor Fitness Level: Moderate
Londonderry, NH
United States
Online Status: OFFLINE
Last Login: 06/07/2021 08:59 AM
Member Since: 04/03/2015
Driving My Own Car


(Willing to give guys a ride)
regularguyma
Outdoor Fitness Level: Moderate
BOSTON, MA
United States
Online Status: OFFLINE
Last Login: 05/29/2021 09:25 AM
Member Since: 10/08/2003
Driving My Own Car


(Willing to give guys a ride)
sustaining member
rolshausenii
Outdoor Fitness Level: Moderate to Strenuous
Cambridge, MA
United States
Online Status: OFFLINE
Last Login: 06/06/2021 10:45 PM
Member Since: 06/30/2019
Driving My Own Car


(Don't Own A Car)
Discuss This Trip/Event
promeneur
Posted May 9, 2021 at 10:16 PM
A botanical bonanza of buds & blossoms! Thank you Ed for a glorious spring day and for sharing your insight about the arboretum. Enjoyed meeting the new guys and seeing the old ones - pun intended ;)