GET FIT HIKE #4: Mt. Cardigan
52 With A View DATE: 05/20/2023 - 05/20/2023
Trip/Event Location: Bristol, NH

Trip Leader(s): Gandalf , JDNnh
Max # People: 15
Trip Guiding / Event Fee: No, I will not be asking participants for money
Difficulty Level: Moderate
Thinking of getting in shape for a hike in the Whites, here is your opportunity to participate in a series of 4 hikes that will get progressively get harder!
Although Mount Cardigan's
...
Driving directions to the location and spot to meet at:
It's not the easiest place to find so if you prefer, meet us at off Exit 23 [Meredith/New Hampton] exit for 8:45AM at the Park 'N Ride [right of the exit on Route 104 East] to carpool. We'll be driving a blue Toyota Tacoma truck. Please let us know you'll meet us there otherwise we will not stop.
GPS: Or most GPS systems will get you there if you type in 774 Shem Valley Road, Alexandria, NH. Or perhaps get driving directions from the web yourself.
And as a last resort directions to Cardigan Lodge from I-93:
Take exit 23 for NH-104/NH-132 toward Meredith/New Hampton
Turn left onto NH-104 W/NH-132 S Continue to follow NH-132 S for 0.9 miles
Continue onto NH-104 W for 4.7 miles
Slight right onto Pleasant St for 0.2 miles
Continue onto Lake St for 0.4 miles
Turn left onto Bristol Hill Rd for 1.1 miles
Slight left onto Plumer Hill Rd for .08 miles
Turn left to stay on Plumer Hill Rd for .04 miles
Take the 1st right onto Town Pound Rd for 0.7 miles
Continue onto Washburn Rd for 0.2 miles
Slight right onto Mt Cardigan Rd for 3.6 miles
Continue onto Shem Valley Rd for 1.4 miles
Cardigan lodge will be @ the end of the road
Trip Report/Photos
This is the mountain everyone should have ticked off their list at some point. It's on the 52 with a view list (as are many other fine peaks) so that's as good an excuse as anyone needs, right? Right!
Started at 9:30 from the AMC Cardigan Lodge. There were eight of us. Down in the trees, it was a delightful spring hike. Wildflowers, spring green leaves above us! Plenty of painted trillium and a few purple trilliums. Saw bunches of trout lilies that faded due to the recent frost. The approach was fairly easy.
As the trail pitched upward, a bit more strenuous, we had some light scrambling. Approaching tree line, the trees were thinning out, and ledgy rock was starting to take over. Above tree line, breezy and it was constant.
The trail zigzagged more steeply to three ledges with picturesque views. It was a cloudy day that impeded some of the views we would normally have. Our destination, Mt. Cardigan was visible periodically during the hike and sometimes hidden by clouds. The final ledges were the largest and steepest for the steep climb to the windswept Firescrew summit where we took a group pic. Devoid of substantial growth, this level summit instills an enjoyable top-of-the-world feeling!
We then made our way up Mt. Cardigan. It was very windy on the summit so we did not linger for very long; there was a large group on the summit besides ours. We had lunch at the Fire Warden's Cabin to get out of the wind. We knew that rain was forecasted so we did not linger too long for lunch. We took the Clark Trail to descend.
It was interesting that this side of the mountain the trees at this elevation were just beginning to leaf out. We made good time for the descent pausing at a gorgeous cascade at a bridge crossing. We saw the work of a busy woodpecker on one tree! The leaves on the trees are so green right now!
We got back down just as it started to shower. Made it! After the hike, a few returned back to our house to soak in the hot tub and relax in the living room. Jon cooked up another stellar meal of roasted vegetables, marinaded chicken breasts, pesto pasta and garden salad.
It's a nice, fun little mountain. Overall, we enjoyed every bit of the enchantment that we would have normally found on bigger peaks! Always great to hike with a fun group of friends.
~ Mike and Jon
There are 43 photos in Album (Note: Move mouse pointer over larger pic and click on NEXT for better viewing)
What Members Are Saying About This Trip/Event
Sorry I couldn't have joined the hike. The description and photos are great. Your hospitality was the tops. God bless! Hope you will host another hike soon. Gaily yours In Jesus, Russ F. GO member - russneal
Members That Participated
Gandalf
Outdoor Fitness Level: Very Strenuous
Thornton, NH
United States
Online Status: OFFLINE
Last Login: 12/01/2023 10:11 PM
Member Since: 08/20/2001
JDNnh
Outdoor Fitness Level: Very Strenuous
Thornton, NH
United States
Online Status: OFFLINE
Last Login: 12/01/2023 11:06 AM
Member Since: 10/30/2001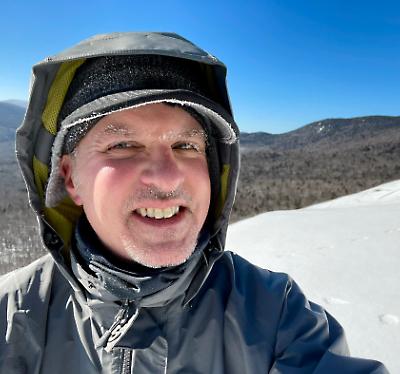 guest member
KeithES
Outdoor Fitness Level: Moderate
Jamaica Plain, MA
United States
Online Status: OFFLINE
Last Login: 11/30/2023 06:58 PM
Member Since: 07/16/2019
mecyclingrunner
Outdoor Fitness Level: Moderate to Strenuous
LEWISTON, ME
United States
Online Status: OFFLINE
Last Login: 11/02/2023 05:08 PM
Member Since: 07/22/2018
Ricardo
Outdoor Fitness Level: Moderate to Strenuous
Boston, MA
United States
Online Status: OFFLINE
Last Login: 11/14/2023 03:52 PM
Member Since: 05/24/2020
freespirit
Outdoor Fitness Level: Moderate
Dover, NH
United States
Online Status: OFFLINE
Last Login: 11/18/2023 11:08 AM
Member Since: 04/22/2006
Bushwack
Outdoor Fitness Level: Strenuous
Hanover, NH
United States
Online Status: OFFLINE
Last Login: 11/30/2023 04:49 PM
Member Since: 05/27/2017
GpD
Outdoor Fitness Level: Moderate
Manchester, NH
United States
Online Status: OFFLINE
Last Login: 11/21/2023 01:56 PM
Member Since: 11/02/2008
russneal
May 21, 2023 at 3:50 PM
Comment: Sorry I couldn't have joined the hike. The description and photos are great. Your hospitality was the tops. God bless! Hope you will host another hike soon. Gaily yours In Jesus, Russ F. GO member
<