Backpacking the Superstitions
Backpacking DATE: 03/22/2019 - 03/24/2019
Trip/Event Location: Phoenix, AZ
US
Trip Leader(s): CJDGO
Max # People: 6
Trip Guiding / Event Fee: No, I will not be asking participants for money
Difficulty Level: Strenuous
The Superstition Mountains were made for spring, when its springs and creeks awaken and its wildflowers riot against a backdrop of tortured red cliffs.
...
Driving directions to the location and spot to meet at:
We'll meet to consolidate our carpool at the Shea/SR-51 (Dreamy Draw) Park-and-Ride at 10418 N 33rd St at 7:00am (SHARP!) on Friday morning. Sorry, we will not be able to meet hikers at the trailhead.
Trip Report/Photos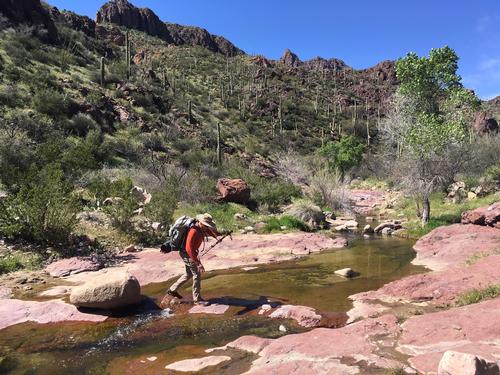 It was kind of surprising how empty the trails were on such a lovely weekend. We were just 50 miles outside of a big city, but apart from a few other intrepid backpackers, we had the trails (and swimming holes!) all to ourselves. The weather was perfect, the wildflowers were blooming, the songbirds were singing, the creeks were flowing, and the trails were clear. Our timing couldn't have been better, and we enjoyed tranquil, cool nights under the stars and a waning moon.
There are 5 photos in Album (Note: Move mouse pointer over larger pic and click on NEXT for better viewing)
What Members Are Saying About This Trip/Event
Such an awesome thing you guys are doing! - Gandalf
Members That Participated
guest member
CJDGO
Outdoor Fitness Level: Strenuous
Phoenix, AZ
United States
Online Status: OFFLINE
Last Login: 06/21/2019 04:45 PM
Member Since: 03/04/2008
guest member
HikerMark
Outdoor Fitness Level: Very Strenuous
Palm Springs / Los Angeles, CA
United States
Online Status: OFFLINE
Last Login: 03/21/2019 08:06 PM
Member Since: 06/16/2012
Driving My Own Car


(Willing to give guys a ride)

Comment: Hell, yeah!
<