First Sunday Breakfast and Hike
Hiking/Walk DATE: 12/03/2017 - 12/03/2017
Trip/Event Location: Richmond, VA
US
Trip Leader(s): TrailGuyEric
Max # People: 10
Trip Guiding / Event Fee: No, I will not be asking participants for money
Difficulty Level: Easy to Moderate
Breakfast at McLean's, 8:00am - 9:00am 3205 W Broad St, Richmond, VA 23230
Driving directions to the location and spot to meet at:

Take the entrance to the park at 42nd street at New Kent Avenue, Richmond, VA. Park in the gravel lot adjacent to the first shelter. Meet at the picnic table at the first shelter.





Trip Report/Photos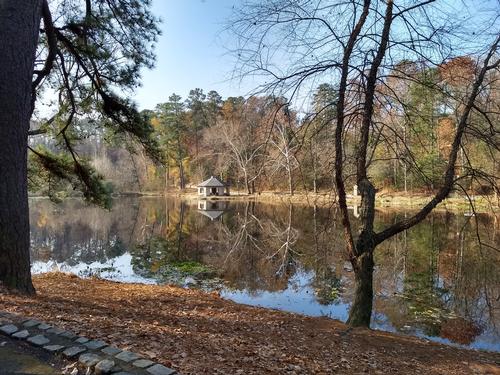 Forest Hill Park, Richmond VA (42nd Street & New Kent Ave, Richmond, VA)

After a great breakfast and conversation we headed out the parking lot a little after 9 a.m. We gathered in the Forest Hill Park parking lot near the stone shelter. After reviewing the map of the James River Park System, we began our hike. The six of us headed down granite stairs to the trail which was a nice walk down through trees and leaves and eventually a gentle, trickling stream. The trail then followed the stream all the way down the fairly gentle sloping hill with private homes on the other side of the stream.

At the bottom of the hill, we turned left and proceeded to wind up through a very well designed mountain bike trail which brings you up a hill and around to the other side and eventually down to a fork which we took down to the lake. We did a ½ mile loop around the lake, pausing for a few pictures, and "forked" back to the trail and resumed our hike on the bluffs above, eventually reaching one edge of the park before winding down to a rocky outcropping and stream. We paused for more pictures and crossed the stream and winding up the trail to a blacktop road and headed for the historic Stone House. We spotted some staffers at the Stone House and struck up a conversation. They allowed us a brief view of the house and its curved staircase. After the "tour" of the house we headed down a path to some granite stairs and a landing that was covering a stream below and paused to listen to the trickling water before walking up another set of stairs to our starting Point. Total mileage was 3.9 miles. Total time was about 2-1/2 hours
There are 8 photos in Album (Note: Move mouse pointer over larger pic and click on NEXT for better viewing)
Members That Participated
TrailGuyEric

Outdoor Fitness Level: Moderate to Strenuous

Chesterfield, VA

United States
Online Status: OFFLINE
Last Login: 11/03/2018 07:05 PM
Member Since: 01/08/2003
Jahn

Outdoor Fitness Level: Easy to Moderate

Richmond, VA

United States
Online Status: OFFLINE
Last Login: 11/03/2018 07:09 PM
Member Since: 12/31/2013
Richard6229

Outdoor Fitness Level: Easy

Fairfax, VA

United States
Online Status: OFFLINE
Last Login: 08/01/2018 03:21 PM
Member Since: 09/23/2013
Driving My Own Car
(Willing to give guys a ride)
Comment: Eric, how long will be the total time of the hike? Richard
abnguy30

Outdoor Fitness Level: Moderate

Fayetteville, NC

United States
Online Status: OFFLINE
Last Login: 08/26/2018 08:45 AM
Member Since: 09/26/2016
guest member

Avalondude

Outdoor Fitness Level: Easy to Moderate

Colonial Heights, VA

United States
Online Status: OFFLINE
Last Login: 11/04/2018 06:37 AM
Member Since: 10/25/2017
bnice

Outdoor Fitness Level: Moderate

Williamsburg, VA

United States
Online Status: OFFLINE
Last Login: 03/05/2018 01:57 PM
Member Since: 12/05/2010
Driving My Own Car
(Willing to give guys a ride)
Comment: I can give a ride to anyone coming from Williamsburg, Newport News, or Norfolk.
Logan

Outdoor Fitness Level: Moderate

Richmond, VA

United States
Online Status: OFFLINE
Last Login: 09/19/2018 01:00 PM
Member Since: 03/25/2016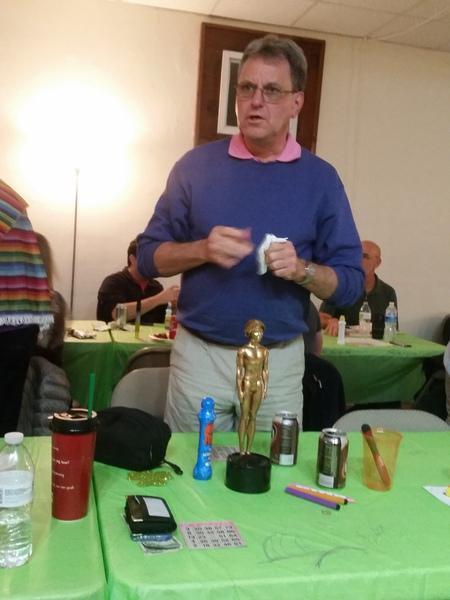 bnice Dec 6, 2017 at 8:15 AM

Good food, new friends and spectacular fall scenery. Thanks, Eric, for pulling this off so effortlessly. Am looking forward to going again.
Avalondude Dec 5, 2017 at 4:46 PM

Many thanks to Eric for organizing the Sunday eat and hike - very much appreciated. skip
Gandalf Dec 4, 2017 at 7:12 PM

Very nice - thanks for sharing
<