GET FIT Hike #1: Plum Island
Half Day Hike
DATE: Apr 08, 2023

END DATE: Apr 08, 2023

Hike/Event Location: Newburyport MA
Trip Leader(s)
Gandalf
Thornton, NH United States,
JDNnh
Thornton, NH United States
Meeting Time: 11:00 AM
Max # People: 15
Hike Guiding / Event Fee: No, I will not be asking participants for money
Hike Difficulty Level:
Easy
(Do you qualify to attend with this hike difficulty rating? Click Here.)
Sign Up To This Trip/Event
You must be a least a guest member to participate. Comments such as "+1" or "bringing a friend" are NOT permitted. All participants must sign-up for the event individually.
Select your mode of transportation, make any comments and then click on button.
You are not logged in.
Please, Log In
Disclaimer: The club and its members take no responsibility and will not be held responsible for any injuries or accidents that may occur during club events. Outdoor sports are inherently dangerous and accidents will happen. By joining the club or participating in any events posted on our website you are taking responsibility for your own safety and well-being. Anyone with an internet connection can post a trip on our web site. It is your responsibility to determine if this person has the experience and competence to lead the trip. We do not certify or confirm the qualifications of any of our members to lead or participate in trips.
Summary
Our first of four GetFit Hikes to get fit for summer hiking! Let's get together and explore the Parker River National Wildlife Refuge (Plum Island), Sandy Point State Park and the Hellcat Trail! We'll meet at the Hellcat Swamp Nature Trail parking area [directions below]. Plum Island is also known for the great variety of birds that nest there, so bring your binoculars too.
We'll be visiting the Parker River National Wildlife Refuge and our first stop will be to walk the Hellcat Swamp Nature Trail. We'll then drive to the south end of the island for some seashore walking. There will be an observation tower to climb with views of the entire island and surrounding coast! By the time we finish, we will have walked an easy 5 miles in the salty air and you may have a fine sunburn, too. Afterwards, we'll have a late lunch nearby at Bob's Lobster Shack.
Hellcat Swamp Nature Trail: There will be observation towers to climb with views of the entire island and surrounding coast! This is a nice level boardwalk between .8 and 1.4 miles through the freshwater marsh, shrub, vernal pools, dune, and maritime woodland habitats. There are several lookouts with benches on the boardwalk.
Sandy Point State Park: Afterwards will get back into our cars and drive here. We'll take a path lined by head-high salt marsh grass towards Ipswich Bluff. Ten minutes down the path we'll turn left towards the shoreline and follow it around the reservation, past Emerson Rocks, and have great views across the water of Ipswich's Little Neck, Steep Hill Beach, Cranes Beach, Gloucester and Rockport! Depending on the tide this is a great spot to collect driftwood and shells which have washed up on the shoreline.
After we've headed up the beach we'll turn around and retrace our steps for a bit, then take a path through the dunes back to the parking lot. This hike is about 3.2 miles (longer if we want to go further up the beach), is on level terrain the entire way and should take around 2 hours. Except for the first 10 minutes of this hike which is on a grass and dirt path, we'll be walking on sand. There is a portable toilet in the parking lot, and another near the path through the dunes.
Optional Post-Hike Lunch: Everyone is welcome to join us for a late lunch at nearby Bob's Lobster Shack known for its lobster rolls and fried clams! We eat outside on picnic tables and it's BYOB so pack some cold beers in your cooler.
Directions To Trailhead Parking Lot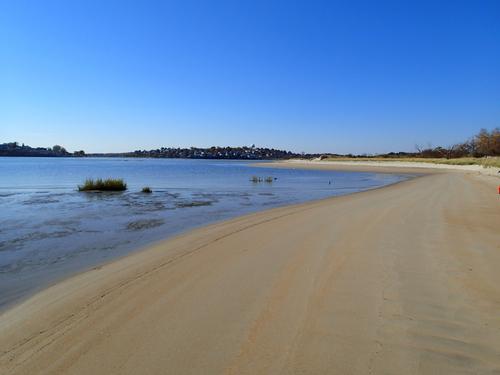 To reach this coastal sanctuary, drive east from US 1 in the center of Newburyport on Walter Street [farther along it is grandly called the Plum Island Turnpike]. In 3.3 miles you will cross the bridge over Plum Island River to Plum Island. In another 0.3 mile, follow the sign for the Parker River National Wildlife Refuge and turn right along the road that skirts cottages on the left and salt marshes on the right.
In 0.5 mile you will reach the guard shack entrance. There is an entrance fee of $5 but if someone in your car has a US Park Service Senior Pass everyone gets in for free. To increase your enjoyment of this hike, make sure you obtain a Hellcat Swamp Nature Trail Guide, available at the entrance station [it may also be available from a box at the start of the trail if the supply has been replenished].
Once through the entrance, drive south on the refuge road for 3.8 miles to Lot 4, the parking area for Hellcat Swamp Nature Trail. There are also rest rooms here. We'll be driving a blue Toyota Tacoma.
Trip Leader(s)
sustaining member
Gandalf
Outdoor Fitness Level: Very Strenuous
Thornton, NH
United States
Online Status: OFFLINE
Last Login: 03/24/2023 02:22 PM
Member Since: 08/20/2001
sustaining member
JDNnh
Outdoor Fitness Level: Very Strenuous
Thornton, NH
United States
Online Status: OFFLINE
Last Login: 02/18/2023 11:19 AM
Member Since: 10/30/2001