Mts. Pierce and Eisenhower Winter Hike
4000 Footer
DATE: Jan 28, 2023

END DATE: Jan 28, 2023

Hike/Event Location: Bretton Woods NH
Trip Leader(s)
Gandalf
Thornton, NH United States,
JDNnh
Thornton, NH United States
Meeting Time: 8:30 AM
Max # People: 12
Hike Guiding / Event Fee: No, I will not be asking participants for money
Hike Difficulty Level:
Strenuous
(Do you qualify to attend with this hike difficulty rating? Click Here.)
Sign Up To This Trip/Event
You must be a least a guest member to participate. Comments such as "+1" or "bringing a friend" are NOT permitted. All participants must sign-up for the event individually.
Select your mode of transportation, make any comments and then click on button.
You are not logged in.
Please, Log In
Disclaimer: The club and its members take no responsibility and will not be held responsible for any injuries or accidents that may occur during club events. Outdoor sports are inherently dangerous and accidents will happen. By joining the club or participating in any events posted on our website you are taking responsibility for your own safety and well-being. Anyone with an internet connection can post a trip on our web site. It is your responsibility to determine if this person has the experience and competence to lead the trip. We do not certify or confirm the qualifications of any of our members to lead or participate in trips.
Summary
Join us for this 9.6 mile winter hike to the summits of two prominent 4000-foot peaks in the Presidential Range...Mt. Pierce (4312') and Mt. Eisenhower (4760'). We will take the Crawford Path up to the summit of Mt. Pierce with its relatively open summit. From Pierce we will assess if we should continue to Mt. Eisenhower based on weather conditions.
This open summit features incredible 360-degree views. Views from here are spectacular...including views towards Mt. Washington and the surrounding wilderness. Thereafter, we will retrace our steps.
There is approximately 3200 feet in elevation gain. The Crawford Path is among the least aggressive trails to 4000-foot peaks...there are some rough spots close to the summit of Eisenhower. MicroSpikes should be sufficent but if there was a recent snowstorm, then we'll need snowshoes. This trip will take about 8 hours.
The ridge between the two peaks has some low-growing trees/scrub, but it is fairly exposed and continues to open up as we summit Eisenhower, which is totally exposed. This will be a long, strenuous day with exposure to weather above-tree line in winter. Please note this hike is considered strenuous and above tree line exposure can make it extremely hazardous, as such members should have the fitness and gear to match the conditions.
What to wear/bring: MicroSpikes are required but we may need snowshoes if there has been a recent snowstorm. We may not need snowshoes at the start so you should be prepared to strap your snowshoes onto your pack using bungy cords. Wear warm clothing suitable for the exposed ledge and summit(s)...no cotton or blue jeans. You should also have insulated winter boots suitable for the season. Additionally, consider bringing goggles, face protection and a headlamp/flashlight. Bring along plenty of water (at least 2 liters), lunch, snacks and anything else you may require for a winter day hike.
Afterwards: Everyone is welcome to join us back at our house in Waterville Valley to relax by our fireplace [BYOB and bring snacks] followed by one of Jon's delicious dinners. We ask $10 per person to help pay for our food costs. Showers are available so bring a change of clothing to make your visit with us more comfortable.
Lodging Option: Bunk beds are available at our house near Waterville Valley, NH for Friday and Saturday night for $25 per night. Coffee/bagels each morning and linen/blankets/towels are provided. We have limited space in the fridge to store your beverages/food so it's best to bring a small cooler. Space is limited so email me ASAP to reserve a bunk!
Directions To Trailhead Parking Lot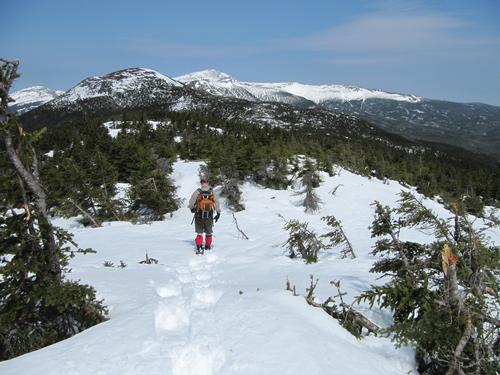 As you pass the exit for Lincoln, continue on I-93 N for 11.9 miles. Take exit 35 to merge onto US-3 North toward Twin Mountain. Follow US-3 N for 10.3 miles. Turn right onto US-302 and follow US-302 East for 8.4 miles where you'll drive by Bretton Woods Ski Area and the Mt. Washington Hotel. The Crawford Path parking will be on the left...before the AMC Highlander Center...taking a left for a short distance up the Mt. Clinton Road (beyond this, the road is closed). Total distance from Lincoln is 30.8 miles (about 35 minutes). Look for a blue Toyota Tacoma truck.
Trip Leader(s)
Gandalf
Outdoor Fitness Level: Very Strenuous
Thornton, NH
United States
Online Status: OFFLINE
Last Login: 02/06/2023 12:28 AM
Member Since: 08/20/2001
JDNnh
Outdoor Fitness Level: Very Strenuous
Thornton, NH
United States
Online Status: OFFLINE
Last Login: 01/29/2023 12:17 PM
Member Since: 10/30/2001
members signed up for this event
mecyclingrunner
Outdoor Fitness Level: Moderate to Strenuous
LEWISTON, ME
United States
Invite To Be Your Buddy

Send Email
Attended
Online Status: OFFLINE
Last Login: 01/27/2023 02:07 PM
Member Since: 07/22/2018
Driving My Own Car


(Possibly willing to give guys a ride)
guest member
Bobcat
Outdoor Fitness Level: Strenuous
Upton, MA
United States
Invite To Be Your Buddy

Send Email
Attended
Online Status: OFFLINE
Last Login: 01/31/2023 06:51 AM
Member Since: 12/16/2008
Driving My Own Car


(Possibly willing to give guys a ride)
Discuss This Trip/Event