Red Hill Hike
Half Day Hike
DATE: Nov 26, 2022

END DATE: Nov 26, 2022

Hike/Event Location: Moultonborough NH
Trip Leader(s)
Gandalf
Thornton, NH United States,
JDNnh
Manchester, NH United States
Meeting Time: 10:00 AM
Max # People: 12
Hike Guiding / Event Fee: No, I will not be asking participants for money
Hike Difficulty Level:
Moderate
(Do you qualify to attend with this hike difficulty rating? Click Here.)
Sign Up To This Trip/Event
You must be a least a guest member to participate. Comments such as "+1" or "bringing a friend" are NOT permitted. All participants must sign-up for the event individually.
Select your mode of transportation, make any comments and then click on button.
You are not logged in.
Please, Log In
Disclaimer: The club and its members take no responsibility and will not be held responsible for any injuries or accidents that may occur during club events. Outdoor sports are inherently dangerous and accidents will happen. By joining the club or participating in any events posted on our website you are taking responsibility for your own safety and well-being. Anyone with an internet connection can post a trip on our web site. It is your responsibility to determine if this person has the experience and competence to lead the trip. We do not certify or confirm the qualifications of any of our members to lead or participate in trips.
Summary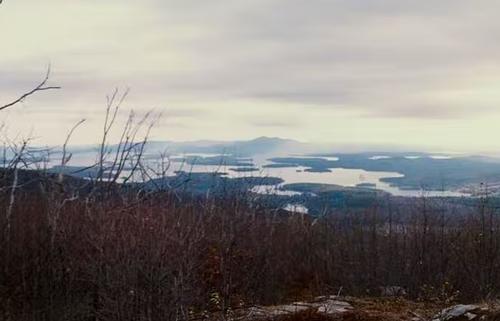 Bring your turkey sandwiches and join GayOutdoors for a hike up to the Red Hill fire tower summit via the Teedie and Eagle Cliff trails in the heart of the Lakes Region!
The views from the fire tower on this 2,030 foot peak are some of the best in the Lakes Region! The fire tower on its cleared summit commands panoramic views of both Lake Winnipesauke and Squam Lake.
Our hike, which will be a little over 5 miles and 1,750 feet elevation gain, is a hike up and back via the Eagle Cliff Trail that provides excellent views of Squam Lake and the Squam Range from Eagle Cliff itself. This route does have some steeper ledges at the start. For the return, we'll bypass the ledges on the way down using the Teedie Trail.
Hikers must have proper cold weather gear (hat, mittens/gloves, fleece jacket, outer shell, rain gear, winter hiking boots and TRACTION/MicroSpikes) as well as water, snacks and a packed lunch. We expect to encounter ice and possibly snow at this time of year. This is a great hike for those who want to get in shape for winter hiking or those 3 season hiker who might want to try hiking in colder weather. Safety is our major concern and if conditions get icy we will use the Teedie for both ways.
Social Mixer: Following the hike, everyone is welcome back at our house in Waterville Valley, socialize around our fireplace and enjoy dinner! It's BYOB and it costs $10 per person.
Lodging Option: Bunk beds are available at our house near Waterville Valley, NH for Friday and Saturday night. Its $25 dollars for Friday night and $25 for Saturday night. Coffee/bagels each morning and linen/blankets/towels are provided. We have 4 bunks available so the first 4 guys that contact us to reserve will get one; and let us know which night[s] you'll be lodging with us. You're on your own for dinner Friday night but you're welcome to use our kitchen facilities to cook!
Directions To Trailhead Parking Lot
Trailhead is on Bean Road in Sandwich, NH. Bean Road leaves the northwest side of Rt. 25, adjacent (to the northeast) to the junction with Rt. 25B. The trailhead is 4.6 miles up Bean Road, on the right. The trail is marked with a small trail sign and there is a small pull-off immediately before. It is located in the middle of a section of the road which runs close to the shore of Squam Lake. Bean Road can also be accessed from the north, from Center Sandwich, where it is known as Squam Lake Road. It leaves the southwest side of Rt. 113, just northwest of the junction with Rt. 109. It is 3.5 miles from Center Sandwich to the trailhead (which is on the left). We'll be driving a blue Toyota Tacoma.
Trip Leader(s)
Gandalf
Outdoor Fitness Level: Very Strenuous
Thornton, NH
United States
Online Status: OFFLINE
Last Login: 09/29/2022 09:54 PM
Member Since: 08/20/2001
JDNnh
Outdoor Fitness Level: Very Strenuous
Manchester, NH
United States
Online Status: OFFLINE
Last Login: 07/08/2022 05:46 AM
Member Since: 10/30/2001
members signed up for this event
SEBill
Outdoor Fitness Level: Moderate
Boston, MA
United States
Online Status: OFFLINE
Last Login: 09/29/2022 01:27 PM
Member Since: 07/16/2021
Driving My Own Car


(Possibly willing to give guys a ride)
SEALI
Outdoor Fitness Level: Moderate
Boston, MA
United States
Online Status: OFFLINE
Last Login: 09/27/2022 10:35 AM
Member Since: 07/22/2021
Driving My Own Car


(Possibly willing to give guys a ride)
guest member
Mark S
Outdoor Fitness Level: Moderate to Strenuous
Manchester, NH
United States
Online Status: OFFLINE
Last Login: 09/25/2022 07:42 AM
Member Since: 04/10/2017
Driving My Own Car


(NOT willing to give guys a ride)
mecyclingrunner
Outdoor Fitness Level: Moderate to Strenuous
LEWISTON, ME
United States
Online Status: OFFLINE
Last Login: 09/23/2022 03:57 PM
Member Since: 07/22/2018
Driving My Own Car


(Possibly willing to give guys a ride)
Discuss This Trip/Event