Cannon Mountain Winter Hike
4000 Footer
DATE: Mar 06, 2021

END DATE: Mar 06, 2021

Hike/Event Location: Lincoln NH
Trip Leader(s)
Gandalf
Thornton, NH United States,
JDNnh
Manchester, NH United States
Meeting Time: 10:00 AM
Max # People: 10
Hike Guiding / Event Fee: No, I will not be asking participants for money
Hike Difficulty Level:
Moderate to Strenuous
(Do you qualify to attend with this hike difficulty rating? Click Here.)
Sign Up To This Trip/Event
You must be a least a guest member to participate. Comments such as "+1" or "bringing a friend" are NOT permitted. All participants must sign-up for the event individually.
Select your mode of transportation, make any comments and then click on button.
You are not logged in.
Please, Log In
Disclaimer: The club and its members take no responsibility and will not be held responsible for any injuries or accidents that may occur during club events. Outdoor sports are inherently dangerous and accidents will happen. By joining the club or participating in any events posted on our website you are taking responsibility for your own safety and well-being. Anyone with an internet connection can post a trip on our web site. It is your responsibility to determine if this person has the experience and competence to lead the trip. We do not certify or confirm the qualifications of any of our members to lead or participate in trips.
Summary
The observation tower reveals a fine panorama with a magnificent look at the Franconia Range across the notch!
Cannon Mountain (4100') is also known as Profile Mountain, referring to the magnificent profile of the Old Man of the Mountain, which collapsed in May 2003. We'll utilize the Kinsman Ridge Trail up and back. This trail climbs aggressively to the expansive ledges atop the Cannon Cliffs [3800 ft.] that provides additional magnificent views of the Franconia Range and down into the notch. The trail then moderates as it approaches the summit with its observation tower.
Total Distance and Elevation Gain: 4.2 miles with approximately 2150 feet in accumulative elevation gain.
Total Time: Approximately 4.5 hours depending on breaks and group's speed.
Harsh weather may postpone to another date or cancel, as appropriate.
We will be hiking in winter conditions at a moderate pace with time to enjoy the scenery. There will be ice and snow. Light tracking devices are mandatory and we may need snowshoes if there was a recent snowstorm. Light traction can be either Kahtoola MicroSpikes or Hillsounds Crampons that can purchased from your local outdoor outfitter such as REI or EMS; or online. If you don't own a pair of snowshoes, you can always rent them from your local outdoor gear shop.
Please have the appropriate gear/clothing to hike this time of year and the appropriate amount of layers to keep your core body warm. We recommend WINTER hiking boots, MicroSpikes, wool hat, gloves, hand warmers, rain/wind gear, warm layers, HEADLAMP and NO COTTON. Carry at least 2 liters of water, lunch and snacks.
Event Coordinators: Mike Boisvert and Jon Normand
Directions To Trailhead Parking Lot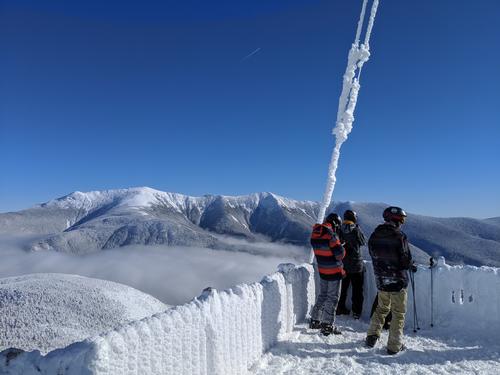 From the Lincoln (Exit 32) continue following Route 93 North for another 9.6 miles to Exit 34B. Cross under the highway and drive into the Cannon Mountain Aerial Tramway parking lot. Hiker parking is indicated on the left of the parking lots. Look for a blue Toyota Tacoma Truck.
Trip Leader(s)
Gandalf
Outdoor Fitness Level: Very Strenuous
Thornton, NH
United States
Online Status: OFFLINE
Last Login: 08/04/2021 02:13 PM
Member Since: 08/20/2001
JDNnh
Outdoor Fitness Level: Very Strenuous
Manchester, NH
United States
Online Status: OFFLINE
Last Login: 07/23/2021 09:23 AM
Member Since: 10/30/2001
members signed up for this event
jmahoney
Outdoor Fitness Level: Moderate to Strenuous
Boston, MA
United States
Online Status: OFFLINE
Last Login: 08/03/2021 07:46 AM
Member Since: 07/19/2018
Driving My Own Car


(Willing to give guys a ride)
dpbyrnes
Outdoor Fitness Level: Moderate to Strenuous
Ipswich, MA
United States
Online Status: OFFLINE
Last Login: 08/03/2021 10:31 PM
Member Since: 01/24/2009
Driving My Own Car


(Willing to give guys a ride)
guest member
Goodviews
Outdoor Fitness Level: Moderate to Strenuous
Laconia, NH
United States
Online Status: OFFLINE
Last Login: 07/13/2021 07:17 PM
Member Since: 09/26/2020
Driving My Own Car


(Willing to give guys a ride)
Bobcat
Outdoor Fitness Level: Strenuous
Upton, MA
United States
Online Status: OFFLINE
Last Login: 08/02/2021 11:51 AM
Member Since: 12/16/2008
Driving My Own Car


(Possibly willing to give guys a ride)
Discuss This Trip/Event