Shelburne Moriah Hike
52 With A View
DATE: Jul 25, 2020

END DATE: Jul 25, 2020

Hike/Event Location: Gorham NH
Trip Leader(s)
Gandalf
Thornton, NH United States,
JDNnh
Manchester, NH United States
Meeting Time: 8:00 AM
Max # People: 10
Hike Guiding / Event Fee: No, I will not be asking participants for money
Hike Difficulty Level:
Moderate to Strenuous
(Do you qualify to attend with this hike difficulty rating? Click Here.)
Sign Up To This Trip/Event
You must be a least a guest member to participate. Comments such as "+1" or "bringing a friend" are NOT permitted. All participants must sign-up for the event individually.
Select your mode of transportation, make any comments and then click on button.
You are not logged in.
Please, Log In
Hike Leaders can CLICK HERE to edit or delete this hike/event.
Disclaimer: The club and its members take no responsibility and will not be held responsible for any injuries or accidents that may occur during club events. Outdoor sports are inherently dangerous and accidents will happen. By joining the club or participating in any events posted on our website you are taking responsibility for your own safety and well-being. Anyone with an internet connection can post a trip on our web site. It is your responsibility to determine if this person has the experience and competence to lead the trip. We do not certify or confirm the qualifications of any of our members to lead or participate in trips.
Summary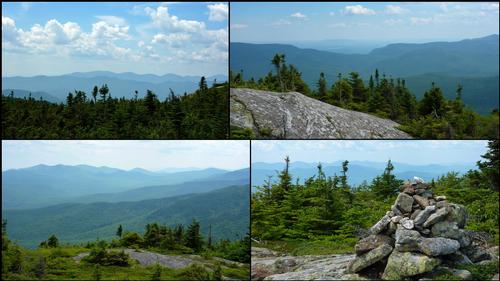 Shelburne Moriah is the crown jewel of the northern Carter-Moriah Range and offers stunning vistas in most directions from its summit and nearby ledges!
This is a strenuous trip with 11.2 miles roundtrip and 3,000 feet elevation gain. We are planning on taking 8 hours to complete this hike.
We will follow the Rattle River Trail, take a left on the Kenduskeag Trail and head up to the summit of Shelburne-Moriah. We will return the same way we climbed.
Its sub-alpine environment provides hikers with a preview of terrain found further north in the Mahoosuc Range. A section of the Appalachian Trail and blazed in white, Rattle River Trail provides an easy walk in with good footing before a relentless steep and rough climb up to the ridge. This section of the Kenduskeag Trail is lightly maintained. It traverses the ridge over scenic ledges to the summit of Shelburne-Moriah.
What to wear/bring: Wear clothing suitable for the hike in layers...no cotton or blue jeans. Have a rain jacket in the event of inclement weather. Bring along plenty of water (at least 2 liters), lunch, snacks and anything else you may require for a day hike. Contact us if you have any questions.
After the Hike: Following the hike, members are welcome to Gorham, NH to join us for dinner and a social mixer at Mr. Pizza!
As we monitor the COVID-19 updates, we will keep you informed, as best we can, of any changes to this planned event.
Lodging Option: Bunk beds are available at our house near Waterville Valley, NH for Friday and Saturday night for $25 per night. Coffee/bagels each morning and linen/blankets/towels are provided. We have limited space in the fridge to store your beverages/food so it's best to bring a small cooler. Limit of 4. Tenting is available for $5 per night.
Directions To Trailhead Parking Lot
We will be meeting at the Rattle River Trail head on the south side of Route 2, 3.6 miles from the junction of Route 2 and Route 16 in Gorham. The trailhead is about 152 miles from the MA/NH border on RT93 and it should take about 2 hours 35 minutes to drive there from the MA/NH border. We are driving a blue Toyota Tacoma truck.
Trip Leader(s)
Gandalf
Outdoor Fitness Level: Very Strenuous
Thornton, NH
United States
Online Status: OFFLINE
Last Login: 05/31/2020 06:24 PM
Member Since: 08/20/2001
JDNnh
Outdoor Fitness Level: Very Strenuous
Manchester, NH
United States
Online Status: OFFLINE
Last Login: 05/27/2020 05:12 PM
Member Since: 10/30/2001
members signed up for this event
Wolf
Outdoor Fitness Level: Very Strenuous
Cambridge, MA
United States
Online Status: OFFLINE
Last Login: 06/01/2020 05:57 PM
Member Since: 05/09/2020
Driving My Own Car


(Willing to give guys a ride)
Discuss This Trip/Event