Mts. Webster and Jackson
Hiking/Walk DATE: 02/06/2021 - 02/06/2021
Trip/Event Location: Bretton Woods, NH
US
Trip Leader(s): Gandalf , JDNnh
Max # People: 10
Trip Guiding / Event Fee: No, I will not be asking participants for money
Difficulty Level: Moderate to Strenuous
Unobstructed views of the Presidential Peaks from Mount Jackson's barren summit! This will be a loop hike over Mount Webster and Jackson with rock scrambles along the way. We will also visit
...
Driving directions to the location and spot to meet at:
FROM THE JUNCTION OF ROUTES 3 AND 302 IN TWIN MOUNTAIN: Turn east onto Route 302 E. Travel for 12.2 miles. The trailhead parking will be on the right-hand/south side of the road just north of Crawford Notch [AMC Highland Center] 0.1 mile south of Crawford Depot Railroad Station.
FROM THE JUNCTION OF ROUTES 16 and 302 IN GLEN: Take Route 302 W and travel for 16.9 miles. The trailhead parking area will be on the left-hand/south side of the road.
Look for a blue Toyota Tacoma truck.
Trip Report/Photos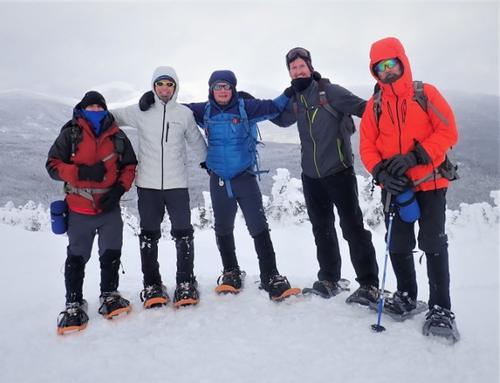 Incredible day on Mts. Jackson and Webster today! Partly sunny skies with the summit at 17 degrees, gusts as high as 40 mph with -9 wind chill. Good view down into Notch from Bugle Cliff and excellent view from the summit of Jackson. The snow laden conifers made it an especially pretty climb.
We wore snowshoes car to car. Trail was nicely packed to Mt. Jackson where we then had to break most of the trail to reach Mt. Webster. It was hard to follow at times. The ridge walk along Webster Cliff Trail was a winter wonderland! A couple of hikers had just left the Mt. Webster trail junction hiking in our direction who were ecstatic beyond words that the five us had broken the trail to Mt. Jackson. We helped packed down the trail to the Webster-Jackson trail junction.
We caught partial views from Mt. Webster and enjoyed the frozen Silver Cascade. Got home in time to catch an alpenglow on Sandwich Dome!
Everyone was friendly and seemed to be having a great time. Cheers to winter in the Whites!
Mike and Jon
There are 95 photos in Album (Note: Move mouse pointer over larger pic and click on NEXT for better viewing)
What Members Are Saying About This Trip/Event
Fantastic photos – talk about a winter wonderland! - phoenix
Members That Participated
Gandalf
Outdoor Fitness Level: Very Strenuous
Thornton, NH
United States
Online Status: ONLINE
Last Login: 09/25/2023 02:37 PM
Member Since: 08/20/2001
JDNnh
Outdoor Fitness Level: Very Strenuous
Thornton, NH
United States
Online Status: OFFLINE
Last Login: 09/11/2023 11:12 AM
Member Since: 10/30/2001
dpbyrnes
Outdoor Fitness Level: Moderate to Strenuous
Ipswich, MA
United States
Online Status: OFFLINE
Last Login: 09/10/2023 12:03 PM
Member Since: 01/24/2009
Ricardo
Outdoor Fitness Level: Moderate to Strenuous
Boston, MA
United States
Online Status: OFFLINE
Last Login: 08/19/2023 12:23 AM
Member Since: 05/24/2020
jmahoney
Outdoor Fitness Level: Strenuous
Boston, MA
United States
Online Status: OFFLINE
Last Login: 09/25/2023 09:23 AM
Member Since: 07/19/2018
<