GetWinter Hike #4: Mt. Liberty
Hiking/Walk DATE: 01/09/2021 - 01/09/2021
Trip/Event Location: Lincoln, NH
UK
Trip Leader(s): Gandalf , JDNnh
Max # People: 10
Trip Guiding / Event Fee: No, I will not be asking participants for money
Difficulty Level: Strenuous
At 4459 feet, Liberty is the 18th highest mountain in New Hampshire. If the Old Bridle Path and Falling Waters Trail in Franconia Notch, New Hampshire, have a younger sibling, the type eager to prove
...
Driving directions to the location and spot to meet at:
Liberty Springs trailhead is accessible by the Whitehorse trailhead parking lot off Interstate 93 Northbound on the western side of the mountain. Get off Exit 33 onto US 3 and head past the Whale's Tale Waterpark, Indian Head Resort, the sign marking the entrance into Franconia Notch and the Flume Visitors Center. Continue past the Flume Visitors Center and you'll soon see signs that will say "Trailhead Parking" on the right. We'll be driving a blue Toyota Tacoma truck.
Trip Report/Photos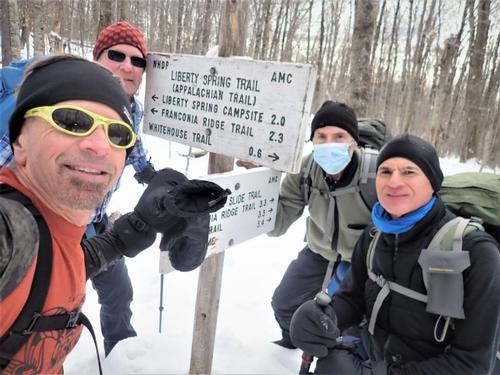 Gorgeous hike on a beautiful sunny day! After a warm-up approach, this climb to Liberty is a long, steady slog up. The ground was largely packed snow. MicroSpikes were perfect. Poles were helpful in some spots and glad we brought them. A bit windy on the summit but that's to be expected. The rocky crest views were magnificent into the Pemi Wilderness, the slide-raked face of Mt. Flume and across Franconia Notch! The clouds today were surreal…changing…evolving…morphing into beautiful abstract patterns that were breathtaking. We were in a mountain art gallery with changing mosaics of light! We had lunch on the way down at sheltered Liberty Springs. Some in our group said it was one of the most beautiful hikes they have ever been on!!!
There are 125 photos in Album (Note: Move mouse pointer over larger pic and click on NEXT for better viewing)
Members That Participated
Gandalf
Outdoor Fitness Level: Very Strenuous
Thornton, NH
United States
Online Status: OFFLINE
Last Login: 09/25/2023 02:37 PM
Member Since: 08/20/2001
JDNnh
Outdoor Fitness Level: Very Strenuous
Thornton, NH
United States
Online Status: OFFLINE
Last Login: 09/11/2023 11:12 AM
Member Since: 10/30/2001
dpbyrnes
Outdoor Fitness Level: Moderate to Strenuous
Ipswich, MA
United States
Online Status: OFFLINE
Last Login: 09/10/2023 12:03 PM
Member Since: 01/24/2009
Ricardo
Outdoor Fitness Level: Moderate to Strenuous
Boston, MA
United States
Online Status: OFFLINE
Last Login: 08/19/2023 12:23 AM
Member Since: 05/24/2020
<