GetWinter Hike #3: Mt. Flume via Osseo Trail
Hiking/Walk DATE: 12/26/2020 - 12/26/2020
Trip/Event Location: Lincoln, NH
US
Trip Leader(s): Gandalf , JDNnh
Max # People: 10
Trip Guiding / Event Fee: No, I will not be asking participants for money
Difficulty Level: Moderate to Strenuous
Join our GetWinter hikes to get you into winter hiking! The hikes get progressively harder leading up to a winter Franconia Ridge Traverse!
Flume commands 360° views from its summit: to the
...
Driving directions to the location and spot to meet at:
The trailhead is at the large Lincoln Woods parking area, with ranger station and restrooms, is on the North side of Kancamagus Highway [NH 112], 5.6 miles East of Exit 32 off I-93 in Lincoln. We will be driving a blue Toyota Tacoma truck.
Trip Report/Photos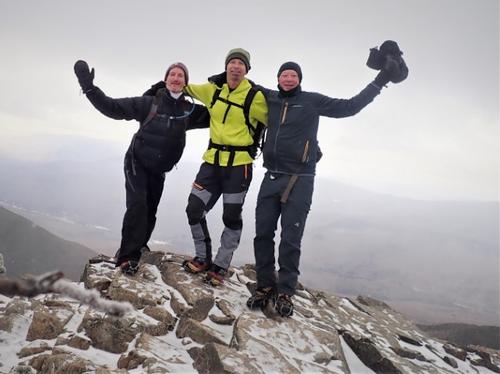 Rivers and brooks were raging due to all the heavy rain we received at Christmas so the Osseo trail was perfect since we had no river or brook crossings to deal with! Lincoln woods is bare as is the Osseo trail up to around 2000'. There is a VERY light dusting at that point.
We put on MicroSpikes at 2200' about 15 minutes before reaching the first set of rock steps where the trail steepens and kept them on the rest of the day until we returned back to that location on the return. The upper sections are steep and negotiated by several wooden staircases which we easily negotiated with MicroSpikes. We took a snack break at the "Down-Look" with a memorable view into the Pemi Wilderness!
After the next set of wooden ladders there was another great view off to the left the Osceola's and the Waterville Valley peaks! We were surprised of how good that view was! We ran into only 4 hikers on the hike today.
After the junction of the Flume Slide trail, we scrambled up jagged rock outcrops on narrow summit ridge. Along this stretch there were dramatic views across face of crags to upper Franconia Ridge peaks though somewhat limited from low cloud cover. Here the conifers were coated with beautiful hoar frost! Pretty windy but we sat down behind some trees for some cover for lunch. We had the summit all to ourselves!
Going down the ladders was fine with MicroSpikes and we took care of a couple small blowdowns with my saw! My left knee is starting to bother me of late so it slows me down on the descent however I don't let it stop me from hiking! Got back home before dark. Took showers and enjoyed our holiday Christmas lights while hanging out by the fireplace.
Overall we lucked out on the weather conditions and it was a good day to hike! Thanks Jim for joining us! Happy holidays everyone and we wish you all a healthy and safe New Year!

There are 134 photos in Album (Note: Move mouse pointer over larger pic and click on NEXT for better viewing)
Members That Participated
Gandalf
Outdoor Fitness Level: Very Strenuous
Thornton, NH
United States
Online Status: OFFLINE
Last Login: 09/27/2023 08:52 PM
Member Since: 08/20/2001
JDNnh
Outdoor Fitness Level: Very Strenuous
Thornton, NH
United States
Online Status: OFFLINE
Last Login: 09/11/2023 11:12 AM
Member Since: 10/30/2001
jmahoney
Outdoor Fitness Level: Strenuous
Boston, MA
United States
Online Status: OFFLINE
Last Login: 09/25/2023 09:23 AM
Member Since: 07/19/2018
<