North and South Kinsman Hike
Hiking/Walk DATE: 06/06/2020 - 06/06/2020
Trip/Event Location: Franconia, NH
US
Trip Leader(s): Gandalf , JDNnh
Max # People: 10
Trip Guiding / Event Fee: No, I will not be asking participants for money
Difficulty Level: Strenuous
Join us for this 10 mile up to the summits of the two Kinsmen...North and South (4293' and 4358', respectively)!
We will ascend by way of the Mount Kinsman Trail, which approaches the ridge
...
Driving directions to the location and spot to meet at:
As you pass the exit for Lincoln, continue on I-93 N for 16.0 miles. Take exit 38 toward NH-116 Franconia/Sugar Hill (0.2 mile). Turn left onto NH-116 South and take this for approximately 5.0 miles. The trailhead parking will be on the left...just south of the Coppermine Trailhead and Pinestead Lodge. There is a small sign for the parking area just to the south of the Franconia/Easton town line (you will see a small pond on your left). Total distance from Lincoln is 21.2 miles (24 minutes). Look for a blue Toyota Tacoma truck.
Trip Report/Photos
I am the founder of GayOutdoors and I have been honored to have taken part of many people's firsts. Jon and I are experienced trail maintainers and passionate members of the outdoor community. In New England, we enjoy trekking along the highest peaks. I have also hiked the entire length of the Appalachia Trail; Jon and I have trekked the most popular routes in Europe. Our goal is to share our passion for hiking and backpacking with others, especially to inspire them to experience the freedom of the trail!
Thanks to Dave for joining us!
Had a sunny start hiking up the North Kinsman. We started on the Mt. Kinsman Trail which led to the Kinsman Ridge Trail.
We love hiking in the spring! The gorgeous florescent green colors of the turning leaves and warmer temperature after a cold winter is refreshing. The trail started moderately as we passed an old sugarhouse. This section of trail is quite pretty and passes through a few brooks. Mossy Falls was flowing real nice.
Nice variety of wildflowers, including lots of painted trillium, purple violets, bluebead lily, [yellow Clintonia], starflower, bunchberry, and goldthread.
As we got higher we entered into soupy clouds with hardly any views. The Kinsman Ridge Trail leading to North Kinsman is steep at times and we had a few difficult scrambles up rock slabs.
We did not see anyone at all for the ascent and had the summit for North Kinsman all to ourselves.
We felt a few drops so decided to turn around. Ended up hiking down in showers. The sun came back at the Bald Peak junction so we decided to head up there for lunch. Bald Peak was wonderful!
Air was much nicer following the storms as well with nice blue sky. We even drove to nearby Sugar Hill to enjoy the lupines. Overall a really good day!
Report by Mike Boisvert
Pictures by Jon Normand
There are 73 photos in Album (Note: Move mouse pointer over larger pic and click on NEXT for better viewing)
Members That Participated
sustaining member
Gandalf
Outdoor Fitness Level: Very Strenuous
Thornton, NH
United States
Online Status: OFFLINE
Last Login: 09/25/2023 02:37 PM
Member Since: 08/20/2001
sustaining member
JDNnh
Outdoor Fitness Level: Very Strenuous
Thornton, NH
United States
Online Status: OFFLINE
Last Login: 09/11/2023 11:12 AM
Member Since: 10/30/2001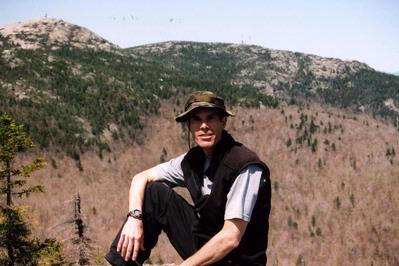 guest member
damenard
Outdoor Fitness Level: Moderate to Strenuous
Kent , RI
United States
Online Status: OFFLINE
Last Login: 10/08/2021 04:34 PM
Member Since: 03/29/2005
<