The Carters!
Hiking/Walk DATE: 03/23/2019 - 03/23/2019
Trip/Event Location: Gorham, NH
US
Trip Leader(s): Robert.L
Max # People: 8
Trip Guiding / Event Fee: No, I will not be asking participants for money
Difficulty Level: Strenuous
I am wired for winter – the beauty of a snow fall, the crispness of the air, the bright blue sky shining on a snowy landscape – I just can't get enough. Thankfully the White
...
Driving directions to the location and spot to meet at:
The 19 Mile Brook trail is located off of route 16 accessible from the north or south depending on where you are driving from. It is near the stretch of Pinkham Notch Visitor Center/Toll Road for Mt. Washington/Wildcat Ski Area. A good tour of Googlemaps will guide you correctly. I will be driving a gray Honda CRV.
Trip Report/Photos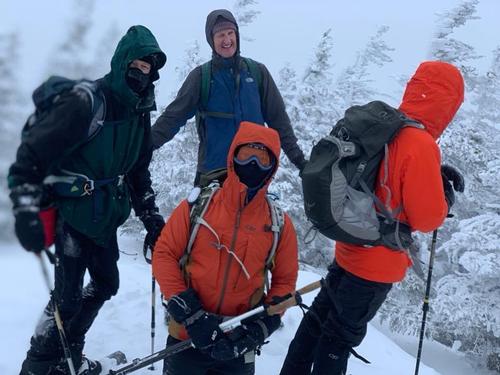 Two weeks ago when I posted this trip I am confident a classic snow shoe trail existed from trail head to summit. I am proof positive! But…. two weeks in the White Mountains is a LONG TIME and weather has a way of swiping clean the best laid hiker paths. Today would be no exception.
There is A LOT of snow at the summit – the stuff of childhood dreams and imagination. As we were arriving in Pinkham Notch I was astounded at the size of the snow banks along the road. It had recently snowed – Friday night even – the banks were piled high with a fresh crisp coating.
We all arrived at the trail head just before 9am. We had to park along the road because the parking lot was unplowed. It had 12 to 14 inches of snow – probably the first clue that the trails would be more than a simple walk in the woods. Several cars – which I assumed belonged to the hut caretaker and a few guests – would be having a hard time getting out.
In short order we were suited up. Snow shoes strapped to our boots and off we went up the trail. A group of five hikers had left just before us so the path was easy to follow and trek on. It wasn't long – we came upon them and passed them leaving before us a noticeably unpacked trail needing to be broken. It was a modest four to five inches to start but as we gained elevation the depth grew. We quickly found ourselves at the trail junction for the Carter Dome trail where we took a quick break. We had an ambitious hike planned so we didn't linger. Temps were comfortable – it was certainly windy but not super cold – the deep slices of a zero degree day were very much absent – super sweet. Skies were gray but we got glimpses of blue – I was anticipating clearing skies later in the day – we were hopeful.
About a quarter of the way up the trail snow shoe tracks seemed to mysteriously appear. I think the winds were quick to make any footprint in the snow look a day old so we were probably catching up to more fresh prints. I was happy to see someone had already made their way up – it made following the trail easier but wouldn't you know – that too would be short lived. We encountered the hiker on his descent. He only had the morning to hike and did not make it to the junction of for the Carter-Moriah Trail. He alerted us to a few false turns he made – there is an open un-wooded stretch which always makes finding the trail tricky in winter which he navigated - yay! We soon came upon the end of his trek and that is where the real hard work began. The winds increased in speed and by now we were steadily ascending. We began a cycle of organized and timed trekkers who broke trail then fell behind to let the next hiker do the hard work. I don't know how much snow fell but the depths ranged from 12" to knee deep, some of it clearly due to drifting. I loved it – but it was unexpected and it slowed our pace down a lot. A handful of blow downs too – but nothing we couldn't manage. Skies remained gray, wind and light snow swirling around us.
We persevered. Soon enough we made it to the Carter-Moriah ridge where once again the landscape opens up and you lose the natural framing of the trail by trees. I've been up here before so a few quick glances and we turned right. Very quickly we found the trail sign – YAY! About an inch of it was visible so we quickly tampered the snow to properly expose it. After a short water and snack break we proceeded to spend about a ½ hour looking for the trail beyond this point – there was a lot of snow with no discernible path. I re-oriented myself 5 times from the trail sign and on my 5th attempt I scooted right behind a few bent trees and sure enough – the trail took shape by form of bent trees into the trail from either side. The snow was deep, the trekking was hard, the snow pack was high and we wrestled with the trees a lot. Tons of drifting. 1.5 miles I shouted – the dome was in reach. Just before we found the trail, the group we passed from below arrived at the trail sign. They spent a few moments looking as well but decided to head down. Bummer – we could have used the extra bodies for trail breaking.
By now the winds were whipping and we were working hard at earning this dome. The going was slow. Deep snow pack, often knee high – tough trekking. Near the top it began to level off. Before completely exposing ourselves we took a quick break, layered up and emerged above tree line. The winds were harsh – you can't tell from the photos – but we couldn't hear each other speak, let alone face into the winds. Views were non-existent and once again the open landscape left no discernible trail. We selected a high spot and called it the summit, lol. I don't think we officially reached the dome – we might have had less than 3/10 of a mile to trek, but I did a quick check in with the group and they were ready to descend. In one of the photos you can see a faint visible outline of a tree tops which I think was the technical dome – true to prior trail descriptions – the snowpack was immense and amazing. I love it – just love it.
We followed our prints back to the ridge, then down the trail to the junction and back to the trail head. Late afternoon the sun popped and splashed us with a bit of blue sky and light but the temps above us was still brewing and dark gray – views from the dome will have to be for another day. When we reached the ridge junction there was no appetite to traverse and if we wanted to be done hiking before darkness – we needed to descend. We got back to the cars around 4:45pm.
A massive shout out to this group – hearty hikers they are. They stuck with me – especially after searching for the trail for 30 minutes. James graciously hosted us at his place in Gilford for a scrumptious dinner of roasted potatoes, asparagus and pork – yum. Great dinner, great conversation and a brilliant spring adventure that was more winter than I've experienced all winter, lol.
Many thanks to Long and James for taking pictures- truly a shared experience!
Cheers gents – and happy trails to you!
There are 23 photos in Album (Note: Move mouse pointer over larger pic and click on NEXT for better viewing)
What Members Are Saying About This Trip/Event
This qualifies as "trail breaking." That snow is beautiful! - Gandalf
Members That Participated
Robert.L
Outdoor Fitness Level: Very Strenuous
Bowdoin, ME
United States
Online Status: OFFLINE
Last Login: 07/19/2021 06:34 PM
Member Since: 09/07/2014
DaveNorthEast
Outdoor Fitness Level: Moderate to Strenuous
Raynham, MA
United States
Online Status: OFFLINE
Last Login: 05/30/2021 05:13 PM
Member Since: 02/06/2016
dpbyrnes
Outdoor Fitness Level: Moderate to Strenuous
Ipswich, MA
United States
Online Status: OFFLINE
Last Login: 09/12/2021 10:35 AM
Member Since: 01/24/2009
jmahoney
Outdoor Fitness Level: Moderate to Strenuous
Boston, MA
United States
Online Status: OFFLINE
Last Login: 09/21/2021 04:23 AM
Member Since: 07/19/2018
Long.S
Outdoor Fitness Level: Strenuous
Medford, MA
United States
Online Status: OFFLINE
Last Login: 09/24/2021 10:08 PM
Member Since: 12/09/2018
<