Mt. Major Hike
Hiking/Walk DATE: 12/16/2017 - 12/16/2017
Trip/Event Location: Alton, NH
US
Trip Leader(s): Gandalf , JDNnh
Max # People: 15
Trip Guiding / Event Fee: No, I will not be asking participants for money
Difficulty Level: Moderate
This will be an introduction to winter hiking to help you ease into this fantastic hiking season!
We will ascend up the Boulder Loop trail to reach the summit [1,786 feet] and descend on
...
Driving directions to the location and spot to meet at:
Head north on U.S. Highway 3 toward Laconia and turn right on the limited access US 3 and NH 11 bypass. At the end of the bypass, continue east on Route 11 past Ellacoya State beach and the waterfront resorts in Gilford. After about 10.6 miles, look for a right turn into the trailhead parking area marked by a conspicuous state highway sign. From the opposite direction, the entrance to the trailhead is about 4 miles west of Alton Bay. We are driving a blue Toyota Tacoma truck.
Trip Report/Photos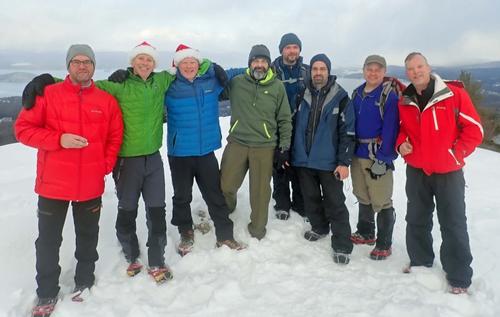 This was a winter training hike so I've added some tips on this trip report! Jingle bells, Santa hats, magnificent views and a serious snow squall made the hike special!
Since the snow fairy visited most of New Hampshire, we decided to squeeze a winter training hike to get ready for the upcoming blizzards! We picked Mount Major in Alton, NH, which is right down the road from Ellacoya State Park. Although Mount Major is not located in a State Park, it is part of the Mount Major State Forest, one of the many properties administered by the Department of Resources and Economic Development and managed by the NH Division of Forests and Lands. It's a smaller mountain [1786 ft.] but has great views from the top and is conveniently located in central New Hampshire. GO members came from the far corners of the Northeast, including Pennsylvania, to conquer this tiny beast!
The most important part about hiking in the winter [or doing anything outside in the winter] is dressing for the elements. Although we weren't battling massive snow drifts, it was still pretty cold on our hike, especially on the summit!
We met the gang at the trailhead. Jon and I wore Santa hats. We also attached jingle bells to some of the packs that added a festive holiday spirit to the hike. Everyone had fashionable winter hiking clothing including MicroSpikes on our feet. We started the haul up and the hikers we encountered enjoyed our jingle bells!
The best way to beat the weather is to prepare. During the course of our hike, I went from pretty cold to sweating within 15 minutes. A mile or so later, I was clammy, and then at the summit, I was pretty sure I getting frostbite! Just kidding…but it can happen in winter. Weather is fickle in New Hampshire, and half the time your body is not going to know what the heck to do about it.
We headed up the Boulder Loop Trail that starts on the left-hand corner of the parking lot. It was blazed with orange markers. The route presented us with gentle inclines most of the way as we enjoyed partially frozen brooks and giant boulders.
The number one rule to dressing for winter activities is layering, layering, layering! Always start out with a warm, non-cotton, moisture-wicking base layer. I'm a big fan of synthetic underwear top and bottom, which I use as a general base layer. Next, throw on another lighter moisture-wicking shirt with nylon pants. Even if it's freezing outside, you're going to sweat, feeling wet while you're outside in the cold is not fun.
After tackling the steep section, we were rewarded with several large, open, rocky areas at the top. In addition to the magnificent views of Lake Winnipesauke, and the surrounding areas, we also came upon the remains of an old stone hut that was built in the early 1900's to provide shelter for hikers. The views from Mount Major are amazing, especially since it's only about an hour from the parking lot to the summit!
Over my wicking shirt, I wore another breathable jacket, Outdoor Research Deviator Hoody; and over that, a fleece vest. It was hovering around 30 degrees at Mount Major the day we hiked, so this worked fine. I took off my fleece vest before the steep section when I started to get clammy. I had a down jacket in my pack that I was grateful for on the summit when I stopped moving!
It was not completely clear on the summit, but we had decent views nonetheless. I gave everyone a Santa Claus chocolate. We started to see snowflakes. In the spirit of the season, we recorded a holiday message with our jingle bells ringing that you can view on our Facebook page.
For your hands, feet, neck and head, warmth is key. Smartwool socks are awesome, but any thick, warm sock will do. Winter insulated hiking boots is also a must. Chances are, you'll ditch your hat and scarf/neck gaiter while hiking, but you'll be glad you brought them on the summit. As for gloves, they are absolutely essential. My hands usually run cold anyways, and for me, a chilly hike without hand warmers can be torturous.
After about a fifteen minutes enjoying the views from the summit, we went down the Brook Trail [which coincides with the Mt. Major trail for the last 0.7 mile.] The rock cairns and yellow blazes were partially hidden by the snow but there were tracks from previous hikers to follow. This turned out to be a little-traveled route as we did not encounter anyone on the descent. A serious snow squall then descended upon us providing us a magical experience of "walking in a winter wonderland." True to its namesake, there was a partially frozen brook along several sections. Evergreens were dusted with snow! Once we reached the Mt. Major trail junction, I showed everyone where we were on the map and that we close to the parking lot.
After the hike, some of went to Ellacoya Barn and Grill for an early dinner. The restaurant is in a restored 1800's barn with lots of character and the food was excellent! When Jon and I got home, we enjoyed our snow covered Christmas tree on the deck.
Good food, new friends and spectacular winter scenery!
Jon and I wish everyone a Merry Christmas and a Happy New Year!
There are 51 photos in Album (Note: Move mouse pointer over larger pic and click on NEXT for better viewing)
Members That Participated
Gandalf
Outdoor Fitness Level: Very Strenuous
Thornton, NH
United States
Online Status: OFFLINE
Last Login: 09/25/2023 02:37 PM
Member Since: 08/20/2001
JDNnh
Outdoor Fitness Level: Very Strenuous
Thornton, NH
United States
Online Status: OFFLINE
Last Login: 09/11/2023 11:12 AM
Member Since: 10/30/2001
JcM
Outdoor Fitness Level: Moderate
Strafford, NH
United States
Online Status: OFFLINE
Last Login: 04/01/2022 07:25 PM
Member Since: 08/13/2016
Philip
Outdoor Fitness Level: Moderate
Tuftonboro, NH
United States
Online Status: OFFLINE
Last Login: 09/13/2021 10:42 AM
Member Since: 02/08/2016
beyoungyu
Outdoor Fitness Level: Moderate to Strenuous
Harrisburg, PA
United States
Online Status: OFFLINE
Last Login: 09/24/2023 12:13 PM
Member Since: 01/05/2002
WalkaboutBrian
Outdoor Fitness Level: Moderate to Strenuous
Gilmanton IW, NH
United States
Online Status: OFFLINE
Last Login: 07/24/2022 12:09 PM
Member Since: 02/17/2009
<