Mt. Willey Hike and Cookout
Hiking/Walk DATE: 10/14/2017 - 10/14/2017
Trip/Event Location: Bartlett, NH
US
Trip Leader(s): Gandalf , JDNnh
Max # People: 15
Trip Guiding / Event Fee: No, I will not be asking participants for money
Difficulty Level: Moderate to Strenuous
A Fabulous hike to enjoy the beautiful fall colors, climb 11 sections of ladders and great vistas!
We will enjoy an up and back hike to the summit of Mt. Willey [4,285'] which is a NH 48.
...
Driving directions to the location and spot to meet at:
The parking lot for this hike is located on Willey Station Road off of Crawford Notch's Route 302 (6 miles south of the AMC Highland Center). Go to the end of the road, where there is a small parking lot. (You are allowed to park along Willey Station Road if the parking area is full.)
Trip Report/Photos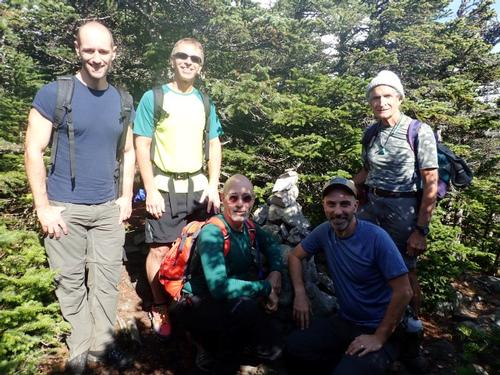 Hike Stats
Trails: Ethan Pond, Willey Range Trail
Total Time (Including Breaks): 5:00
Distance: 5.4 Miles
Elevation Gain: 2850'
The Terrifying 25 List: Willey Range Trail (Ladders section)
Difficulty: Moderate to Strenuous
On Saturday, October 14th, seven GO members decided to head up to the Willey Range to summit Mt. Willey. We chose this particular hike because it was relatively short. We arrived at the trail-head at 9:45AM, and were on the trail at 10:05AM. The weather was gorgeous, a beautiful fall day with temperatures in the low sixties.
Our route had us take the Ethan Pond Trail, to the Willey Range Trail - a total of 5.4 miles roundtrip. The beginning of the Ethan Pond Trail takes you across a set of train tracks, with the ruins of the Willey family house laying adjacent. We took a quick peek at the ruins before continuing up the trail. The first half mile or so climbed relatively steadily, and acted as a great warm up to the hike. At the half mile mark the trail swings to the right and levels out for a good mile or so. This was nice and easy but aggravating, as we were not gaining any elevation. Once we reached the Willey Range trail things began to get steep. Very steep!
The trail is very washed out in some areas, so you have to be careful to keep your footing. Further up the Willey Range Trail we came to sets of man-made "stair-ladders" that assisted us with climbing up a sheer rock face. I call them "stair-ladders" because they were quite a bit steeper than stairs would normally be. This was a nice feature of the trail and made me think about how grateful I was to not be the one responsible for constructing them - that must have been quite a job! From the top of the stairs we got a great view down to Route 302 and the train tracks. We had gained elevation fairly quickly!
The weather began to get cooler as we approached the summit, and we could see that the blue skies were beginning to fill in with clouds. We reached a lookout point just before the summit, and were able to capture some amazing views after waiting for the clouds to disappear. The views of the Webster cliffs were absolutely stunning. We decided to have lunch here. Two women arrived a short time later and we discovered we were all family. We enjoyed chatting with both of them. They both lived in Portland as well as Joe. Joe belongs to the Portland Gay Men's Chorus so he invited them to a fundraiser the next day. Yes, those two lovely women were there!! Small world for sure...
We then pushed along the final hundred or so yards to the summit, reaching it at 12:50PM. We then descended 30 yards along the trail to the western outlook just beyond, a ledge shelf with a panorama over eastern Pemigewasset Wilderness. After this lookout we decided to head back down the trail.
The first mile or so of the descent was decently slow, as we were now climbing down the very steep sections that we had hiked up, and we had to be extra careful. The "stair-ladders" were much more exciting going down, as you could see how steep they were as you walked forward. Once we were past the stairs and back down to a lower elevation, the trail flattened out again and we were cruising to our vehicles. The final two miles went by very quickly.
We began to pass quite a hikers who were heading up to Mount Willey. We made it back to the truck at 3:00PM, changed our clothes and were on our way home.

This hike, particularly the Ladders section, was awesome! No matter what the summit is like, or how the views compare to another mountain, it is the experience that counts. It is an excuse to hang out with friends and accomplish something!
Everyone returned back to our house where we enjoyed the fall foliage from the deck. Jon made everyone a Venetian Spritz and served some fabulous appetizers. Later on he cooked up a delicious dinner of grilled chicken/sausage, oven baked chicken tenders with a honey glaze, pan-fried peppers, sliced potatoes, mozzarella cheese slices, crispy salad and bread. We finished off dinner with a pumpkin cheese cake. We then got a roaring campfire going followed by fireworks!
We had a great weekend with a fun group. Mt. Willey summit was beautiful. Thanks everyone for joining us!
Trip Report by Mike Boisvert
There are 41 photos in Album (Note: Move mouse pointer over larger pic and click on NEXT for better viewing)
Members That Participated
sustaining member
Gandalf
Outdoor Fitness Level: Very Strenuous
Thornton, NH
United States
Online Status: ONLINE
Last Login: 09/25/2023 02:37 PM
Member Since: 08/20/2001
sustaining member
JDNnh
Outdoor Fitness Level: Very Strenuous
Thornton, NH
United States
Online Status: OFFLINE
Last Login: 09/11/2023 11:12 AM
Member Since: 10/30/2001
HikerBiker
Outdoor Fitness Level: Moderate to Strenuous
Londonderry, NH
United States
Online Status: OFFLINE
Last Login: 09/17/2023 02:04 PM
Member Since: 02/23/2003
Joeinmaine
Outdoor Fitness Level: Strenuous
Truro, MA
United States
Online Status: OFFLINE
Last Login: 07/25/2021 12:49 PM
Member Since: 03/29/2017
Driving My Own Car


(Willing to give guys a ride)

Comment: Hey guys-I will be staying for dinner and most likely the nite-
Scorpione
Outdoor Fitness Level: Moderate
Boston / Cape Ann, MA
United States
Online Status: OFFLINE
Last Login: 11/17/2020 04:17 AM
Member Since: 07/25/2013
Driving My Own Car


(Possibly willing to give guys a ride)

Comment: Would like to stay Fri. and Sat. nights at your house, if possible. Thank You. Luciano
sagerocket
Outdoor Fitness Level: Strenuous
Dighton, MA
United States
Online Status: OFFLINE
Last Login: 09/25/2023 12:17 PM
Member Since: 02/17/2008
Driving My Own Car


(Willing to give guys a ride)

Comment: Can't stay for dinner, but looking forward to seeing you all, and some colorful foliage!
<