Beebe River Mountain Bike Ride
Mountain Biking DATE: 07/02/2016 - 07/02/2016
Trip/Event Location: Waterville Valley, NH
US
Trip Leader(s): Gandalf
Max # People: 15
Trip Guiding / Event Fee: No, I will not be asking participants for money
Difficulty Level: Easy to Moderate
Leisurely mountain bike ride along Beebe River with a swim at a remote swimming hole!
This will be a summertime ride alongside the quiet, slow-moving Beebe River...a perfect ride to escape the city
...
Driving directions to the location and spot to meet at:
Take I-93 and use Exit 28. At the end of the ramp take a right onto Rte 49 East and then your first right to park at the Visitor's Center parking lot. Do not take your bike off your rack because we'll drive to the start of the logging road instead of biking there...will make the ride a bit easier...and will give us more time to explore and swim! I'll be driving a blue Toyota Tacoma truck.
Trip Report/Photos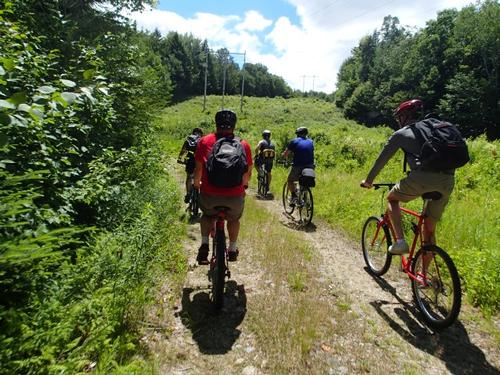 Eleven of us did the ride on Saturday, July 2nd. It was a great day for this ride; low humidity, partly cloudy skies and breezy. Fred and Mark rented fat bikes that have super wide tires for greater mobility and seem to really like them. The rest of us had mountain bikes or hybrids.
Biking a section of paved road along Route 175 to the start of the Beebe River Trail with 11 bikers could be a problem for both us and drivers so we decided to skip that section and drive right to the start. We parked our cars beside the cemetery, took our bikes off our vehicles and put on our day packs. After a steep downhill we reached Beebe River Trail that climbs gently upstream along the Beebe's riverbank using a smooth gravel road that is closed to public traffic.
We took a stop to check out the swimming hole that we would take a dip into on the return. We then hopped on our bikes to continue the ride. The trail has been washed away in places by spring's high water and rebuilt with stones and gravel. These few sections got bumpy, but were not terrible to negotiate.
A swimming hole that I had never seen caught my eye through the trees so we checked it out. A beautiful cascade finished off into this huge swimming hole! This certainly is more private than the first one we saw since a person could not easily walk to it from their car. We thought about taking a dip into this one on the return however the thought of riding in wet trunks back to our vehicles was not inviting. Maybe next time!
We crossed Sandwich Notch Road and after one mile with one steep hill we reached beautiful Kiah Pond for lunch. The return went very fast since it was downhill all the way. What was remarkable is that it hardly felt that we were ever going uphill so were pleasantly surprised about how easy the return was. The descent was fine but for those of us without shocks on their front forks, like me, I had a workout with my arms vibrating and braking!
Remember that I said earlier there were a few sections that got bumpy? That resulted with Fred's phone coming out of his shirt pocket without realizing it and Ken losing all sorts of items since the zipper on his panier lodged open. After about 20 minutes of searching, Fred and Mark unfortunately could not find the phone but they did find all of Ken's lost items.
Meanwhile, many of us enjoyed this beautiful swimming hole. The water was refreshing but not bad for a mountain river. We could stay in the water for a period time swinging off the rope, splashing and sliding down its short cascade.
The ride was fun to do and a very nice route generally. We ended up riding 12.4 miles out and back; we only saw one mountain biker the entire time. It's a fine choice for groups of riders looking to enjoy each other's company without the worries of riding a technical trail with partners or unmatched fitness or skill levels. After the ride, I invited everyone back at my house for a cold beer and most everyone took me up on the offer.
This was a great ride and the swimming holes were a gift of nature! A brilliant way to end the ride. Thank you everyone for joining me and Mark it was great to catch up with you after almost 20 years!
There are 24 photos in Album (Note: Move mouse pointer over larger pic and click on NEXT for better viewing)
What Members Are Saying About This Trip/Event
Yeah, great day, company was great as well the fat tire bikes. Boo hoo about the phone. Thanks, Mike! - vtfred
While I've biked before this adventure was new for me and I loved it. We were an awesome group and we certainly enjoyed the journey. The locale is a definite "keeper" as I loved the private swimming holes… had it been just a bit warmer… I could have lounged all afternoon… loved it… Biking was great but the refreshing swim afterwards… indulgent! Thanks Mike – always a treat and always a joy!! (We missed you Jon!!) - Robert.L
Members That Participated
Gandalf
Outdoor Fitness Level: Very Strenuous
Thornton, NH
United States
Online Status: OFFLINE
Last Login: 09/25/2023 02:37 PM
Member Since: 08/20/2001
homephil
Outdoor Fitness Level: Moderate
loudon, NH
United States
Online Status: OFFLINE
Last Login: 09/03/2023 03:52 PM
Member Since: 12/22/2015
Robert.L
Outdoor Fitness Level: Very Strenuous
Bowdoin, ME
United States
Online Status: OFFLINE
Last Login: 07/19/2021 06:34 PM
Member Since: 09/07/2014
HikerBiker
Outdoor Fitness Level: Moderate to Strenuous
Londonderry, NH
United States
Online Status: OFFLINE
Last Login: 09/17/2023 02:04 PM
Member Since: 02/23/2003
vtfred
Outdoor Fitness Level: Moderate
Barre, VT
United States
Online Status: OFFLINE
Last Login: 09/16/2023 05:03 AM
Member Since: 03/27/2009
Driving My Own Car


(Willing to give guys a ride)

Comment: Coming from the west (Central VT), if anyone would like to car pool.
kalevine
Outdoor Fitness Level: Moderate
Buzzards Bay, MA
United States
Online Status: OFFLINE
Last Login: 09/09/2023 12:23 PM
Member Since: 10/30/2001
guest member
Jbholder
Outdoor Fitness Level: Moderate to Strenuous
Tunbridge, VT
United States
Online Status: OFFLINE
Last Login: 09/22/2023 02:03 PM
Member Since: 06/28/2016
<